5 Body Image Lessons From A Teenager Wise Beyond Her Years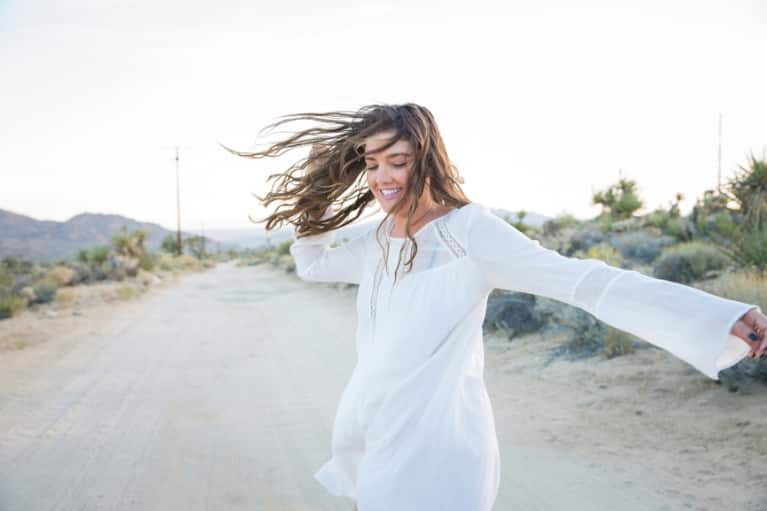 Editor's note: Hannah Plotnek is the daughter of mbg contributor Jennifer Plotnek. This piece was written in response to Jennifer's article, "How I'm Teaching My Daughters To Love Their Bodies."
Living under the same roof with a mother who is a therapist and a health coach has instilled important values about body image and food that have really helped me become the person I am today. She has taught my sisters and me from a young age to love and care for our bodies because we control them, not anybody else (including her). She always says, "I can't tell you what to do. I can't tell you that you have to workout, or you're not allowed to eat that extra bite because ultimately the decision is yours. At the end of the day, it's your body, not mine." While my mom has taught me many things about my body, there are five things that have stood out as I've become older that I want to share with other women:
1. No one but you has control over YOUR body.
As I previously mentioned, this message has really stuck with me. No matter how much people might try, the only person who can control what goes into their body is themselves. I'm the only one who can decide if I should eat dessert tonight or whether I should go on a run. Parents can try all they want to limit the unhealthy foods in the house or to make sure their child is getting exercise, but until that child learns the importance of loving and taking care of his or her body, change seems unlikely.
2. A healthy environment makes a difference.
Although eating and food decisions are always your own choice, the environment a child grows up in can affect his or her body. For example, my mom has always made sure our house is filled with healthy snacks and fruits and vegetables. Growing up in a house with these healthier choices helped me immensely. However, that said, my mom never told me that I wasn't allowed to buy a pint of ice cream for the house or a box of chicken tenders. We just don't buy these foods as staples (nor do I want them all the time, either). With a wide range of food available in our house, she always made sure I had the choice to eat the things I wanted, which did include ice cream!
3. Deprivation doesn't work; moderation is key.
Whenever we're out for a family meal, my mom would always say the same thing, "Eat what you want, but stop when you are full." This idea might seem insignificant, but it proved to be an extremely helpful piece of advice. A perfect example is with dessert. I typically eat only a few bites of dessert especially after I eat a meal. I don't feel compelled to eat every last bite, because I know I will eat it again in the future and don't like feeling stuffed. I also know if I deprive myself of things I like then it will only lead me to want them more! As a result, I do my best to practice moderation, not deprivation.
4. Be mindful of outside influences, including friends and social media.
While social media is fun and a great way to feel connected to friends, it also can be challenging. The way someone looks in pictures can be deceiving, and seeing a picture of a pretty, skinny, and seemingly "perfect" model can be harmful to anyone. Most teens don't realize that these images are not real. No one really has a blemish-free face or no stomach rolls when they sit down. Celebrities and teens alike use Photoshop and Facetune to alter their appearances. In my opinion, realizing that nobody is perfect is crucial to developing a positive body image.
Friends with eating disorders, or even just friends who are hyper-focused on their appearance also can prove to be extremely challenging. Growing up, I've encountered all types of friends: nice ones, mean ones, insecure ones ... the list goes on. If a friend is constantly putting himself or herself down, that also can also be hard. There doesn't seem to be one thing in particular to fix this problem, but you can help by showing them how to love their bodies. I've also had multiple friends with eating disorders. It seems as though most of the time, an eating disorder becomes apparent to a friend before it does to a parent or guardian. No matter how close the friend, the first thing to do is to tell someone. They can easily become a danger to themselves and others.
5. Enjoy and savor the food you love.
Again, this might seem like a total no-brainer, but it's extremely important to let yourself eat what you want. This rule is the most important of the five, because without happiness, what are you left with? If you want a cupcake, eat the cupcake! Enjoy it and savor it! If you're feeling bloated after a big dinner, walk it off, and maybe you'll feel better afterward. Don't let other people influence you, because the decision is always yours. If you are eating like a health freak every day, and exercising like one too, how will you feel? Sure, the first few days you'll feel great, but after a while you'll be exhausted and sore from the exercising, and it may lead you to constantly crave the junk you are trying to avoid. Trust me, I've tried this method. It NEVER works. Isn't it better to let yourself enjoy the things you love in moderation rather than restricting yourself all the time? At the end of the day the choice is yours, and your body is yours. Live in it!