Crush PMS With This "Flushing" Juice Recipe
mbg Contributor
By Alisa Vitti
mbg Contributor
Alisa Vitti is a women's hormone and functional nutrition expert and pioneer in female biohacking. She founded The FLO Living Hormone Center, the world's first menstrual healthcare platform, created the MyFLO period app, the first and only functional medicine period tracker, and is the author of WomanCode.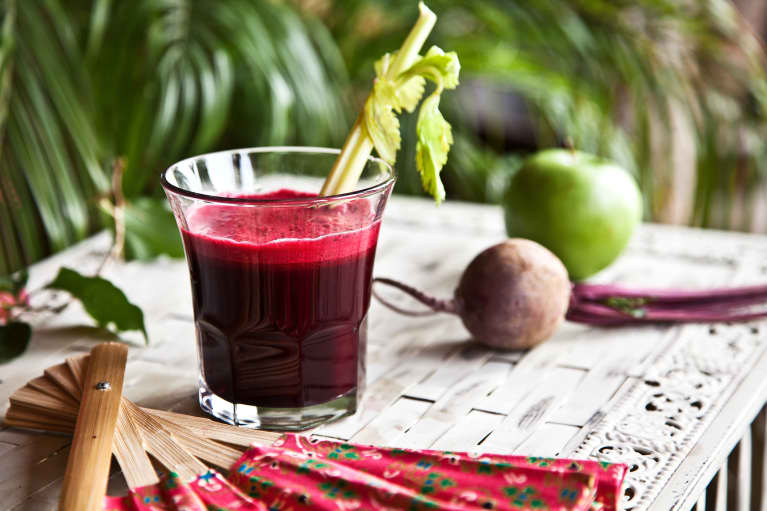 Our editors have independently chosen the products listed on this page. If you purchase something mentioned in this article, we may
earn a small commission
.
Alisa Vitti is an integrative nutritionist, hormone expert, and best-selling author of
Woman Code
. We're so excited to add her to our incredible roster of instructors, and if you're interested in learning more about how to regulate your cycle naturally, balance hormones, boost fertility, and kiss PMS goodbye, check out her newest
mbg class offering
!
The second one of my girlfriends comes to me complaining about intense cramps, bloating, moodiness, I take out the martini glasses. And although you may feel like you need a cocktail just at the thought of your PMS symptoms, there's no alcohol in the major relief I'm about to serve up. I mix up one of my signature Anti-Bloatinis! By serving up the right mix of nutritious, PMS-fighting foods, I've helped countless friends (and myself) cope with the hormonal chaos that so many women are faced with during that time of the month.
But before I play bartender, I give my friends a little PMS 101, first and foremost letting them know that the symptoms they're experiencing are not "normal." Sure, they're abundantly common and socially accepted and written off as typical female troubles, but no woman should have to endure pain, discomfort, and mental anguish a week out of every month for the duration of her reproductive years.
Being female and having a period is not what causes PMS. A hormonal imbalance causes PMS and all the unpleasant symptoms that go along with it. When your body is producing too much estrogen and not enough progesterone, you're more prone to a spectrum of symptoms including acne, mood swings, fatigue, anxiety, and of course, major bloating.
The not-so-great news is that your hormones need some major TLC. The amazing news is that now that you're aware of the real problem, you can make the educated decision to recalibrate your endocrine system and conquer PMS once and for all.
Maybe you're already on the juice bandwagon, but are you choosing the mixtures that make the most sense for your hormonal situation? After some experimentation in the kitchen, I landed on a juice recipe that will reduce water retention, help your liver break down excess estrogen, and actually increase mood-stabilizing hormones. So pull out your martini glasses (or water bottles or cups), and pour yourself a PMS-preventing Anti-Bloatini now!
What you'll need:
1 beet
1 carrot
1 green apple
4 celery stalks
½ cucumber
2 stalks kale
½ bunch cilantro
Juice of 1 lemon
Preparation:
Juice everything and serve immediately. It's that easy.
How Each Ingredient Fights PMS Symptoms
The ingredients are specially tailored to combat PMS symptoms:
Kale and cilantro: known to balance out the estrogen high and progesterone low that causes problems/
Beets: provide healthy carbohydrates that will help keep your blood sugar stable so your mood and energy are sustained throughout the day. They also activate the gallbladder, which helps the liver work more efficiently.
Carrots: rich in beta-carotene, which will help your liver metabolize estrogen.
Celery and cucumber: natural, gentle diuretics that will help you flush excess water.
The whole thing is rich in vitamin C and glutathione — all supporting your liver's ability to detox your system from excess estrogen (which is why you're bloated in the first place) as quickly as possible. Cheers! Drink this yummy juice every day the week before your period and watch your symptoms improve. I'd love to see pics of you enjoying your Anti-Bloatini, so be sure to post photos and tag #pmsfree #FLOliving on Twitter, and follow me @floliving!
If you've got other period-related symptoms that are confusing you, find out your Period Type to learn more about the causes of your symptoms and what to do with food to fix them!