You're Invited To mbg's First Cookbook Club—With Functional Food Blogger My New Roots
Contributing Food Editor
By Liz Moody
Contributing Food Editor
Liz Moody is a food editor, recipe developer and green smoothie enthusiast. She received her creative writing and psychology degree from The University of California, Berkeley. Moody is the author of two cookbooks: Healthier Together and Glow Pops and the host of the Healthier Together podcast.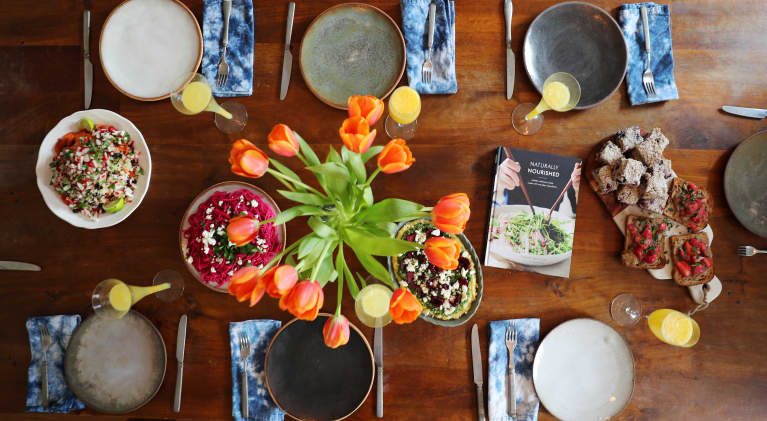 Our editors have independently chosen the products listed on this page. If you purchase something mentioned in this article, we may
earn a small commission
.
Around a year ago, it seemed like everyone I knew was suddenly in a book club (myself included). It was an occasion on which to, yes, discuss the book, but also to carve out space for time with friends, eating good food, drinking wine, and having the type of conversation with just enough structure to go beyond the every day. In this same spirit, in recent months, cookbook clubs have begun to spring up around the city, with members forgoing novel reading for a spin in the kitchen.
We here at mbg couldn't wait to get in on the action—and we hope you're inspired to do the same. Beyond learning new recipes, stretching your culinary limits, and exploring parts of the food world you might otherwise have not, you'll end up creating space for people to come together in an environment that's warm (sometimes literally, as food is reheated in the oven), comforting and nourishing to the body and soul. Come join us every month as we take a deep dive into a different healthy but decadent cookbook. We'll explore cuisines from around the world, inspiring preparations of vegetables, and wisdom from culinary experts. If you're inspired, start your own cookbook club! We'll be sharing recipes and author interviews from our chosen book every month to get you started. Here's exactly what to do:
This seems obvious, but it's a fairly vital part of the whole experience. I recommend doing only one book, so you can really experience the range of that author's food. If the book is centered around a particular ingredient or cuisine, this can also give you a theme to talk about (and a decoration theme! I'm looking at you, one crafty friend that everyone has). While you can choose a modern cookbook or a classic, we went with My New Roots blogger Sarah Britton's just published Naturally Nourished: Plant-Based Meals Made With Everyday Ingredients. We've long been fans of Sarah's at mbg (she was, in fact, one of the people to get me excited about healthy cooking nearly ten years ago), and her new book looked simple enough to not be intimidating, while having interesting enough flavors to be inspiring. Another tip: don't try to be fancy and choose a crazy hard book. When everyone's face is as fallen as their souffle, you'll regret your life choices.
2. Invite people with a variety of culinary skill levels.
When you tell people you're starting a cookbook club, they'll either get incredibly excited, or they'll back away slowly, muttering things about take out and boxed mac and cheese. To those in the latter group, here is your refrain: you do not need to be a good cook to be in cookbook club. While your skills will inevitably get better the longer you're in cookbook club (because that's what happens when you, you know, cook), the variety of levels allows everyone in the club to truly experience what the recipes are like for everyone. In our club, we had food editors and people who had to borrow pans (and mixing bowls and knifes and cutting boards) just to make their dish.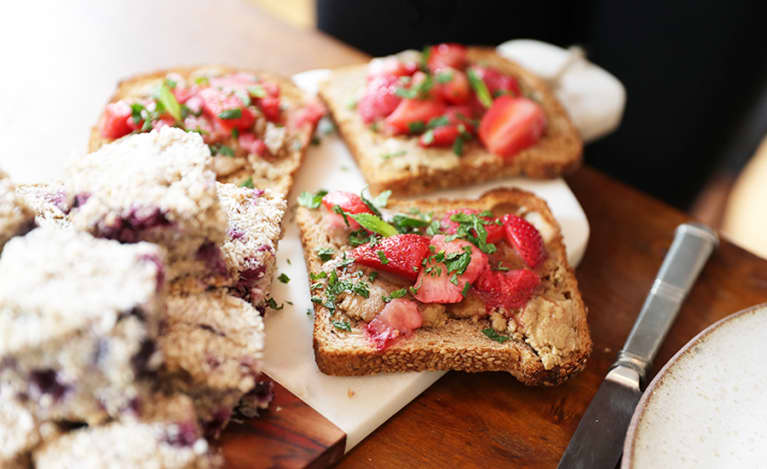 Again, think interesting, but not super difficult (if one person wants to tackle the crazy two-day dessert, let them, but make sure everyone's not doing it so you're guaranteed to have food on the table). I find it best to let everyone browse the book and send the host two or three recipes they'd like to make. The host (I recommend rotating who holds this position) can then look at everything together, make sure it's a cohesive menu (i.e. not seven desserts) and finalize each person's assigned recipe. On the menu at our club: bright pink beetroot pasta with goat cheese and parsley, cardamom coconut blueberry snack cake, quinoa and black beans with radish salsa, polenta with arugula pesto and beet curls, sunflower seed rye toasts with roasted strawberry, and sparkling water with orange juice.
We did a brunch club, but you can do a weeknight dinner, a weekend dinner—whenever. Pick a time. Gather. Eat.
Here's where the mindful eating you've been reading about on mbg for so long comes in (groan, but it does actually make you enjoy your food more, promise). Really savor your bites. Pay attention to how the food tastes on your tongue. Hopefully these recipes are a bit outside of your normal repertoire, and you can discuss how delicious roasted strawberries are, or how you'd never though to make pesto from arugula. What does everyone love? What does everyone hate? What's everyone surprised by? The runaway hit of our cookbook club was the beautiful beet pesto pasta. "It was something I would never think to do, but the way the sweet earthiness of the beets paired with slightly nutty spelt pasta tasted great and looked stunning," said Leah, a food editor. "I'm not usually a spaghetti girl but I loved it," Elizabeth, senior features editor, agreed, while Leigh, yoga and meditation editor, noted, "I expected it to taste just like beets, but it was bursting with other flavors. Just a hint of beets—exactly how I like it!"
Okay, this one's a bit of a long shot, but a number of authors are willing to at least to do a Skype conversation with book and cookbook clubs. We were able to snag Sarah on the NYC stop of her North American book tour, and let me tell you—there's little more nerve-wracking than cooking recipes created by the Sarah Britton for the Sarah Britton. She's every bit as intimidating as you might expect when she arrives at your doorstep, with her waist-long, perfectly-messy-braided long hair and the kind of ageless face that, I suppose, eating primarily vegetables gets you ("is she in her 20s?" one of us whispered, as we tried to do the math of a five-year-old son, a decade-old blog, and a ten year stint in Copenhagen following a post-college stay on an organic farm). The second she opens her mouth, though, you realize how funny and warm she is, and by the time we'd all settled in with our virgin mimosas, she had us all hooked with her visceral passion for food. This is a woman who lives and breathes food, who understands it at all levels, from how it interacts with our tastebuds to our guts to the planet at large. So sit back. Whip up a batch of one of our favorite recipes (shared at the end of this post) or just sip on your own OJ and sparking water (or wine—we won't tell anyone) mix, and listen in to what we learned during our brunch with Sarah.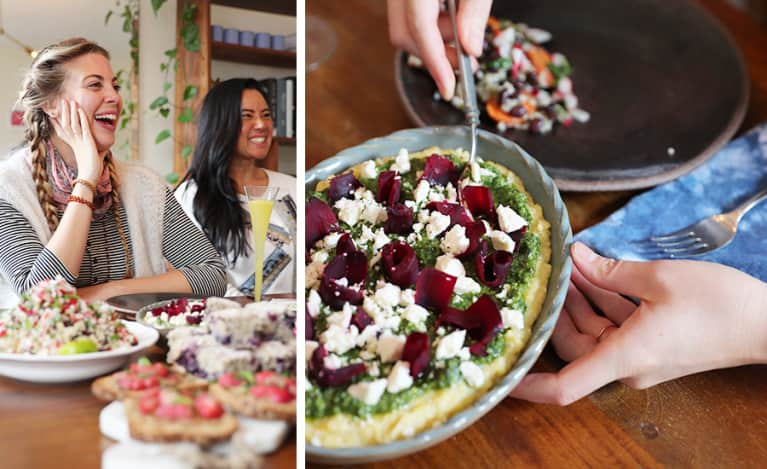 Sarah's healthy traveling regime puts us all to shame.
She'd just flown to New York from Copenhagen, so we asked her to tell us exactly how, gastronomically speaking, she made the trip. "I bring a huge, very dense salad. This one was millet and black lentils, roasted beets, roasted sweet potatoes, with tons of seeds and herbs. I dress the base and put romaine lettuce on top, and right before eating I mix everything together. I brought a bag of my crackers, as well," she said. She also have overnight oats with chia and coconut milk before she left her apartment in Copenhagen, and brought a tub of cooked cauliflower she'd been recipe testing onto the plane to eat mid-flight, much to the chagrin of her fellow passengers.
She lets up a bit when she gets to her destination, though.
Her motto seems to be "control what you can, and don't fret about what you can't." To that end, Sarah always tries to book an AirBnb so she can cook at least some of her meals for herself, but she will eat out and explore the city she's visiting. "When I'm traveling, I have to just relax, or i'll drive myself insane," she said. "I can also count on my hands the amount of times I eat out in Copenhagen in a year, so traveling is my opportunity to go out and get inspired." She'd been frequenting Dosa Royale on her Brooklyn trip, and planned on playing around with dosas when she returned to her Copenhagen kitchen.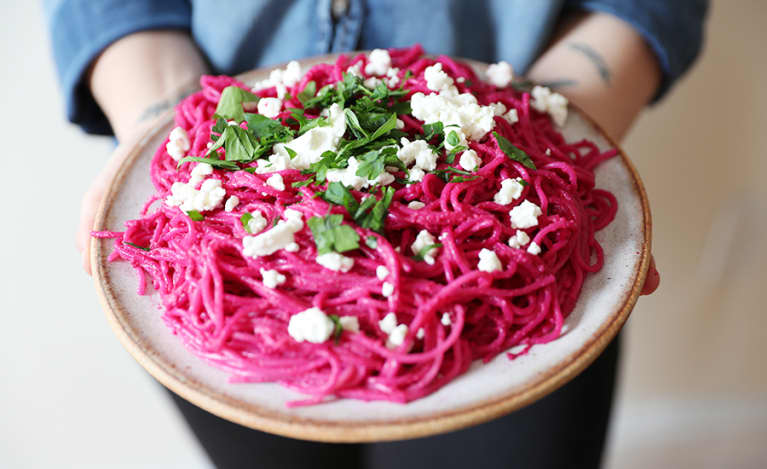 She's not above trying to sneak healthy pseudo-liquids through airport security.
"Fill a jar halfway with hummus," she told us, "then shove some veggie sticks down in it. Security will usually think it's solid enough to go through."
Spirulina is her go-to travel supplement.
"Spirulina is really good to take when you're flying, since it's so good for your immune system," she said. "It's also good for fighting the radiation you're exposed to on the plane."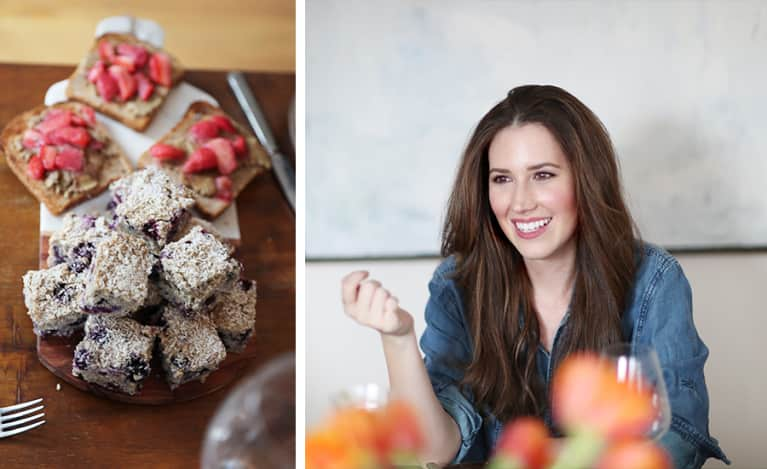 Contrary to popular belief, cacao is caffeine-free (but it's still a powerful energy and heart-opening elixir!).
"I don't know where the caffeine-free myth came from," Sarah said, "but it has theobromine, which is molecularly similar to caffeine—but is not caffeine. It has a strong effect on your heart, making it beat a little faster. That's why, when you eat chocolate, you feel like there's a heart connection, and that's why it's so associated with love, with Valentine's Day traditions and all of that." Sarah makes a healthy hot chocolate with Moon Juice deep chocolate protein powder and warm nut milk.
She loves talking about poop (us too, Sarah!).
"When i went to live on this organic farm when I was twenty three, what I found the most interesting was that you put all this energy into growing food, and then the food gives you energy to grow it, and then you poop it out and put it in the ground, which also nourishes the plants," she told us, as her mother and manager looked around the table to make sure we were all finished eating (we were!). "We're part of this beautiful cycle that we're completely detached from in our daily lives, especially if you live in a city. it was an incredible thing to realize this very real way that we're connected to the earth."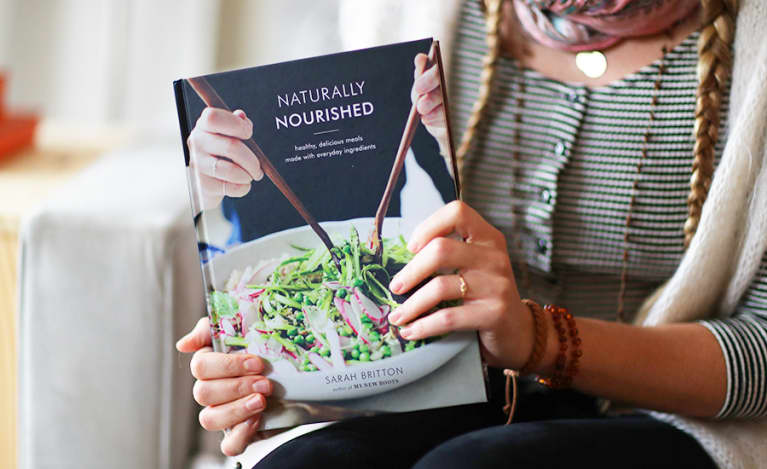 Eating healthy changed her life.
"I didn't realize I felt bad until I felt great," she said. "I thought everyone felt tired, foggy, kind of unmotivated, not depressed but not happy—just unexcited about everything. It's hard for me to figure out whether it was discovering my passion through food that brought me to that or the food made me feel like that inspiring my passion for it. It's a chicken or egg situation."
Her favorite recipe in the book?
The chocolate sun butter cookies. In fact, she insisted that Leigh, who made the sunflower seed butter toasts, go home that evening and whip up a batch of the cookies with the leftover seed butter. She designed a lot of the book to utilize the same ingredients over and over, to minimize food waste and allow readers to take ingredients the extra mile.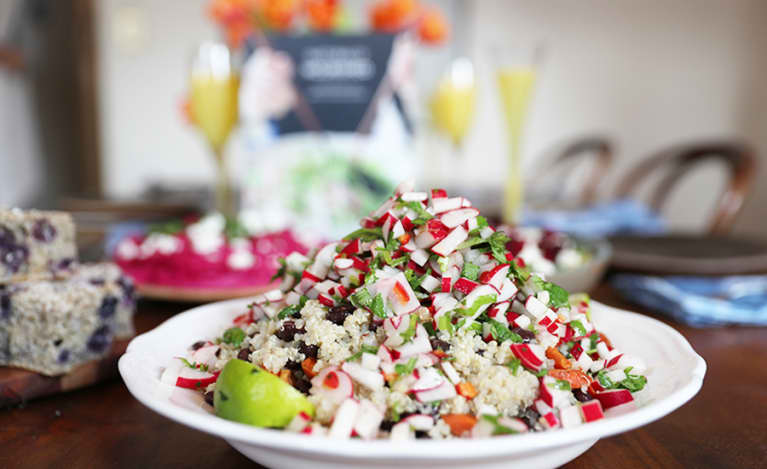 She won't waste a single piece of quinoa.
"It's really important to understand how much work goes into the food we eat, and the processes that are truly behind that," she said. "One time, when I was in South America, I separated quinoa by hand and it took me several hours to get just a tablespoon. For amaranth, you have two baskets. You take as much of the chaff off as you can, and then you pour the amaranth between the baskets and the wind, as you're pouring, blows the grain clean." She said that having that type of awareness makes you think of your food in a completely different way. "If I'm washing rice or quinoa and a few of them fall in the sink, I pick them up and wash them off. When you think about a radish or a lime, the amount of earth energy and people energy that went into producing it—it's a really profound thing."
She firmly believers you should be soaking your nuts and seeds.
"Every seed is dormant until the conditions are in place for it to become a plant," she told us. "If you take a sunflower seed and just eat it, you're actually eating a locked up plant. When you soak it, you're telling it that it's about to become an entire plant, because all of the nutrients to become that are inside, but they're asleep until you soak it. When you soak it, you're initiating the growing process and awakening the nutrition. Eating a handful of raw almonds isn't going to kill you—it's better than a bag of chips—but you're not getting all of the nutrients." Which brings us to...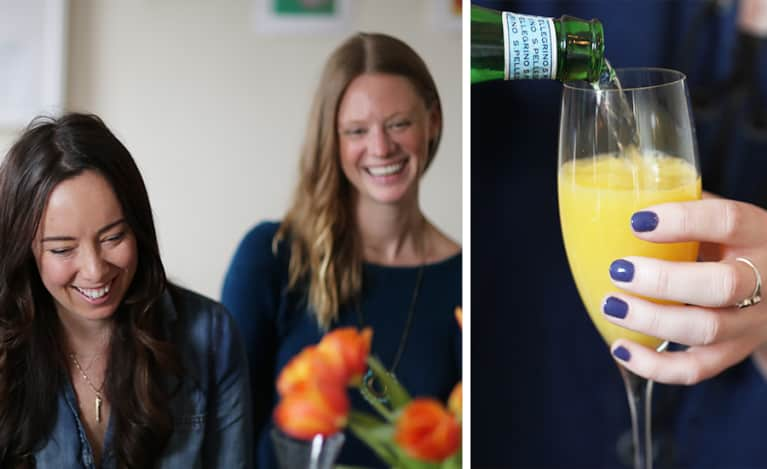 The one question you should ask yourself every night is...
Sarah believes so fervently in soaking that she recommended we put a sign on our fridge or bathroom mirror that says, "what do I need to soak tonight?" She personally soaks ten almonds every single night to eat the next day.
These are her kitchen tool must-haves.
A food processor is number one, and a blender is second—and not even a good blender. "Vitamix is great," Sarah said, "but you can make do with any blender." She personally loves second hand, and actually found her food processor in the trash room of her apartment.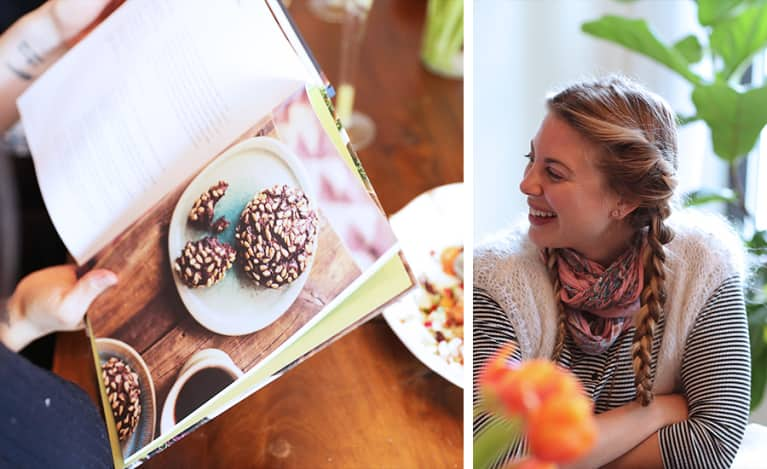 Want to host your own cookbook club? We're giving away three copies of Sarah's book on our Instagram page, so be sure to check that out. In the meantime, you can make one of our favorite recipes from our brunch, a gorgeous polenta with curled beets and arugula pesto (Leah said, "the pesto was such a nice pop of flavor and it's a recipe I can really see myself going back to!").
Polenta with Beet Ribbons and Arugula Pesto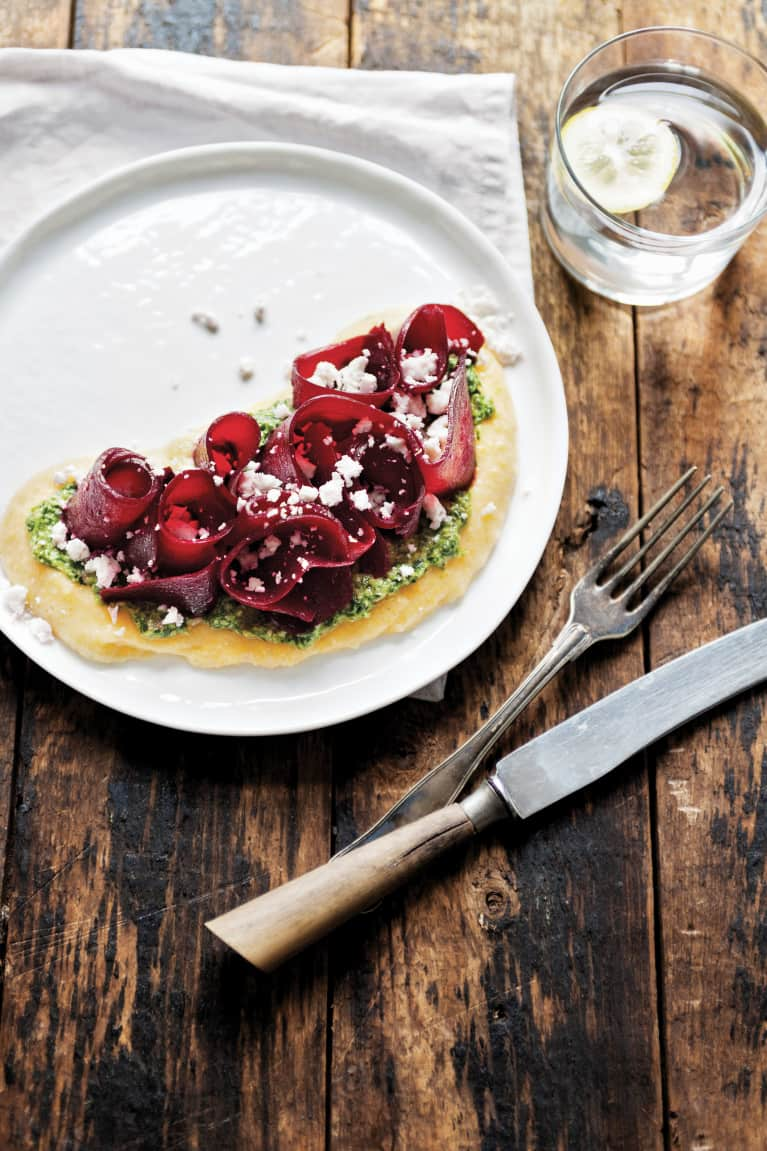 If you're looking to serve something impressive and restaurant-worthy to guests, this dish is sure to fit the bill. Creamy polenta, rich arugula pesto, and sweet, earthy beets combine to create a harmonious, not to mention beautiful, meal. By simply slicing the roasted beets into thin ribbons and curling them around each other, you'll end up with such a spectacular presentation that it will look like you've been to culinary school.
There are three elements to this dish, but both the roasted beets and the pesto can be made up to three days ahead of time, so all you have to do before serving is cook the polenta, making this very doable on a weeknight when you want to put something special on the table.
Serves 4
Ingredients
2 medium red beets
4 to 6 cups / 1 to 1.5 liters vegetable broth or salted water
Fine sea salt
1 cup / 160g polenta (cornmeal)
½ cup / 50g raw, unsalted walnuts
1 small garlic clove
2 packed cups / 50g arugula
1 ounce / 30g Pecorino Romano, freshly grated (about 6 tablespoons; Parmesan will also work)
1 tablespoon freshly squeezed lemon juice
2 tablespoons cold-pressed olive oil
Fine sea salt
3½ ounces / 100g feta (preferably sheep or goat)
1 tablespoon cold-pressed olive oil, for drizzling
Flaky sea salt and freshly ground black pepper, for serving
Preheat the oven to 400°F / 200°C. Wrap the beets in foil and place them on a rimmed baking sheet. Roast for about 45 minutes. The beets are ready when you can easily insert a sharp knife into the center. Remove them from the oven, peel back the foil a little, and let them cool. When the beets are cool, slip the skins off.
While the beets are roasting, make the polenta. In a large saucepan, heat the vegetable broth and a good pinch of salt until it begins to simmer. Slowly pour in the polenta in a steady stream, whisking all the while to prevent clumping. Whisk constantly for a couple of minutes, then reduce the heat to low and cover the saucepan. Stir every 5 minutes or so until the polenta is creamy without any grit to it, 30 to 45 minutes total. If the polenta becomes too thick, whisk in a little hot water or more vegetable broth.
While the polenta is cooking, make the pesto: Lower the oven temperature to 350°F / 180°C.
Place the walnuts on a rimmed baking sheet and toast them in the oven for 7 to 10 minutes, watching them so they do not burn. Remove from the oven and let cool slightly.
In a food processor, pulse the garlic until minced. Add the walnuts and pulse to mince. Add the arugula, Pecorino, lemon juice, and olive oil, and pulse until uniform. Season with salt. (The pesto will keep in an airtight container in the fridge for up to 3 days.)
Place the peeled beets on a cutting board and slice off the ends. Using a vegetable peeler, slice the beets into strips. Set aside.
To assemble, spoon about a quarter of the polenta onto each plate and top each with the desired amount of pesto. Roll up the beet ribbons and sink them down into the pesto and polenta. Curl more beet pieces in and around the rolls until most of the polenta is covered. Crumble the feta over top, drizzle with olive oil, and sprinkle with salt and pepper.
Tip: spread leftover pesto on toasted whole-grain bread and top with a poached egg.
Recipe reprinted from Naturally Nourished: Healthy, Delicious Meals Made with Everyday Ingredients, by Sarah Britton, with the permission of Clarkson Potter, a division of Penguin Random House. Copyright © 2017.