4 Stylish Athleisure Brands You'd Never Know Were Eco-Friendly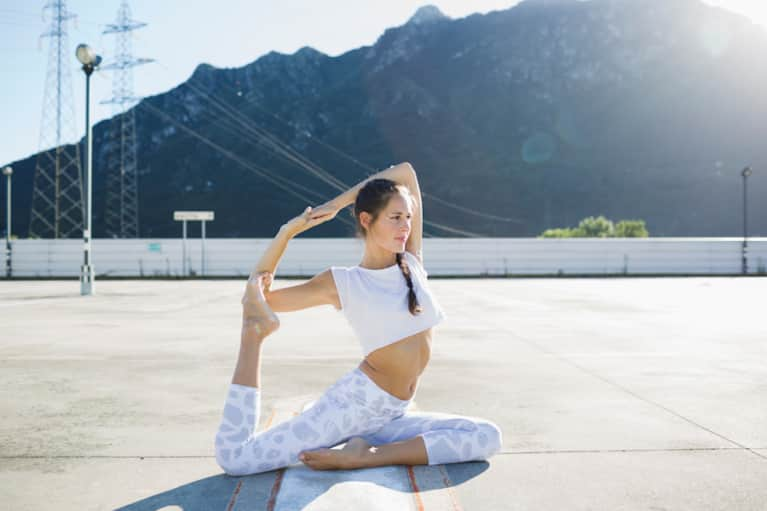 Do you remember a time when your workout outfit consisted of a pair of old sweatpants and a T-shirt?
Those days are long gone, my friend. The athletic-wear industry has majorly stepped up its game with high-performance fabrics, numerous styling options, and fashion-forward designs. So now, you need to really get "dressed" for the gym with high-performance gear made of antimicrobial, anti-odor fabrics.
But it turns out that many of those comfortable blends and performance qualities we do want in our workout clothes come from unsustainable raw materials and chemical treatments that we definitely don't want. For instance, triclosan, traditionally used as a coating for antibacterial and antimicrobial fabrics, has been shown to cause cancer in mice. Meanwhile, nanoparticle silver, used in anti-odor and antimicrobial activewear (but not tested for consumer safety!), is linked to endocrine disruption and produces "adverse developmental, reproductive, neurological, and immune effects in both humans and wildlife" according to the NIH.
Since workout clothes stick to the skin after a good, sweaty workout, you want to be sure you really understand what chemicals go into them. That's why my team over at Project JUST compiled this list of stylish athletic brands that offer high-quality products with a positive environmental and social impact. Check out our top four here:
This brand has the "art" of performance down. Samanata Yogi uses recycled nylon and polyester fabrics and decorates them with water-based ink prints. By using recycled materials, the company is preventing waste and the use of new raw goods. And by utilizing water-based ink, it's sending fewer harmful chemicals into the environment. Each print is a one-of-a-kind design that tells a story about a particular place and its culture. The brand either pays a fee up front for the design or does a profit share with the artist who creates it.
Elle Evans' cool designs are great for working out or just hanging out. Not to mention, the brand's econyl material, made from post-consumer and pre-consumer waste taken from landfills and the ocean, is the same type of fabric it uses for its swimwear. Seaworthy athletic wear, ahoy! With high-performance qualities for both swimming and land sports, you can get your running done and then jump in the ocean for a refresh. The brand designer sews all the designs herself in her Aussie workshop, so you know exactly where they're coming from.
This sustainable brand out of Chicago uses recycled polyester and a cool environmentally friendly fabric called chitosante, which is made from shrimp and crab shells and makes nontoxic clothing that's antibacterial, biodegradability, odor-resistance, breathable, and fast-drying. Fibre Athletics is also super transparent, detailing where it sources all its threads and even zippers.
We weren't surprised either. These guys are on the varsity team when it comes to sustainable production. Patagonia sets a high bar by mapping their entire supply chain and letting consumers know what it's up to, even when it slips up. The brand also uses bluesign-certified dyes and eco-friendly fabrics like recycled cotton and Tencel — a fabric made from regenerated wood cellulose. Plus its sewing facilities are fair-trade certified, so workers are paid fair wages and participate in community improvement projects.
Related reads:
For more information on sustainable clothing brands, head over to Project JUST.