How Yoga Helped Me Cope With The Loss Of My Grandmother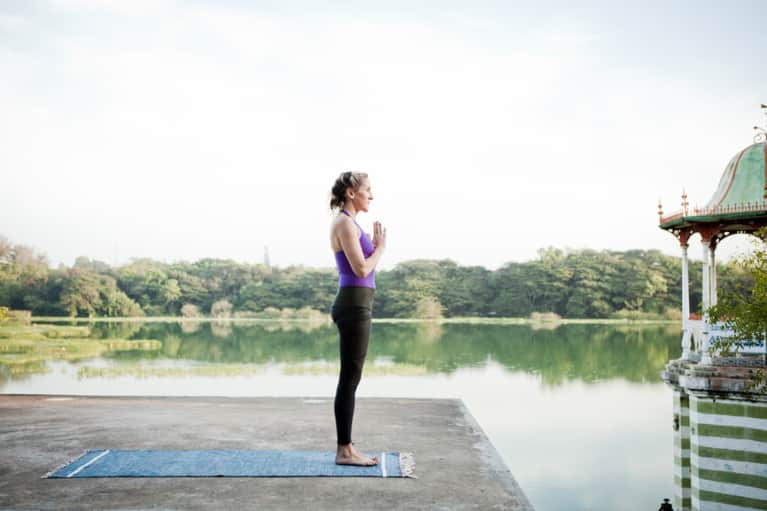 There are many who say the path of yoga, or the inner tradition, is primarily concerned with inner freedom. My grandparents embedded the philosophical understanding of yoga in my mind since childhood, yet I always felt a sort of uneasiness when trying to apply the understanding of the freedom of dukkha (suffering/sadness) to death and dying.
Until recent times, that is. My grandmother died a couple of weeks ago, and I arrived five minutes after her heart stopped beating. I was not ready to let go. I held her tender, warm hand while sorrow and tears flooded my face. Meanwhile, in the liminal space of experiencing a sense of life and death, something extraordinary happened that brought a strange sense of peace to my heart.
I felt the sensation of my grandmother squeezing my hand moments after her death. I felt I might be delusional in those moments of fragile awareness, so I asked my grandfather to hold her hand and confirm that the internal currents of her body were, in fact, real. She had indeed saved her last breath. The wind of prana (breath) flowed energetically to our bodies perhaps to convey the message that the ritual time of letting go had commenced.
Some in the yoga world have even said, "Letting go in the face of death turns dying into an act of giving." Letting go as she reminded us by holding on to our hands, even after her death, means holding on to her precious memories through our everyday actions. That, too, is a gift.
The knowledge and bright light of her charismatic soul will always be with us in our hearts, and that is something we will not let go. The day after her death I did not turn to the myriad social science books I have on death, nor did I turn to my understanding of grief from a psychological or bereavement counseling perspective. Instead, I turned to yoga.
I woke up the next morning, after a sleepless night and opened my heart to various asanas (yoga postures). I've had an on-and-off relationship with my yoga practice for many years, and only this year did I decide to make that relationship long term. By practicing yoga after the death of my grandmother, I was nourishing my body with inner strength.
During my moments of yoga practice, I experienced an eerie sensation in which my heart was filled with what felt like true love. Life, like love, is fleeting. But through yoga, I felt inner peace and (dare I say it?) happiness during my time of loss. For the first time in what seemed like forever, my heart was happy in a new kind of utopia.
Throughout the week before the funeral, I went on to preach the ways in which yoga helped strengthen my body and soul and (not surprisingly), the thread of spiritual and physical awareness filled the hearts of others as well. I knew then that there was something truly magical about the connection between yoga and death that no amount of time researching or talking about death could explain. The day of the funeral I smiled as I read a poem dedicated to my grandmother from my grandfather. As the time for farewell came near, I respectfully bowed to my grandmother and lit a symbolic candle to guide her on her way.
Now as I write these words, from the corner of the room, I see the beautiful ray of sunshine bright on my grandfather as he practices his daily ritual of yoga. We have opened our hearts, and perhaps this is what is meant by embracing our inner freedom. Our hearts are somewhat at peace even though the messenger of death has taken away our smiling bird.