Want To Do Yoga & Pilates At Home? Use These 6 Tips To Spruce Up Your Space & Strengthen Your Practice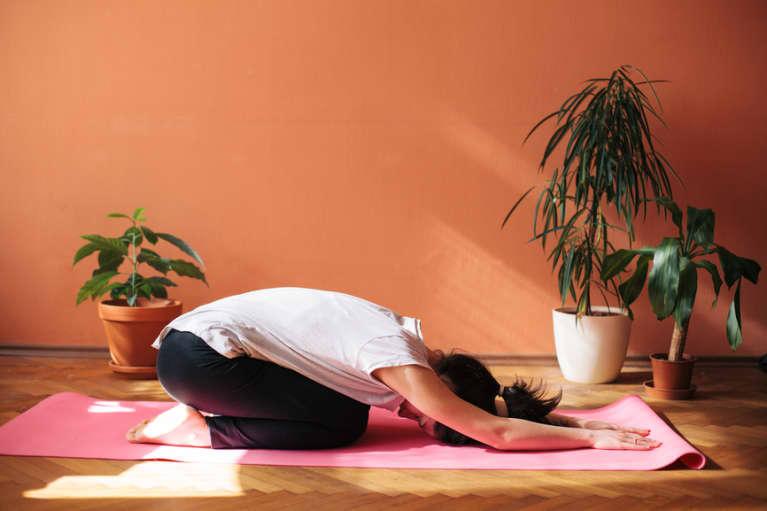 September 30, 2016 — 7:40 AM
Thanks to the ability to stream yoga classes, pilates classes, and other workouts online, more and more people are exercising and meditating in the comfort of their own homes. What this means? There's an increasing need to make your bedroom, den, or backyard deck function as an energizing, health-enhancing exercise zone or mindful meditation and yoga oasis.
As the founder of Studio 26, an eco-friendly, urban fitness and wellness oasis located in New York City, I have the pleasure of witnessing the transformation and health benefits a supportive space can provide for the most stressed out of all urban dwellers: New Yorkers.
A negative space is an assault on the senses that can make your body shut down despite serious, strenuous efforts to improve it. So take these simple steps that, with a little help from nature, smart design, and cleaner, better-smelling air, make for a healthier yoga and workout space. As an added bonus, your workouts—yoga or otherwise—will drastically improve.
Here are 6 great design tricks you can use at home to persuade your brain — and body — to be healthier:
To harness the beauty and healing power of nature to improve physical practice and wellbeing, simply add a plant. Viewing the color green boosts creativity and motivation, speeds recovery, aids in learning new skills, and promotes efficiency and productivity.
Plants can promote positivity and reduce stress levels by as much as 60 percent. Just by looking at a fern, your body begins to calm down and blood pressure lowers. Plus, plants dramatically improve air quality by removing toxic chemicals such as formaldehyde and benzene from indoor air, which helps reduce eye irritation, respiratory conditions, headaches, and lung-related issues.
New research is providing clear evidence that visual and tactile cues in designed spaces affect physical and mental performance. In addition to an empathic response to visual beauty, which motivates kinetic movement via motor neuron activation, science is demonstrating that natural views of greenery, and even fake or virtual greenery — though as a wall gardener I am hesitant to admit this! — sparks a type of brain "reset" that balances brain function, reduces stress, increases perceived vitality, and incites the parasympathetic nervous system to restore the body.
Pro tip: Leafy plants tend to improve air quality more than flowering plants. Also, choose a plant you know you can keep alive!
2. Be visually strategic.
We have a kinetic, empathetic response when we view visual art, dance, or physical performance. Strategic visuals in your workout space enhance motor engagement through mirror neurons, which means our brain's reward circuitry makes us move toward pleasurable things we consider beautiful.
Pro tip: Pick a color you love, and paint your workout space that color. Next, pick a piece of art that resonates with you, and hang that up. Then, dial up your favorite playlist to trick your brain into experiencing pleasure during even those most challenging sun salutations or grueling workouts. The perceived rewards that register in the brain will help you form better habits, making it easier to stick to your workout program while sharpening performance.
3. Select good, nontoxic materials.
Off-gassing from things like paint, adhesives, clothing, fitness equipment, and even ink can pollute indoor air with known carcinogens and VOCs. Great strides are being made in apparel, accessories, and apparatus manufacturing, but being a conscious and smart shopper is important!
Pro tip: Opt for cork yoga blocks as well as S'well water bottles.
4. Pay attention to smell.
The link between smell and emotional connection is a strong one. The mechanisms of smell are tied to associative learning and emotional processing. Odors act as associative benchmarks for conditioned behavior: Pleasurable, ambient odors have been found to aid discipline and focus during menial tasks (like workouts), so in transformative-minded workouts such as a tough yoga series or HIIT workouts, the better the smell the more likely you are to have positive associations with your workout. You can directly enhance your mood via smell, whose physiological impact can affect skin conductance, heart rate, and eye-blink rates.
Pro tip: Light a candle, choose cleaning supplies that smell good, and choose zero-VOC paint. Response to smell is not universal, so be sure to choose what works for you.
An organized space free of clutter can promote focus and the brain's ability to process information, so make sure your workout space is clutter-free.
Pro tip: For props, accessories, and tools, use simple storage units to keep the visual field clear while providing easy access to the things you need for your workout or session.
6. Make light a priority.
Humans in modern cities spend more than 90 percent of our lives indoors, wreaking havoc on our biological processes. Working out in natural light rather than in a basement gym can mean enough increased mental and visual stimulation to regulate your circadian rhythms, enhance comfort, and improve productivity.
Pro tip: Locate your workout or practice space near a window, or use full-spectrum light bulbs, which will provide it for you.
When all of these things are in place, your body is ready for a better, stronger workout. You'll nail that handstand in no time!