10 Simple Ways To Squeeze In Yoga Every Day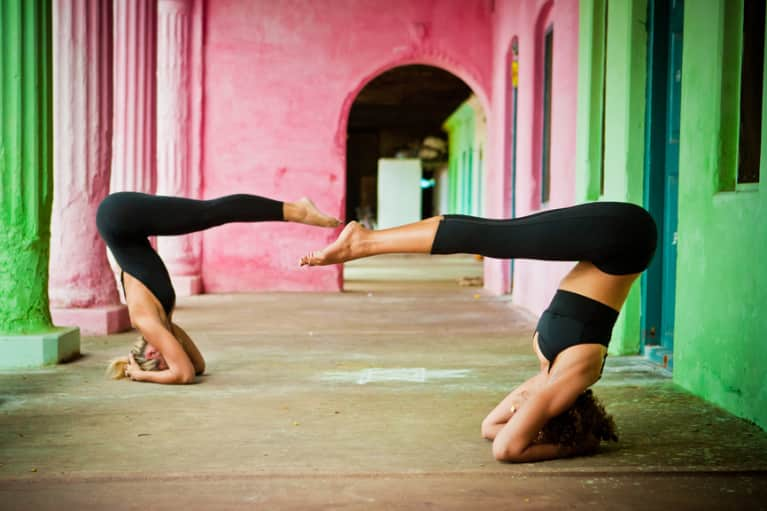 I travel a lot. And when you're a yoga enthusiast like I am, you need and want to maintain your daily practice. But when you're traveling, it can be really tough to find the time or a comfortable space to roll out your mat.
To help you out, I've put together 10 of the best ways I've found to maintain my yoga and meditation practice while traveling. Not only will these help you get your daily practice in, but you'll come back less stressed and more relaxed.
1. Meditate on the plane.
Many flights these days have meditations available as part of their entertainment service. If not, download the Yoga Wake Up app. It's filled with meditations you can download and then listen to when you're on- or offline.
2. Set up a place to practice.
Whether it's in your hotel room, on your patio, or in the corner of the hotel gym, you want to set up a place where you can practice. If you are visiting a new place, scout out a comfortable space right away so you know where to unroll your mat when the time is right.
3. Communicate with your fellow travelers that you plan to practice.
It's great to let those you're traveling with know that your practice is important to you. (You never know; they might want to join in and practice with you!) The best advice I can give here is to plan your practice around any group activities you all might have planned so it does not interfere with the fun you plan to have while on the road.
4. Start in the morning — unless the afternoon or evening is the only time you have.
If you're like me, you like to let loose while you're on vacation by having a glass of wine, enjoying long days soaking in the sun, or adventuring around nearby towns. Though those things are great and they do help relax me, they leave me feeling less motivated to fit in my practice after the fact. That's why I suggest getting your practice in in the morning before you go off for the day.
5. Stop, drop, and breathe.
Do you ever get anxious while walking through customs or security? How about if your rental car breaks down in a foreign country? Moments of stress can come up at any point; therefore, it's important to go through the following step when you feel stress building up:
Stop. Feel your two feet on the floor (get grounded!). Close your eyes. Take a deep breath (or four). Open your eyes. Begin again.
This technique also works if you're struggling to stay present in your surroundings. I've definitely taken vacations when I had a lot on my mind. And in order to really enjoy them, I had to tune out the chatter and breathe into the beauty right in front of me.
6. Run your feet up the wall.
In the summer of 2012, I blew out both of my knees a week before I had to fly to Tahiti for a photo shoot with a SUP yoga company. The only thing that helped me get through that trip was 20 minutes of Viparita Karani (legs-up-the-wall pose) every day. Viparita Karani is a wonderful pose you can do pre- and post-travel. Plus, the benefits are immense: reduced swelling of the legs, increased circulation throughout the whole body, reset of the nervous system, better sleep, a sense of calm and ease, help with headaches, and the list goes on.
7. Never pass up an opportunity to roll out your mat.
Nontraditional places to practice are the best. This goes for whether you're at the pool deck, in the airport waiting for your flight, or other settings. If you're only used to practicing yoga in a controlled environment, then it's time to spread your wings and embrace the opportunity to sun salute to the ocean while sunbathing in the sand. Practicing in a nontraditional environment is a great exercise to see how present you can be in your body despite all the distractions.
This one might seem a little redundant, but it is important because when you're present with your surroundings and those you're with, then you are practicing yoga. When we grab our phones to scroll through emails or social media, then we have a tendency to check out and steer our attention away from the people we are with. Do your best to soak in every moment of your trip and stay present.
9. Check out local studios and teachers.
This is definitely something to keep in mind if you're traveling to a place that may have a yoga class available to you. Be sure to check out the local yoga scene and see when you can fit in a class. I've learned so much by practicing in places I would have normally never gone, and I've met some really great people along the way.
10. Try different types of yoga.
I know, it's easy to get attached to a normal routine and way of practicing. But traveling gives you the opportunity to mix things up. You may find a new movement discipline that's not available back home, or a yin practice to balance out the busyness of traveling.
Were these tips helpful? I'd love to know if there's any you'd add to the list, or if you try some of these, please let me know how they work out for you.
Happy traveling!