Signs You're Ready For A Major Downsize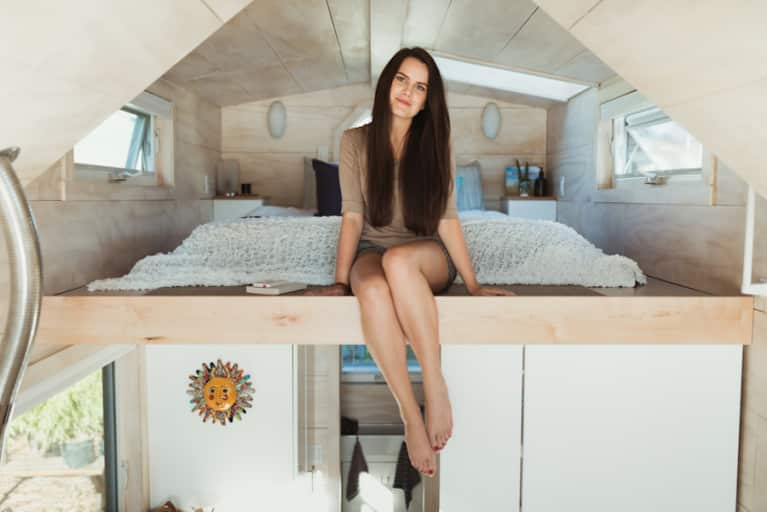 Tiny homes (classified as a home under 200 square feet, often on wheels) have become popular and even trendy living options for millennials who are ready to make minimalism a priority.
And for good reason: Living tiny helps people save money on rent, have the freedom to travel, and prioritize experiences over things.
My husband and I decided to make the transition into a tiny house about a year ago. I am definitely not the stereotypical outdoorsy environmentalist you would envision making this kind of move, and in a lot of ways I had no idea what I was getting myself into. Plenty of unforeseen challenges arose when I made my switch, yet, despite the steep learning curve, I can't imagine ever returning to a "regular" house.
Think you have what it takes to go tiny? After one year of living in two tiny homes of less than 200-square feet, here are a few important qualities I've noticed are essential for this life-changing switch:
1. You don't have emotional attachment to physical items.
This was a tough one for me, and most of us probably don't realize how attached we are to certain physical items until we are forced to get rid of them. In a tiny house, there simply won't be enough room for your old running shoes or your favorite college sweatshirt. Downsizing will also make you much more picky when purchasing new clothes because you will be forced to follow the "buy one, toss one" rule (every time a new clothing item is purchased, you must donate another).
2. You know your nonnegotiables.
As a nutritionist, a full-size fridge is an absolute must since I love to have lots of fresh produce on hand. Once I moved into my tiny home, I was prepared for the human Tetris that would be occurring in the kitchen during mealtimes.
3. You're prepared for questions.
Believe it or not, some people have no idea what a truly tiny house actually is. I remember trying to explain my living situation to an elderly friend of my family, and she responded by saying that she too lived in a tiny house when she and her husband first met, 40 years ago. Be prepared with lots of photos to help people understand that 190 square feet actually is a livable space. If you downsize with a partner, be prepared to answer the question, "How do you not kill each other?!" on a daily basis. This leads me to my next piece of advice ...
4. Your loved ones support you.
Moving into a tiny home with someone is a huge commitment, so don't approach it lightly. If things aren't going well in a regular-size house, it's not a great sign. Downsizing magnifies the good—and the bad!—of any relationship tenfold.
5. You LOVE short showers.
In my first tiny home, I quickly learned that a small water tank equals a very small amount of hot water. In order to get the most heat out of my showers (and save water), I would turn off the faucet while shampooing and shaving and turn it back on to quickly rinse off. My total water-running time never exceeded two minutes. (Colorado winter and cold showers do not mix.)
6. You have plenty of outdoor hobbies.
Tiny spaces are just big enough for the essentials: eating, sleeping, showering, and relaxing. That's why it's important to make sure you have plenty of hobbies and interests outside of your home. I started my online business while living in a tiny house, so I know from experience that working and living in a small area can drive a person a little stir crazy. Make sure to find activities you enjoy outside like hiking, going to the movies, meeting up with friends, and working from a coffee shop—and use your home only for the essentials.
7. You're positive and easily adaptable.
At this point, I can look back at all of our tiny-house mishaps and laugh about how little we knew about what we were getting ourselves into a year ago. But I'd be lying if I said that each of these struggles wasn't frustrating or argument-inducing at the time. The common denominator in every situation, though, was our ability to adapt and recognize that in the grand scheme of things, these mishaps were inconveniences at most.
Related reads: