3 Warming Superfood Soups To Kick Off Fall The Healing Way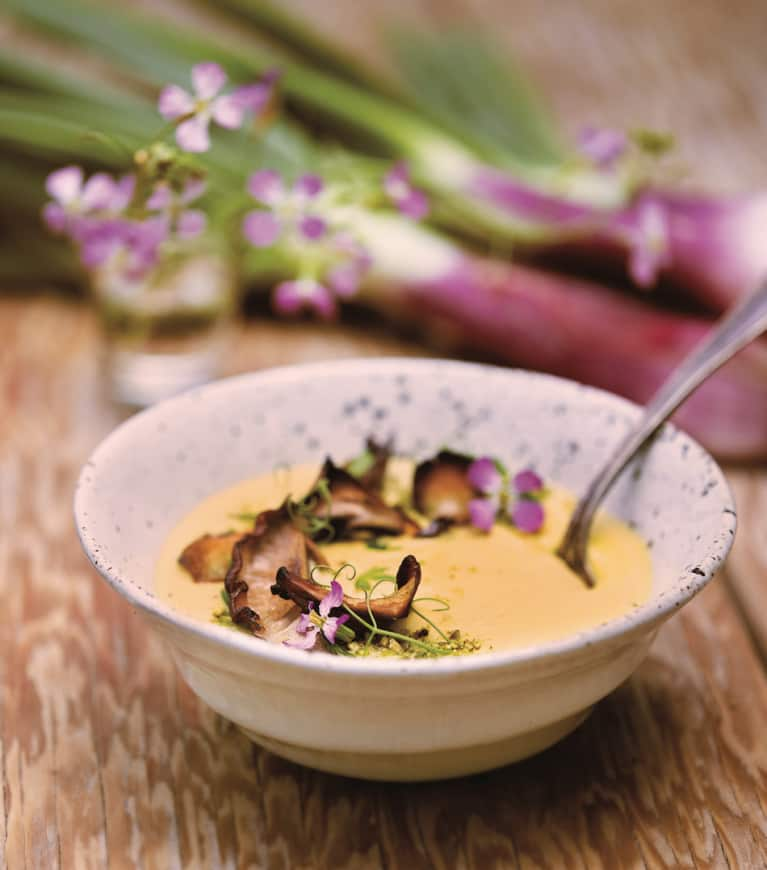 Here are three soups that are guaranteed to get you psyched for cooler temps — each with their own healing superfoods—from the new book Superfood Soups.
Golden Cauliflower Soup With Seared Mushrooms
Both the cauliflower and the turmeric in this soup are well-studied anti-cancer and anti-inflammatory ingredients, helping you glow from within.
Serves 4
Ingredients
2 tablespoons shelled raw pistachios
¼ teaspoon wheatgrass powder (optional)
Sea salt
1 tablespoon coconut oil
2 leeks, white and light-green parts only, sliced thin
2 cloves garlic, minced
1½ lbs. cauliflower, cut into 1-inch pieces (4 cups)
1 teaspoon fresh thyme leaves, minced
½ teaspoon ground turmeric
¼ teaspoon cayenne pepper
4 cups miso broth
½ cup raw cashews
1 cup wild mushrooms, such as maitake, shiitake, and/or chanterelle
1 tablespoon grapeseed oil
2 tablespoons minced fresh parsley
¼ cup microgreens and edible flowers, for garnish (optional)
Preparation
1. Chop the pistachios very finely into a coarse powder. Place the powder in a small bowl and add the wheatgrass powder as well as a scant teaspoon sea salt. Set aside.
2. Warm the coconut oil in a heavy-bottomed pot over medium heat. Add the leeks and garlic, and cook for 2 to 3 minutes until leeks are softened. Stir in the cauliflower and thyme, and cook for a minute longer. Add the turmeric, cayenne, and miso broth, and turn the heat up to high. Bring to a boil, cover, and reduce heat to medium-low. Cook for 20 minutes, or until cauliflower is very soft. Remove the pot from the heat, and add the cashews. Transfer the soup to a blender, working in batches as needed, and puree until completely smooth. Return the soup to the pot and keep warm.
3. Depending on the size and variety of mushrooms you use, tear into bite-size portions or slice into 1-inch pieces. Warm the grapeseed oil in a large skillet over high heat. Once the oil is shimmering, add the mushrooms, spreading out in an even layer as much as possible. Without stirring, cook the mushrooms for 1 to 2 minutes to sear. When the mushroom bottoms have turned golden, flip them over with a spatula and repeat on the other side for 1 to 2 minutes longer. Transfer the mushrooms to a bowl, add the parsley, season with salt, and toss well.
4. Serve the soup by ladling it into bowls and sprinkling with ground pistachios. Place a mound of mushrooms on top, and dress up the plate with microgreens and flowers as desired.
Curried Apple + Butternut Squash Soup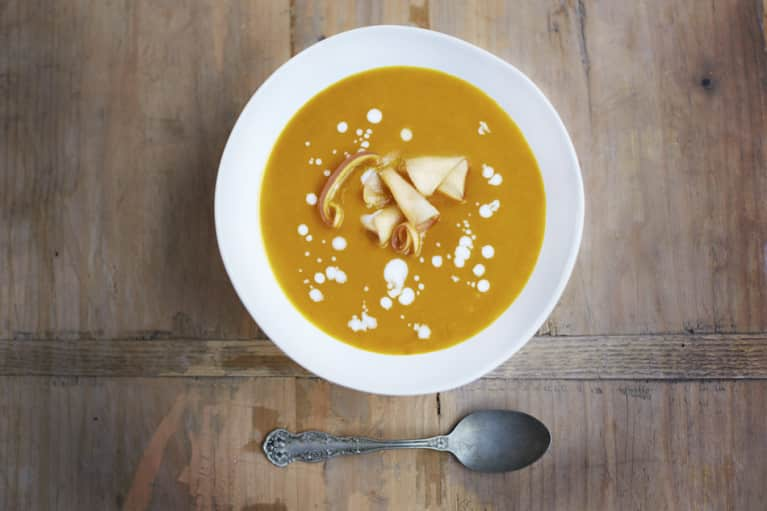 Apples and squash go hand-in-hand as BFFs (best flavor friends) … and of course curry makes everything just a little better. This is a wonderfully complex soup you're bound to make time and time again.
Serves 4
Ingredients
1 tablespoon coconut oil
1 yellow onion, diced
1 large sweet apple (such as Fuji), diced (about 1½ cups)
1 tablespoon peeled and minced fresh ginger root
2 lbs. butternut squash — peeled, seeded, and cut into 1-inch dice (about 5 cups)
4 cups miso broth
1 tablespoon Thai red curry paste
1 tablespoon dulse flakes
¼ cup dried goji berries
1 teaspoon ground turmeric
2 tablespoons fresh lime juice
⅔ cup canned coconut milk, plus extra for garnish
Salt and pepper (optional)
½ sweet apple, shaved thin, for garnish
Preparation
1. Warm the oil in a large heavy-bottomed pot over medium heat. Add the onion, and cook until translucent, about 5 minutes. Stir in the apple and ginger, and cook 1 minute longer. Add the butternut squash, broth, curry paste, dulse flakes, goji berries, turmeric, and lime juice, and mix well. Over high heat, bring to a boil. Reduce the heat to low, cover, and simmer for 30 to 40 minutes, or until the squash is very soft.
2. Working in batches, transfer the soup to a blender. Puree until very smooth, and then pour into a large bowl. Repeat with the remaining soup mixture, and return the batches to the soup pot.
3. Stir in ⅔ cup coconut milk and gently warm over low heat for 1 to 2 minutes. Season with salt and pepper if desired. To serve, ladle into bowls, drizzle with additional coconut milk, and garnish with a few apple shavings.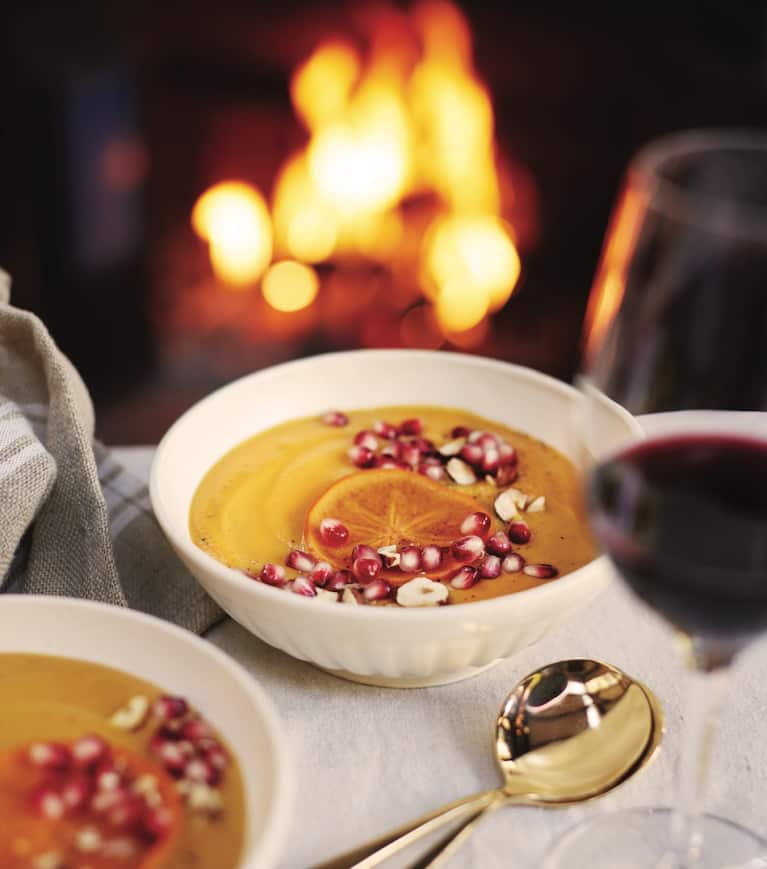 Persimmons are some of the most cheerful fruits on the planet and always remind me of early fall, when they hang off the bare trees like jolly orange ornaments. They also do a wonderful job of lending creamy sweetness to a soup like this one.
A tip: If you're using Hachiya persimmons, they should be extremely soft (and feel like a water balloon); otherwise, they will taste too puckery. On the other hand, Fuyu persimmons should be hard and crisp.
Serves 8
Ingredients
2 tablespoons coconut oil
½ red onion, finely chopped
2 lbs. parsnips, peeled and cut into ½-inch dice
1½ lbs. very soft Hachiya persimmons, trimmed and chopped
2 tablespoons dried goji berries
2 teaspoons maca powder
1 cinnamon stick
6 cups vegetable broth
2 cups (unsweetened) vanilla almond milk
Sea salt and ground black pepper
1 Fuyu persimmon, shaved into paper-thin slices, for garnish (optional)
1 cup fresh pomegranate seeds
½ cup roasted hazelnuts, chopped
Preparation
1. Warm the oil in a heavy-bottomed pot over medium heat. Add the onion and parsnips and sauté for 6 to 7 minutes, or until the parsnips begin to turn golden. Add the Hachiya persimmons, goji berries, maca powder, cinnamon stick, and broth. Raise the heat to high, and bring the mixture to a boil; then reduce the heat to medium-low, cover, and cook for 20 minutes.
2. Remove the mixture from the heat and stir in the almond milk and a little ground black pepper. Discard the cinnamon stick. Working in batches, puree the soup in a blender. Return the soup to the pot over low heat to keep it warm. If the soup is too thick, add a little water. Taste for salt and adjust as desired.
3. To serve, ladle the soup into bowls and garnish with a couple of persimmon slices, pomegranate seeds, chopped hazelnuts, and a sprinkle of ground black pepper.
To roast hazelnuts: Place the hazelnuts in a small sauté pan over medium heat for 5 to 10 minutes, stirring frequently to keep them from burning. The hazelnuts will be ready when they are slightly browned and fragrant. Let them cool, and then chop them into small bits. Alternatively, if you happen to have a fire going, place the hazelnuts in a fire-safe pan and hold it over the flames for 2 to 4 minutes, shaking the pan to avoid burning.
Reprinted with permission from Superfood Soups © 2016 by Julie Morris, Sterling Publishing Co., Inc. Photography by Oliver Barth.