Off the Mat Founder Hala Khouri Tackles Transparency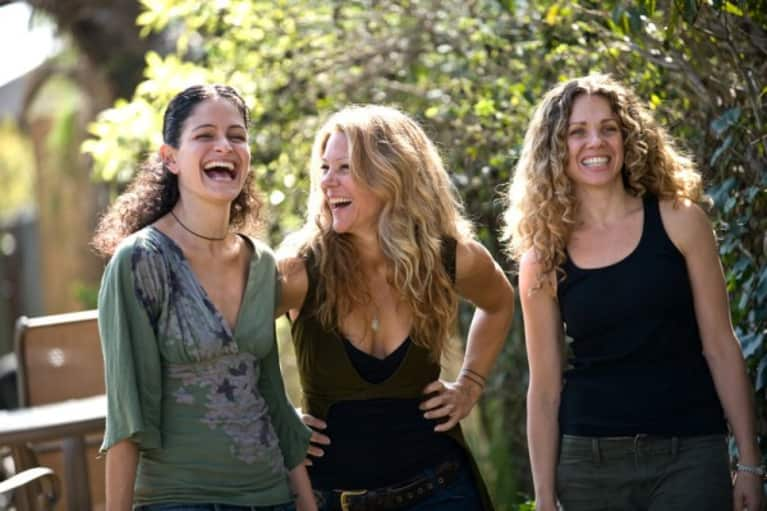 We solicited. You asked. Now we're answering. Here's our first stab on MindBodyGreen at getting more transparent. Thanks for submitting your questions. The founders had a field day answering them. Unedited, Hala speaks for them all:
Question for Seane, Suzanne, Hala: Was there a moment in your practice that you realized how important transparency was?
I can't pinpoint one moment, but rather a string of moments. Moments where I would share something personal as a way to illustrate a point or a learning, and then have a student tell me how profound it was for them to hear that I wasn't perfect, or that I struggled with something that they struggle with. I started to see that there were many people who assumed that I was somehow above human struggles because they perceived me to be so together and knowledgeable. I have seen over my decades of teaching and being a counselor that shame is at the core of so many people's struggles. The more that we all come out with our own shadow and limitation, the more permission we give others to own their shadow side and not feel like they have to hide it.
Intellectually I know that there is pain in my heart but I have managed to shell it in like a walnut....can you recommend a method of "work" to reveal & deal with the pain?
Somatic Experiencing is a technique that I have trained in and been practicing for almost 10 years now. It involves using sensations in the body as a doorway to healing the pain that we have clamped up. Here's a simple meditation -- feeling your feet on the earth begin to simply feel the walnut at your heart. Try to feel both your feet on the earth and the hardness, or simply go back and forth between the two. Breath with the sensation in your heart and see if anything changes. Simply being present with it, without judgment will begin to soften your heart. As you begin to sense what is inside that shell (fear, terror, pleasure), stay grounded and allow yourself to feel that. If you don't feel you can do this on your own, find a good body-based therapist to hold the space for you.
As yogis who live in America, do you ever feel conflicted with the seemingly disproportionate amount of energy and time you spend working with and serving underprivileged in other countries as opposed to helping those in need here at home? If not, why? Thank you for your transparency.
Although we offer a yearly Global Seva Challenge abroad, most of our work is, in fact, local. In April we took a group of yogis on a journey through the criminal justice system in Los Angeles, and we will offer a similar journey in different American cities every year. We also have about 100 local OTM leaders creating small circles of change in their communities via our Yoga In Action program. These yogis engage in a 7-week curriculum and then together create a project (most of the projects are locally based).
But you bring up a good point in general about the appeal that can be created around going abroad. And the irony that it is often our economic policies that are the cause of poverty in the countries that we visit and try to "help." Many Americans are better off staying home and lobbying for better policies.
Our Global Seva Challenges have all raised about half a million dollars each year. Participants are asked to raise 20K each, and if they do, they get to take a trip abroad to learn about a particular culture and participate in some on-the-ground work with local programs to help the community. These trips are life changing because participants get to be in a totally different culture where many of their own beliefs are challenged, and they are stretched out of their comfort zone. Our hope is that they will take the inspiration and self-knowledge from this journey into their communities at home.
When we launched a similar fundraising challenge for a local endeavor (our first trip was Los Angeles), first, there was less interest; and second, those who were interested found that potential donors were reluctant to donate money to another city. One woman in New York shared an experience where a potential donor said he didn't want to donate money towards a nonprofit that works with at-risk youth in LA because there were at-risk youth in New York that need help. In the same conversation he said that he would donate money to poor people in Uganda or Cambodia. We heard from other colleagues who do incredible work here in Los Angeles that they struggle with funding and find that people prefer to donate to other countries. This experience got us interested in looking at why this is the case. One possibility might be that it's easier to admit that there are problems in far-away places that don't resemble our own culture; this can maintain a certain level of denial about what is going on in our own back yard.
We at OTM are committed to expanding out local emphasis, and our Los Angeles training was a huge success. We learned about some of the root causes of marginalization and disenfranchisement of the black and brown communities here in LA -- starting with racist bank-lending practices, which set the stage for socioeconomic stratification and inequality. We want to encourage our community to do more of this and understand what is happening right under our noses.
Beautiful photo. How can I use all my nifty nonprofit experience to help OTM grow? Maybe you can tell me at Hanuman!
Thank you so much for your offer. We get lots of offers to help. The thing that helps us the most is when someone can come with a tangible way that they see that they can help. For example "I think OTM could use X and I have Y skill that I would like to offer." We are so grateful for all the folks who get inspired and email us asking how they can help us. Aside from writing us a big check so we can expand our staff and programs, "helping" us grow is complex. We'd rather hear about your skills and your vision for what you'd like to contribute.