3 Spices To Heal Your Acne From The Inside Out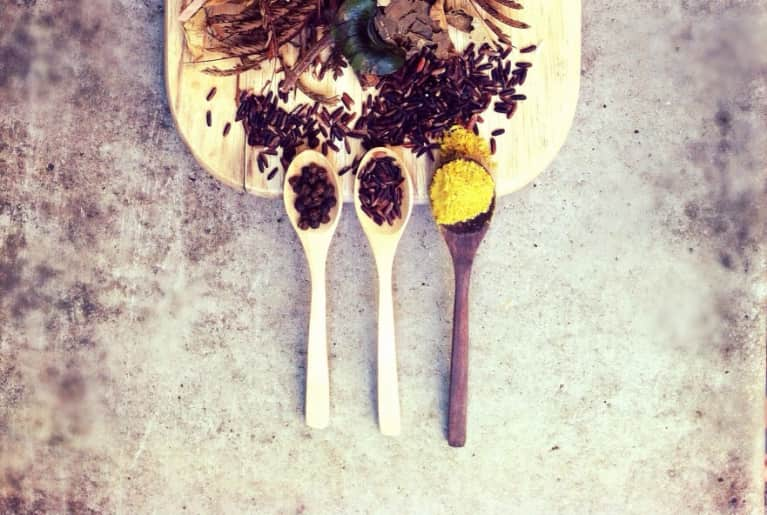 As a child growing up in India, I remember the hot and sultry months of April and May being busy ones in every Indian household. June was when the Southwest monsoon would unleash its fury, and there would be days when no one could venture out of their homes because of the heavy, torrential rains.
These two months were officially the time when the house would be stocked up to tide itself over the next few months. Red chilies, turmeric roots, and coriander seeds were all dried in the sun before being taken to the spice mill to be ground individually or into a secret blend of spices (the recipe of which each family guarded with their lives). I remember being in crowded marketplaces with the aromas of various spices teasing my nose.
When the medical world could not shed light on a cure for my acne, which was also leaving behind dark marks and scars, it was only natural that I, too, turned toward my spice shelf. After a lot of experimenting and talking to other women, these are the three spices that I now incorporate into my skin care routine to ensure my skin stays clear, smooth, and free of acne.
For the longest time I always hesitated to use turmeric in my skin care routine as I knew that it left a yellow tinge on skin. Women around me use turmeric on a daily basis, and no matter what their coloring, they always have a yellowish hue on their faces. But the trick is to use it mixed with honey, and then I find no yellow tinge on my face after using it. However, do start with very small quantities and increase the amount as you get comfortable with it.
Turmeric has antioxidant, anti-inflammatory, and antibacterial properties. It helps fight off free radicals, which in turn reduces the signs of aging. For people suffering from acne, turmeric helps soothe the inflammation while also helping with scars and reducing the amount of oil secreted by the sebaceous glands.
Cinnamon is another anti-inflammatory agent. It has antiseptic properties and when applied on the face, brings blood and oxygen to the surface of the skin, which will give you a rosy look. It works on acne by reducing the inflammation and redness; however, since it is a very strong spice, never apply it directly, or even mixed with water, to your face. Always use a gentle medium like raw honey, which will balance out the strong nature of cinnamon.
Nutmeg is known for its astringent, antibacterial, and anti-inflammatory properties. Its stimulating properties restore and rejuvenate skin by getting rid of the dead cells. It also helps in reducing the appearance of pores, wrinkles, and marks.
Here's a face mask that uses all three spices that's effective for treating acne and the marks left by it. The base is honey, which restores moisture to the skin. As with everything else, start with a small patch test to see how your skin reacts. The best results occur when you let the mask sit on your face for more than 30 minutes. Since all the ingredients in it are natural, they need a bit longer to work.
Ingredients
2 teaspoons organic honey
¼ to 1 teaspoon cinnamon powder, depending on your tolerance (it is always best to start with a very small quantity)
¼ teaspoon finely ground nutmeg powder (I normally take a full nutmeg and grate what I need with a microplane)
A pinch of organic turmeric powder (increase it as required)
A drop of avocado or jojoba oil (in the winter months or if your skin is too dry)
A pinch of ground orange peel (if you have it and need a little glow)
Preparation
1. Mix all ingredients in a small glass jar.
2. Apply a thin layer on your face, and let it sit for 30 to 60 minutes. The quantity of face mask using the above proportions is enough to last for four applications.
3. Pop the rest into the refrigerator for a cool treat. Use for at least a week to see good results.
Related reads: