The Ultimate Fall Yoga Guide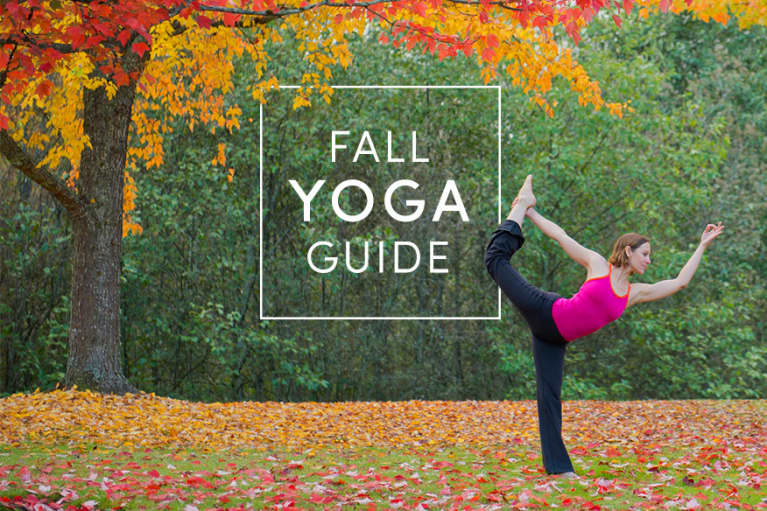 If your yoga practice feels different this time of year, you aren't just imagining things. The yogis of yore have an explanation (and a fix): In the four-part pranayama breath, the inhale is linked with spring (think fresh starts and new beginnings), and the exhale is the breathing equivalent of autumn, the season of trees letting go of their leaves and animals preparing for hibernation.
Change is coming (as anyone with access to turning leaves or dropping mercury has noticed), and as our bodies get ready for the cold season, our lungs can become congested, and we become more vulnerable to sickness. That means you'll feel better all season if you tweak your practice to support your lungs, shore up your immunity, and help yourself embrace the change ahead.
How? With the help of our comprehensive fall yoga guide, of course—packed with insider advice from top yoga instructors, not to mention the new classes and gear you should know about. That's right: We've got everything you need to use yoga to turn over a new leaf.
Animals in four-season climates move differently in October than in April, and you should do the same. By switching up your staid yoga routine, you'll challenge your body and mind in new ways—and you might discover the addictive class that keeps you vinyasa'ing through February's cruelest weeks. Here are four of our latest yoga obsessions.
Katonah yoga is a philosophy based on Chinese medicine; it's very geometry- and alignment-focused. Through wrist flips, hip openers, and poses and sequences specifically designed to help you understand your body better, Katonah classes will leave you feeling strong and open.
Check out: Katonah Yoga Bowery and Sky Ting Yoga in New York City; Love Yoga in L.A. and Montauk, New York.
Ready to experience a deep-July sweat? Give hot yoga a try; it'll feel less exhausting now than in the dead of summer, when your system's tired of battling high temperatures. In addition to warming you up, flowing in a heated room may increase flexibility and eliminate toxins. Because hot yoga can be intense, take child's pose when you need to and drink loads of water.
Check out: Y7 in New York and L.A.; CorePower all over the U.S.
If it's been a while since you've taken a classic flow class, get thee to a Vinyasa studio. These building-block classes (think meditation, sun salutations, restorative poses, and a delicious savasana to wind it all down) are great for building heat and strength, syncing your breath with your movements, and improving your practice in general. (Tip: Basics classes help you remaster common poses—without exhausting you on dark, chilly mornings.)
Check out: Yoga Vida and Pure Yoga in New York City; Laughing Lotus in New York and San Francisco.
Yoga to stimulate your senses
We love this concept, which has just begun picking up steam in the yoga community. Each class focuses on sense stimulation in some form; you might don a blindfold so you can "feel" your way through a yoga class, hear unique sounds, catch a whiff of amazing smells, and, in some cases, ogle shapes or scenery projected on the walls.
Check out: WOOM Center and Jivamukti yoga in New York City
Fall makes you want to run out and buy up a whole new wardrobe, right? We're big advocates of investing in some gorgeous new yoga gear—hey, whatever it takes to get you to hit the mat!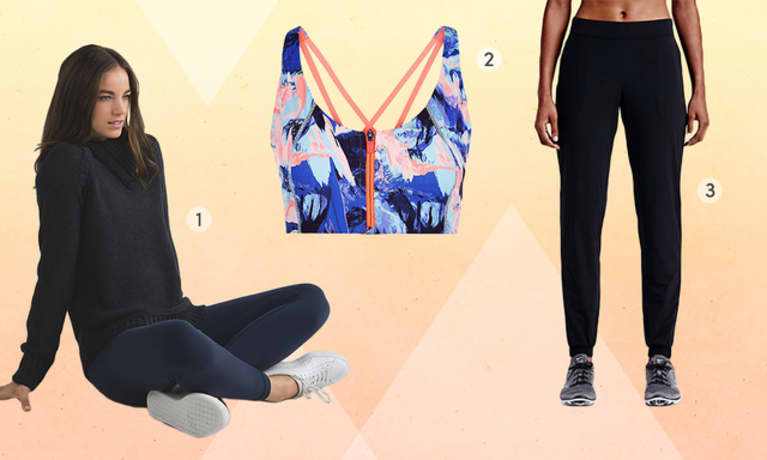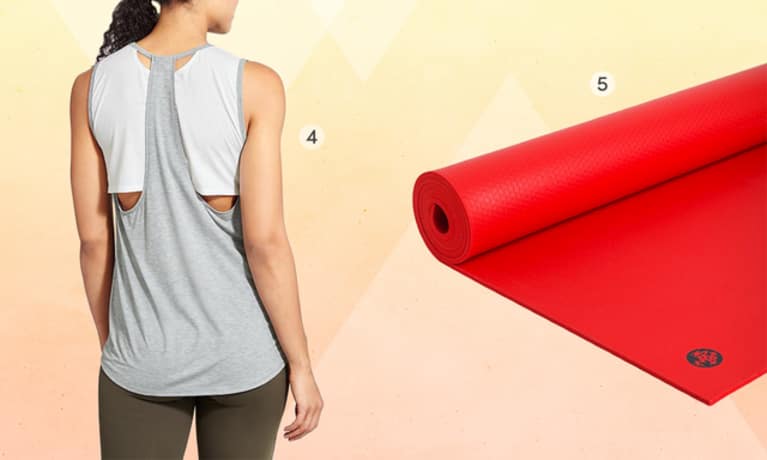 You're a part of nature, so like everything else on the planet, you change with the seasons. That means your yoga practice needs some tweaking, too; our favorite instructors shared exactly how to adjust.
Slow down & focus on the spine
"The practice of fall should be a little slower and deeper, so you can become more aware of and nourish the change and transformation," says Francesca Bove of WOOM Center. Try a slow Vinyasa that lengthens your flow, she recommends. "All poses that access the back of the head and thoracic spine are brilliant—Jalandhar bandha, plow pose, crescent moon, and headstand," she adds. Twists are good as well—seated spinal, lunge twist, revolved twist, eaglet, and triangle are all great options.
"When the mercury starts to drop, we start to curve inward—maybe in an introspective, artsy sort of way but definitely in a physicality and body language sort of way," says Jen Jones of New Love City yoga. "Our shoulders round forward to protect our vital organs and our chests and keep us warm. This is an instinctual, animalistic move." To account for these shifts in your practice, heat things up with fiery postures, long holds, and loud music, she suggests. "I also add backbends and heart openers to send my shoulder blades back onto my back where they belong," she says.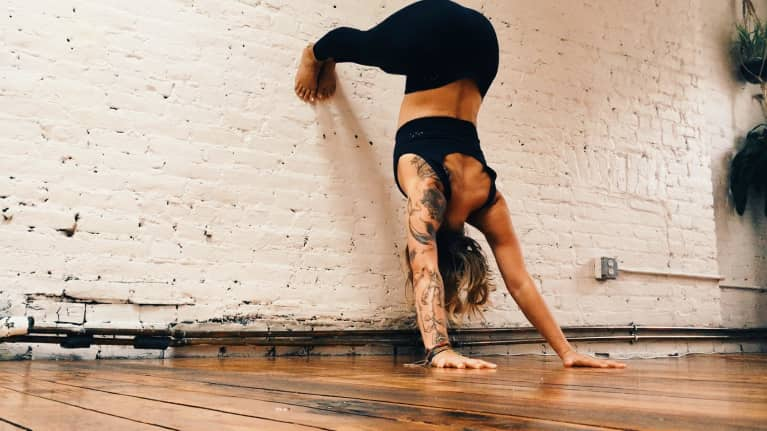 "Lungs are fall's organ system," Katonah Yoga's Abbie Galvin notes. "Lungs extract what one needs from the atmosphere through breathing well." The lungs are all about courage, grief, sadness, and nostalgia, she explains; they take in and eliminate air, feelings, and even the exuberance of life itself. And addressing them in the fall prepares us, physically and emotionally, for winter. How to do just that: "The nose is the portal for our lungs, so use essential oils at this time to evoke memory and promote health," she says. "And do as many supported backbends as possible to expel old mucus, waste, stale thoughts, and feelings that are holding us back." By the time the first snowflakes fall, you'll feel lighter, stronger, and more than ready for the months ahead.