A Chef's Top 4 Takeaways From Her Taste Talks Experience
mbg Contributor
By Carolina Santos-Neves
mbg Contributor
Carolina Santos-Neves is a graduate of the Chef Training Program at the Natural Gourmet Institute for Health and Culinary Arts and is presently the chef of Hungry Beast, (CDMX) a kitchen & Juice Bar that focuses on flavors from all over the world with a focus on using organic and local products.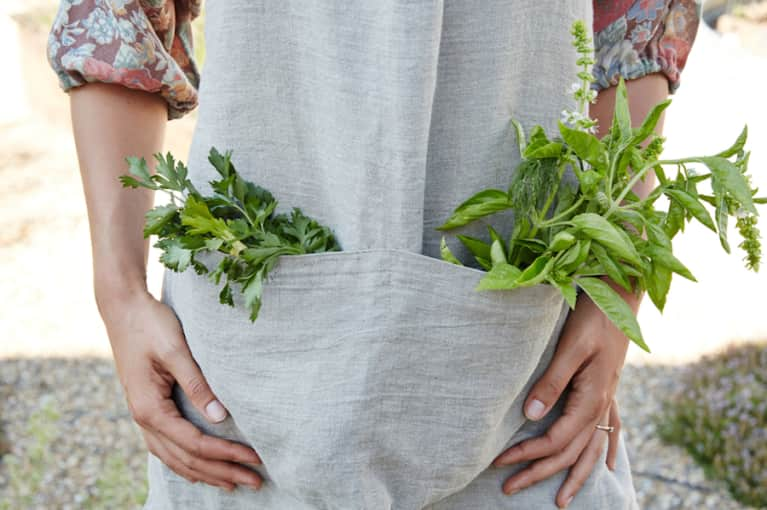 This weekend at Taste Talks, a food-centric festival held in Williamsburg, Brooklyn, wellness was definitely on the menu.
As a chef, and as someone who enjoys anything food-related (creating it, reading about it, or eating it), it's always compelling to step outside the kitchen and see and hear what people are saying about the food they're eating.
In a room dedicated to the Future of Food, it was clear that cleaner products are what's next. Healthy snacks with minimal ingredients dominated the floor like Brami Lupini Beans, True Mades Foods Ketchup, Bija's Resilience Powder Blend, and Califa's Nitro Cold Brew.
A cooking demo by the chef from Semilla was packed—the fact that the demo dedicated to cooking with undervalued vegetable parts was in such high demand is a clear indication that it's time for us to stop wasting so much food.
And from the "Clean Eating" discussion including Miranda Hammer from the blog Crunchy Radish, chef Camille Becerra, and Colin McGabe, the founder of the 15-year-old salad company Chop't, here are the four things I learned that we should all know about the future of clean eating:
1. There's a new definition of clean eating.
Clean eating is about staying mostly plant-based while focusing on sustainable, ethically sourced ingredients. Colin felt strongly about the idea that it's more of a way of life versus "an event." It's all about consistency and the absence of added sugars. Camille added, "I just feel better when I eat a certain way; it's about going back to the basics."
2. Social media is driving us to eat healthy.
Thanks to social media and "food porn," people have become much more compelled and motivated to eat well. For a long time there was a real misconception that eating healthy meant eating food that didn't taste good, and photos have really helped make it look craveable and intriguing.
3. Food knowledge is food power.
It's very important that we educate ourselves about food labeling and know that "natural, organic, or grass-fed" have different definitions depending on the category of food.
Don't assume that because something is gluten-free that it means it's made with whole, quality ingredients. Oftentimes companies sub in extra ingredients to make something taste good, therefore disregarding how these other ingredients might be harmful or highly processed. Therefore, it's encouraged to shop at your farmers market or local CSA or shop in bulk where you know what you're eating.
4. The future of clean eating is here.
The future of clean eating is headed in the right direction, especially if people simply eat cleaner than they were before. That alone is huge progress.
As one panelist put it, the key is eating in moderation, but even moderation needs moderating. And as more health-focused eateries, markets, and CSAs continue to open around the country and the world, more people will have access to information about what it means to change their eating habits for their own greater good.