Inside The Weekly Workout Routine Of Activewear Brand Founder Lorna Jane
In mbg's "One Week of Fitness" series, we're spotlighting people who love to exercise to find out how they spend their week. Whether they're doing 15 minutes of yoga or tackling a boot camp every morning, we're getting to the bottom of what a week of exercise looks like for the people who love it most.
This week, Lorna Jane Clarkson, founder of Lorna Jane activewear, tells mbg what her week of exercise, eating, working, and relaxing looks like in Brisbane, Australia.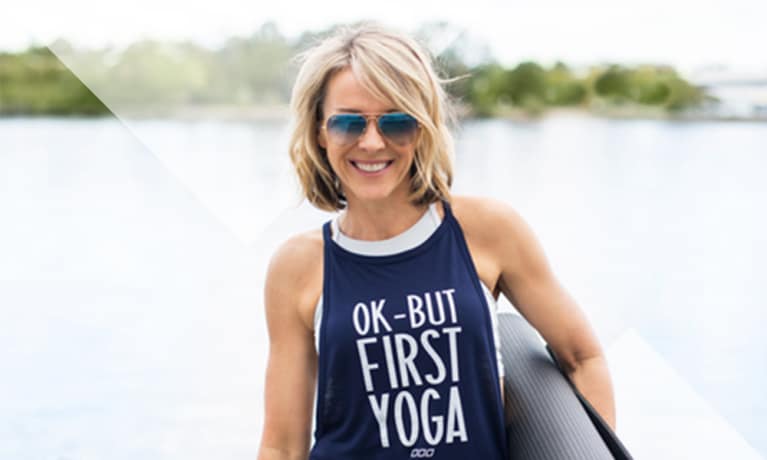 7 a.m. Before my morning workout, I start my day with a glass of hot water with lemon juice, cayenne pepper, and a dash of coconut water to boost my metabolism for the day. I always try to exercise in the morning. Today I'm doing a weights class with my trainer. Did you know that resistance training can increase your metabolic rate? Studies have shown that by lifting weights, you can reap the benefits of a calorie burn for up to 38 hours after you've completed your session!
11 a.m. I make sure I'm prepared and always have some snacks on hand, whether it be at work, at home, or when I'm out and about. Eating a little less on a more regular basis boosts your metabolism, keeps you focused, puts your body into fat-burning mode, which helps me keep sugar cravings at bay. Today I have some homemade bliss balls I made on Sunday. I like to be organized and spend a few hours on Sundays preparing my food for the week.
1 p.m. I sit down to lunch, which today is a roast beetroot and lentil salad. I'm spending the afternoon testing my new Nothing 2 See Here Collection, the new fabric technology, which means lots of downward dogs and dead lifts at the office today.
4 p.m. Smoothie time! I love juices and smoothies and have at least one or two every day. I pop a frozen banana, a scoop of protein powder, 2 teaspoons of peanut butter, a handful of baby spinach, and a cup of coconut water in a blender to get my energy levels back up and beat the afternoon slump.
8 p.m. I do some yoga stretching before a relaxing dinner at home. One of my favorite rituals is winding down with a pot of herbal tea and writing in my gratitude journal before laying out my activewear so I can get up and do it all again tomorrow.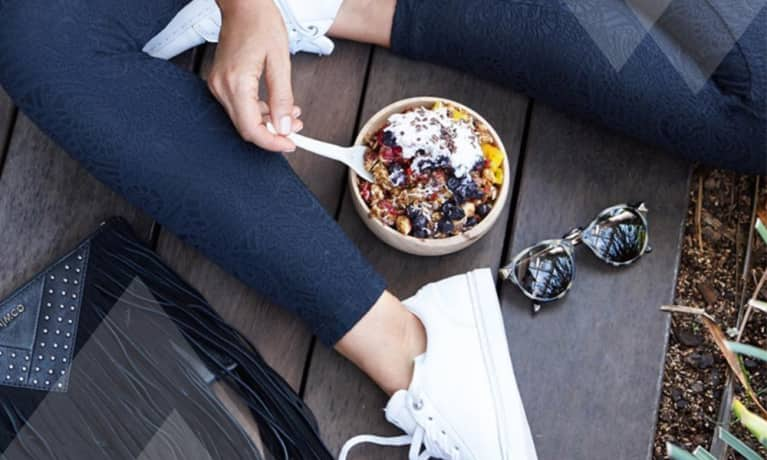 6 a.m. This morning, I'm tucking into a delicious bowl of homemade granola with fresh strawberries and a long black. Oats are my favorite weekday breakfast option because they give me the slow-release energy I need to help me power right through my busy morning. Plus, they're super easy to prepare. I like to switch up my workouts to keep my fitness routine exciting. Now, off to a spin class for some cardio.
11 a.m. Apple with almond butter. The best!
1 p.m. Lunch is a Brussels sprouts salad with lemon poached chicken. I'm on set today shooting some footage for Active Nation Day that's coming up — this is our fifth annual Active Nation Day campaign, where we encourage people all over the globe to get moving.
4 p.m. Sipping on a green smoothie while doing some shoulder stretches at my desk. It's so important to remember to stretch, even when you're in the office. It relieves tension and is a great way to de-stress.
7 p.m. Before dinner, I catch up with my husband, Bill, while walking our dog, Roger. Even when life is running at 100 miles an hour, I always make time for family.
5:30 a.m. Happy Hump Day! Today is going to be a long day, so I woke up a little bit earlier to practice gratitude. Did you know when practiced daily, its effects have the potential to multiply and develop into a base-level contentment that helps us make better decisions and alleviates stress? Take that, Hump Day! Today I'm taking my favorite yoga class — can I get a Namaste?!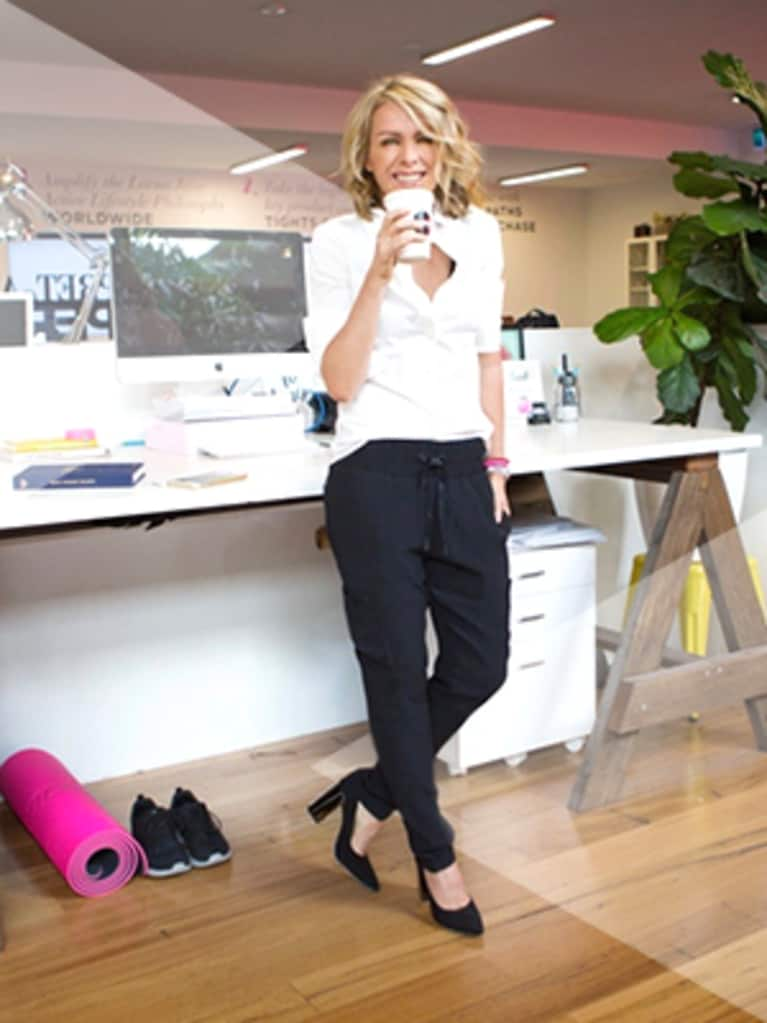 11 a.m. So many back-to-back meetings today! I'm snacking on dried fruit chips in between my meetings to keep my energy up.
1 p.m. Time for some delicious lunch, which is a kale, black rice, and raspberry salad. Kale is truly a powerhouse veggie that is incredibly alkalizing, anti-inflammatory, and rich in chlorophyll — the perfect lunch to help me tackle the rest of this manic day.
3 p.m. I'm feeling a little cold starting to come on, so I'm blasting it away with my Immunity Tonic — ½ cup of OJ, fresh grated ginger, 2 teaspoons of Manuka honey, and fresh grated turmeric. This tiny little concoction is packed with antioxidants, which increases immunity, blasting those annoying little head colds!
6 p.m. It's dinnertime! Tonight I'm having a grilled miso salmon with a bean and pea salad. So refreshing and just what I need to end my day.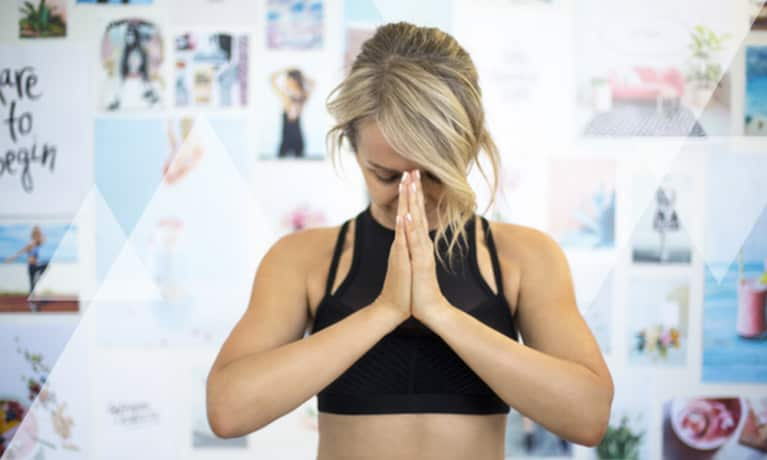 6 a.m. I'm starting off my morning with corn fritters with some yummy avocado and goat cheese salsa. The best part is they are amazing, hot or cold! Once I finish up my breakfast and get ready, I'm off to a cardio barre class — it's a fun dance class that tones my bum, legs, core, and arms.
10 a.m. Snacking on some frozen grapes and raspberries — so delicious!
12 p.m. Lunch today is my famous Salmon Joy Bowl with turmeric-tahini dressing. This bowl is great for fighting afternoon hunger since it's packed with protein. Today, I'm off to a nearby elementary school to talk Active Living and need all the energy I can get!
3 p.m. I take 15 minutes to do some yoga stretching in my office. We spend so much time sitting at a desk daily, and it's so unhealthy. Just 15 minutes of your day can make such a difference.
7:30 p.m. Just finished eating dinner with Bill. Now we're off for a quick little walk along the river with Roger.
7 a.m. It's finally Friday, and I have so much to do over the weekend to get ready for my upcoming trip to Los Angeles in a few weeks, where our U.S. head office is based. I find that yoga is the best way to clear my head going into a busy weekend.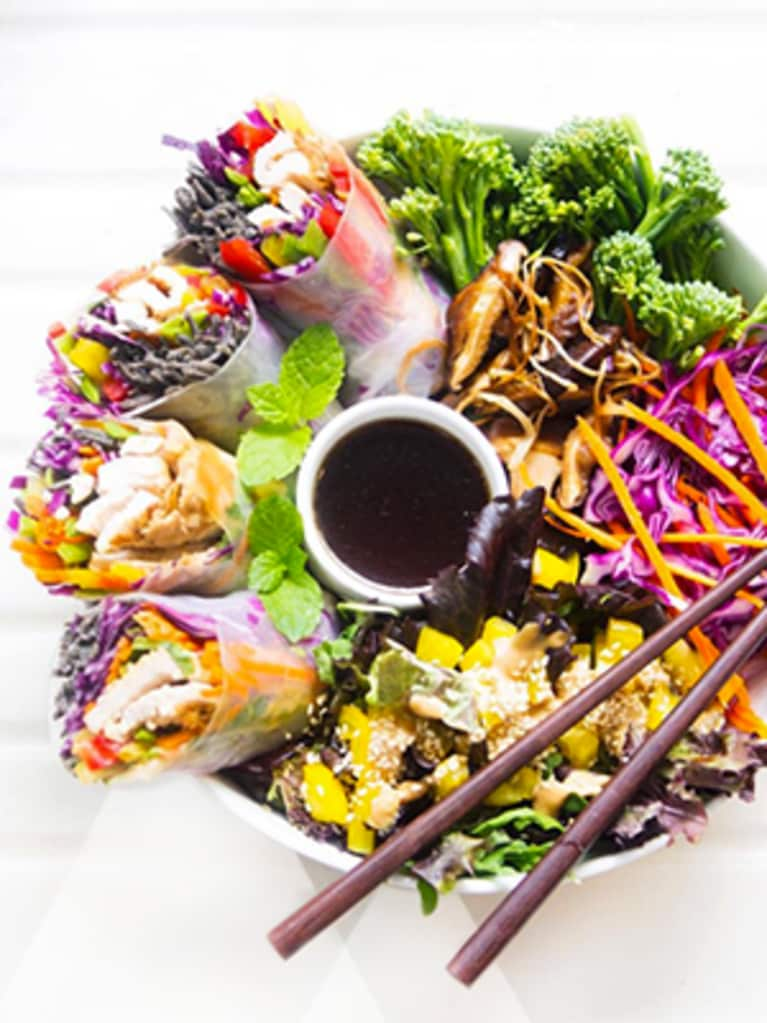 10 a.m. Needed a little boost this morning, so I made an Energy Tonic — 1 ounce espresso coffee shots, ⅓ cup boiling water, 2 teaspoons coconut sugar, 1 tablespoon cacao powder, and a pinch of cayenne pepper. I limit myself to one cup of coffee per day and try not to have any caffeine after lunch so I can relax and unwind toward the end of the day.
1 p.m. Eating Thai-style vegetable rolls for lunch today. I have tons to get through today before I leave, but I find that taking a mental break while eating lunch helps alleviate any stress. It's all about taking things one moment at a time.
3 p.m. Since I'll be in LA for three weeks, my team and I take a quick walking meeting around the neighborhood. I love my team, and I always make time for quality bonding time.
9 p.m. I did some yoga stretching before a relaxing dinner at home. Now I'm writing down my to-do list in our 2016 diary. I find that writing everything down helps me plan my days and actually keeps me on track. Now, off to bed!
7 a.m. Although it's the weekend, I still get up at the same time I do on weekdays. I truly believe that life is getting up an hour early each day to live an hour more. This morning I'm taking things slow and enjoying a nice breakfast and a long black with Bill. It's such a beautiful morning here in Brisbane, so I'm soaking it all in.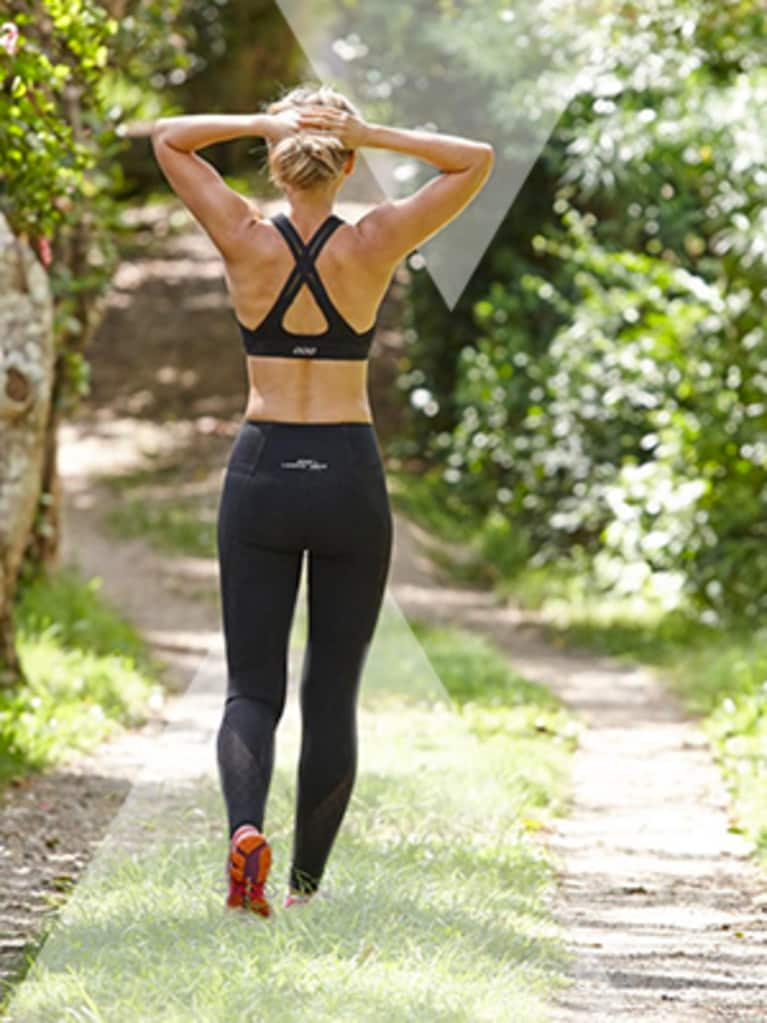 10 a.m. Just doing some last-minute shopping to prepare for my LA trip. So much to do, so little time.
12 p.m. Grabbed a delicious kale salad from my favorite little café in Brisbane. I even ran into an old friend while at the café, so I sat down to chat for a few minutes. We're planning to take a yoga class together when I return from LA. Working out with friends is the best way to stay motivated because you can help push each other!
3 p.m. Bill, Roger, and I are taking a nice little hike to unwind from our busy day. Even when I'm extremely busy, I make time for these walks with my family. It's always the little moments in life that I'm thankful for.
6 p.m. Dinner is a kale, apple, and coconut slaw with poached chicken. Yum!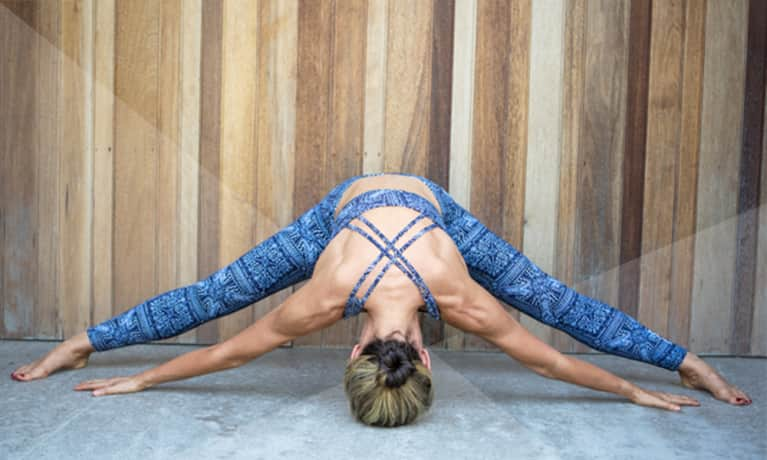 7 a.m. Another beautiful morning here in Brisbane, so Bill and I are enjoying a nice breakfast together — a yummy quinoa, mushroom, and spinach frittata.
11 a.m. Enjoying a Blue Banoffee Smoothie as my pre-workout for my weights class, which is 1½ frozen bananas, ⅔ cup of blueberries, 2 cups of almond milk, 1 teaspoon of vanilla bean paste, and 1 tablespoon of almond butter together in a blender. Then I drizzle with a little of the toffee sauce (5 ounces coconut milk, 10 pitted medjool dates, and 2 tablespoons of honey blended until thick) over the smoothie and enjoy.
1 p.m. Off to my weights class in my activewear!
4 p.m. Catching up on some emails and slowly packing what I need for my trip to LA. I always find that it's so much easier to plan and pack ahead of time instead of waiting until just a few days before.
7 p.m. I do some yoga stretching before a relaxing dinner at home. Now I'm enjoying a cup of herbal tea as a wind-down. Tomorrow is Monday, so I'll be back to it. My life is busy, but I wouldn't have it any other way.
Intrigued by Lorna's recipes? Check out her cookbook, Nourish: The Fit Woman's Cookbook.