What IS A "Mind-Body Bootcamp" Class + Should You Try It?
mbg Contributor
By Leigh Weingus
mbg Contributor
Leigh Weingus is a New York City based freelance journalist writing about health, wellness, feminism, entertainment, personal finance, and more. She received her bachelor's in English and Communication from the University of California, Davis.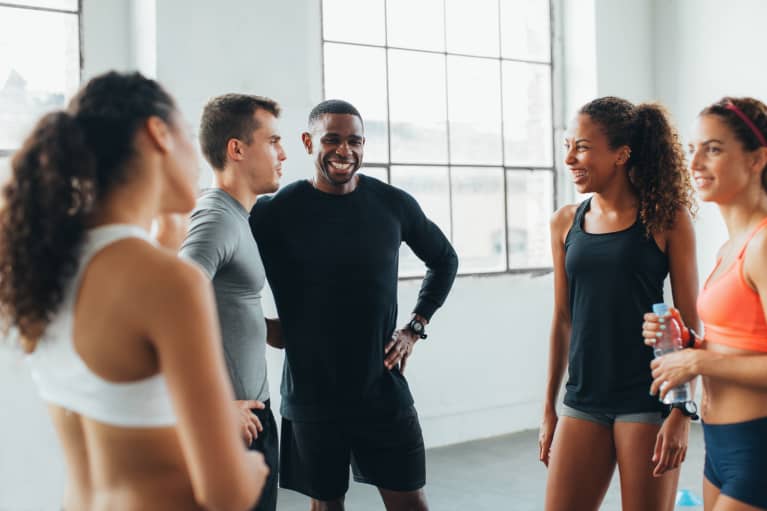 There's nothing I love more than rolling out my yoga mat after a long, stressful day. There's something about all those hip openers, backbends, and child's poses that make everything right. By the time I'm done with my hour or so of downward-facing dogs and sun salutations, I feel connected to my breath, mind, and heart.
Here's the thing, though: Sometimes I'm craving a little more cardio, and sadly I don't always have more than an hour to dedicate to exercise. So when I heard about Circuit of Change, a New York City–based class that was billing itself as a "mind-body boot camp," I knew I had to give it a try.
The moment I walked in, I knew Circuit of Change was my kind of place. The studio was full of windows and flooded with sunlight — hey, that's hard to come by in New York! — and the instructor immediately told us that we weren't in for a yoga class, a meditation, or a boot camp. We were in for all three.
Before I get into the details of the workout, here's a little bit of background information on Circuit of Change, straight from founder Brian Delmonico himself.
"Circuit of Change is a method that allows us to be fully present, to explore new ways of moving the body, and to transcend the physical and mental barriers we create for ourselves," he told me. "[When I founded Circuit of Change], I was in an emotionally and spiritually low point in my life, yearning for positive inspiration and a sense of community. Movement has always been a big part of my life, from gymnastics to martial arts and endurance sports. After deepening my yoga and meditation practice, the idea for Circuit of Change came to me. I wanted to combine intense physical disciplines with spiritual and mindful components into one class. Something that is completely unique, challenging, and also very fun and playful."
Here's what the workout was like.
Circuit of Change is all over the place, and I mean that in the best way possible. The 50-minute class opened with a short meditation and light yoga, and it quickly transformed into a sweaty jumping and rolling fest.
There was kickboxing involved, which helped me unleash some rage I didn't know I had, burpees (although they weren't called burpees, which somehow made them less terrible), jumping jacks, core exercises that involved a lot of rolling, and some bicycle crunches, and so much more.
The class was extremely fast-paced, and I was sweating like crazy. But it wrapped up with some yoga and a delicious meditation, which made it all worth it.
Here's how it made me feel.
I knew how Circuit of Change made me feel, but I was curious to know what Brian hoped people taking the class would get out of it.
"I hope for all students taking our class to get a burst of positive energy, to feel inspired, to sweat, to break through fears, to feel love, and most importantly to feel proud of themselves," he told me. "The feelings I hope to evoke are inspiration, peace, confidence, and happiness."
He hit the nail on the head with that one.
The main feeling I had leaving Circuit of Change was joy. I felt really proud of myself — it was a tough workout! — but I also felt energized, content, and peaceful. Although it was more intense than a yoga class, it evoked all the feelings I got from yoga, plus a cardio high.
I know everyone is different, but it's hard for me to imagine anyone not liking this class since it has a little bit of everything.
It's definitely important to know what to expect since I personally would have been pretty thrown off if I thought I was going to a super-chill yoga class only to find out I would be required to jump around for the majority of class. But if you're looking to raise your energy levels, get happy, and bust stress, this is the class for you.
It's also a damn good time.