This Yogi Founded Her Own Studio. Here's Why She Hits The Mat + What She Wears To Work Out
mbg Contributor
By Leigh Weingus
mbg Contributor
Leigh Weingus is a New York City based freelance journalist writing about health, wellness, feminism, entertainment, personal finance, and more. She received her bachelor's in English and Communication from the University of California, Davis.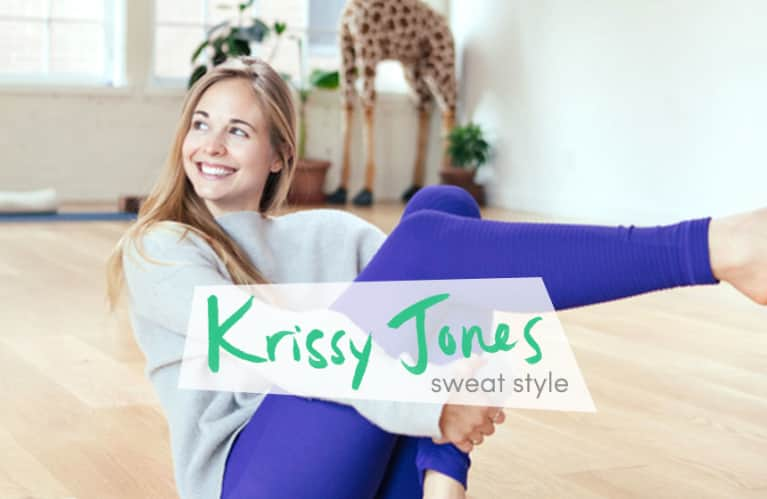 In 2015, a new yoga studio popped up in New York City's Chinatown. Light poured in from every direction, beautiful mats designed by Katonah Yoga founder Nevine Michaan were spread out on the wooden floors, and a life-size stuffed giraffe stood proudly in the corner. The studio had a perfectly mystical name to match its mystical atmosphere: Sky Ting.
Sky Ting roughly translates to "the heavens, the sky space." A year later, business is seriously booming — which probably has something to do with the women who founded it, best friends and power duo Krissy Jones and Chloe Kernaghan.
We're pretty crazy about both of these girl bosses over here at mbg, and we dig their style. So for this feature, we decided to reach out to Krissy to find out what workouts make her tick, who inspires her, and what yoga pants and sports bras she's loving these days.
"Yoga is my activity of choice. It's super effective in making me feel a greater sense of well-being," she told mbg. "I don't really consider it a workout, even though it technically is. To me, it's a more of a lifestyle. I also love taking dance classes. My favorite is called MOVES — my friend Marisa Competello teaches it."
"My mentor [Katonah Yoga founder] Nevine Michaan inspires me," Krissy said when we asked who she looks up to in the yoga space. "She's in her 60s and has the best body. She radiates health. Her practice really works."
As a full-time yogi, Krissy is lucky enough to spend a ton of time in her stretchy pants. "I wear workout clothes from 9 to 5 p.m. But when I'm home or running around the city, I like to wear 'normal people' clothes," she told mbg with a laugh. "My friends joke with me because they get home from work and want to wear yoga pants. I come home from work and want to dress up!"
If you ask us, it's pretty safe to say that Krissy is an expert when it comes to the best workout clothes.
Here's what she's loving right now
Super-soft tees and shorts
"I wear a lot of crop tops from Sky Ting. We have our own shirts, which I love wearing to practice and to teach. I also love my teacher's organic linen and cotton shirts called Katonah Yoga Wear. She also makes her own cotton and linen shorts that wash really well and feel like heaven. You can buy them at Sky Ting."
Featured above: Cut-Off Mini Raglan Tee (a)
Tiny gold rings, layering, and adorable socks
"I never take off my many tiny gold rings from Catbird or a gold bracelet my mom gave me. I even wear them to yoga. I love layering my Nike jackets and sweatshirts over my yoga clothes in the fall and winter. In the summer, I sometimes wear a flowy dress on top of my clothes since the workout clothes are tighter and smaller in the heat — perfect for layering! I get my socks from a lady on Broome and Bowery. She has the cutest prints."
Featured above: Threadbare Ring, Rose Gold (b)