An Aussie Chef's Meal Plan For Weight Loss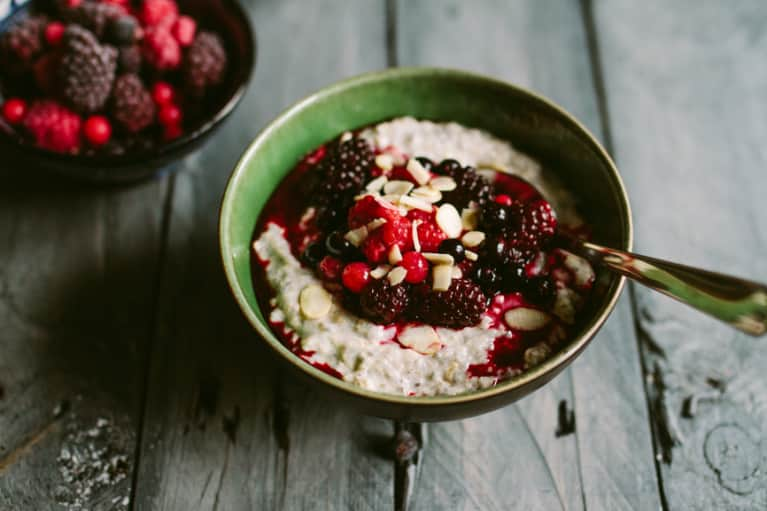 Many people are looking for a quick-fix way to lose weight, which can often lead to following diets that are too restrictive and overlook possibly the most balanced and realistic advice when trying to lose weight: sticking to fresh whole foods most of the time and allowing for a bit of indulgence now and then.
As a nutritionist, founder of The Healthy Chef (a business based on pure functional healthy food products), and author of an award-winning book, The 80/20 Diet, I always get asked for advice on how to lose weight.
The reason why the 80/20 diet works is because it's the most natural way of eating. It's about going back to basics and consuming a diet of fresh, seasonal plant-based whole foods accompanied by lean protein — pretty much like my great aunt and uncle, who followed a simple diet of whole foods, used to eat.
Regular physical activity and minimal intermeal snacking are also part of the 80/20 diet.
Below is my ideal day for weight loss:
Wake up: Drink 2 glasses of water
Water is vital for life and for all metabolic processes in the body. Add a squeeze of fresh lemon or lime, if you prefer, to the water. Water will help get your lymphatic and digestive systems moving properly and will also assist in preventing gas, bloating, and diarrhea.
Fun is the key word here. You have to enjoy exercise if it's going to be part of your everyday lifestyle.
Try varying your workouts to make it interesting; that way, you won't get bored. Challenge yourself and set goals. If you need motivation and encouragement, exercise with a friend.
Breakfast: Power Porridge
You can choose from fresh, seasonal fruits and vegetables, low-glycemic-index grains such as oats and quinoa, organic eggs, or a protein shake.
During the cooler months, I love to have my Power Porridge. It's a protein-packed power breakfast that will keep you regular, lower cholesterol, and fill you up for hours. Cinnamon improves insulin's efficiency, which helps regulate blood sugar levels.
Morning snack (optional): Piece of fruit
If you're still full from breakfast, skip it.
Lunch: Oven-baked fish with vegetables
Choose from leafy green salads or vegetables with added lean protein such as chicken, eggs, seafood, or beans. Make your own dressing from olive oil, lemon juice, and flaxseeds. I love making soups in place of salads sometimes; just make sure to add a little lean protein to keep you satiated.
A simple an easy dish is an oven-baked piece of fish with vegetables. You can add your own herbs and spices to make it purely delicious.
Afternoon snack (optional): Piece of fruit
(See recipe below.)
Choose lean protein with lower-carb vegetables. Avoid, rice, pasta, and bread at dinnertime only.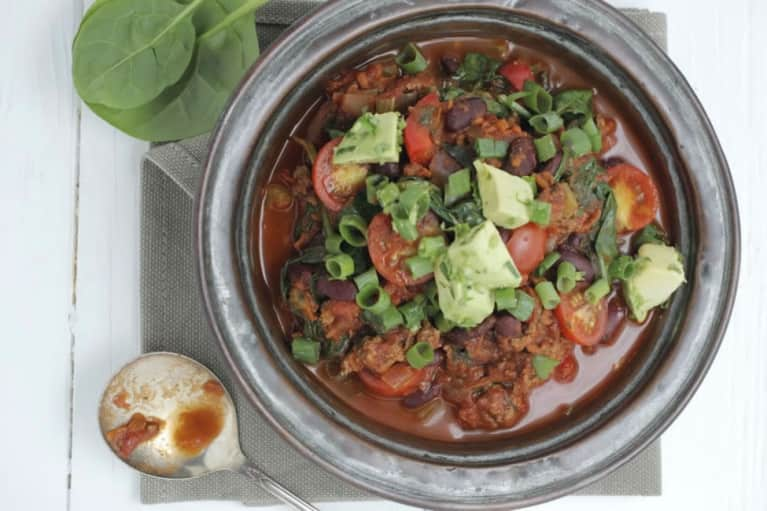 What's good about it:
Lean beef and beans are a great source of protein. Whenever the body is growing, repairing, or replacing tissue, protein is involved. Veggies such as carrot, red pepper (capsicum), and tomato add antioxidants to help nourish and boost your immune system.
Avocado contains the antioxidant vitamin E, and it's also a good monounsaturated fat that acts as an anti-inflammatory, which is perfect after a good training session at the gym. A touch of chili can help spike your metabolic rate and stimulate digestion, too.
Serves 4
Ingredients
1 onion, finely diced
1 large grated carrot
2 sticks celery, finely diced
1 teaspoon ground cumin
1 teaspoon smoked paprika
½ pound (250 grams) lean ground meat (beef, chicken, game meats are all great); see notes for veg version
1 red pepper (capsicum), chopped
2 tablespoons tomato paste
1 14-ounce can (400 grams) tomato puree
1 14-ounce can (400 grams) cooked red kidney or adzuki beans, drained
½ cup cherry tomatoes, halved
3½ ounces (100 grams) baby spinach leaves
1 bunch coriander, chopped
1 avocado, chopped
1 lime
Chopped red chili to taste
Preparation
1. Sauté finely diced onion, carrot, and celery for 3 minutes until softened. Add the spices and mince and cook through for 5 minutes until the mince is browned.
2. Add the red pepper, tomato paste, tomato puree, and beans. Pour over 2 cups of water.
3. Simmer over medium-low heat for 30 minutes until thick. Season with ground pepper and a little salt. Add cherry tomato.
4. Fold in spinach and coriander just before serving. Spoon into bowls, top with chili to taste, avocado, and a squeeze of lime.
Enjoy by itself or with a side of steamed green vegetables, brown rice, or quinoa.
The 80/20 Diet by Teresa Cutter is available online from thehealthychef.com