4 Practices That Finally Allowed Me To Love Myself & Live My Life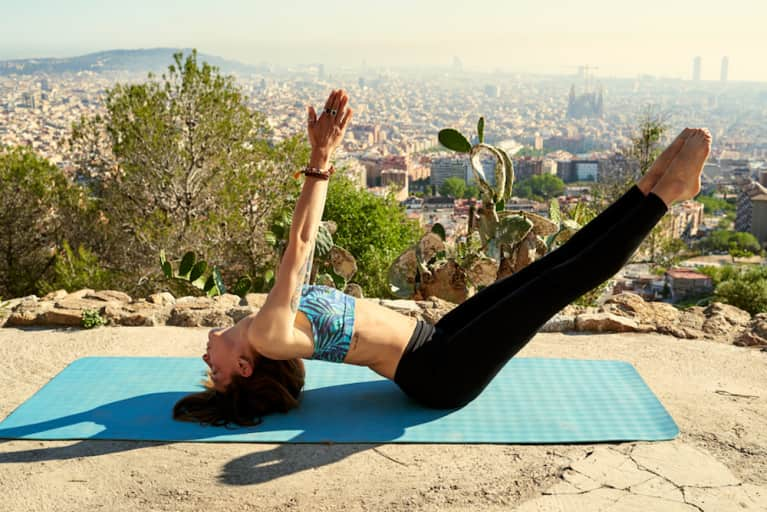 I'll never forget the day I truly began loving myself. Years of seeking to manage deep depression, loneliness, and self-doubt finally culminated in a single experience one afternoon in my yoga room.
Self-love is not about bubble baths and affirmations but about loving myself no matter what.
As I lay there in savasana, red-faced and disheveled from practice, an impulse arose—one I wouldn't normally have acted upon. For once, I actually listened. So, I wandered toward my mirrored closet doors.
Looking into my own eyes, the words came out slowly. "I love you," I said. As I processed that feeling, my skin felt electric. The sentence sank into my soul. It felt good. Repeating those words, "I love you"—that was the moment I truly saw myself for the first time.
The mirror reflected a girl who, instead of failing at life was trying really hard and was too hard on herself. A girl who had endured a lot and longed for nothing more than her own love. I had been so stingy with this love. That day, something shifted in a real, lasting way.
Of course, life continues to bounce up and down, but my new definition of self-love has continued to support me. For me, self-love is not about bubble baths and affirmations but about loving myself no matter what. No matter how I feel, what I look like, what I've done or how I'm struggling.
Like any other relationship, true love begins to grow when it becomes difficult. Here are the things that keep me on track when I start to backslide into self-doubt.
It's easy to measure your self-worth by how good you feel. If you feel sad or angry, you might wonder what's wrong with you. In truth, emotions are the soul's response to how the ego is interacting in the world.
Feeling my feelings connects me to my true self and highlights areas of self-sabotage. If I feel sad, for example, it's a sure sign I'm setting unrealistic expectations or not honoring my needs.
That's important soul knowledge—knowledge that I used to ignore because I was too lost in judging myself for feeling sad.
Creating space to feel is one of the greatest acts of self-love you can undertake. And one of the most necessary.
2. Get in tune with your body.
Getting to know yourself, as you would any other love interest, is a process of connecting to your energy—your true self.
We often think we need to think to greet ourselves again, but what we actually need to do is bask in our own energy.
Ways of doing this include practicing yoga, spending time alone, walking in nature, or even exercising at the gym. Have you ever rested in savasana after a yoga session and noticed your energy pulsating? Or stopped for a moment, breathless after a run, and felt your energy vibrating all around you?
That's the true you—your energy, your soul. Set the intention to notice that energy, every day, multiple times a day. Absorb it and reconnect to yourself.
3. Embrace the life in front of you.
One of the more difficult things I've navigated recently is living in a place I didn't like with few jobs in my field.
For a short, painful while, I reviewed all the life choices that had brought me to this place, wondering if I'd ruined my life. I felt like I was supposed to be someplace else, doing something else, and the idea that I was failing at life caused deep sadness.
Finally, I listened to the little voice inside that whispered, "Accept where you are and open yourself up to a vision bigger than you can imagine." It had been whispering the whole time. I just hadn't gotten quiet enough to hear it. It's so easy to run from our fears and discomforts, but letting yourself feel these things fully is the only way to process and release them.
Once I did, everything changed. I started noticing all the awesome opportunities I was missing because my mind was too attached to the idea of what my life was supposed to be.
This change in perspective initiated a transition from journalism to creating online courses about spirituality, healing, and meditation—a career that feels deeply meaningful but that never would have surfaced had I stayed attached to my expectations.
People always talk about how gratitude increases happiness, and it does. But it also does something else pretty magical.
Once you realize how many blessings surround you, you start believing that maybe you're worthy of receiving them.
One new moon, I challenged myself to 30 days of gratitude. During that time, I noticed all inner complaints and challenged myself to reframe the thought and find something to be grateful for. Those 30 days changed my life.
Afterward, I noticed how strongly my perspective affected my experience. My attitude shifted dramatically from hating everything to feeling almost embarrassed about my good fortune, all depending upon on which lens I viewed the world with—grateful or fearful.
Over time, I've gravitated toward a middle way, taking the good in with the bad. And every time Negative Nancy knocks on my door, I remind myself how good it feels to look at things through my rose-colored glasses. I use the memory of emotion to inspire better decisions instead of judging myself for falling back into old ways.
All it takes is a moment to switch those glasses, and voilà—peace.
Related reads:
If you'd like to learn a special meditation technique for feeling your feelings and connecting with your energy, visit SuzanneHeyn.com.