The EWG Just Found A Potential Carcinogen In Tap Water Across The U.S.
mbg Sustainability Editor
By Emma Loewe
mbg Sustainability Editor
Emma is the Sustainability Editor at mindbodygreen and the author of "The Spirit Almanac: A Modern Guide To Ancient Self Care."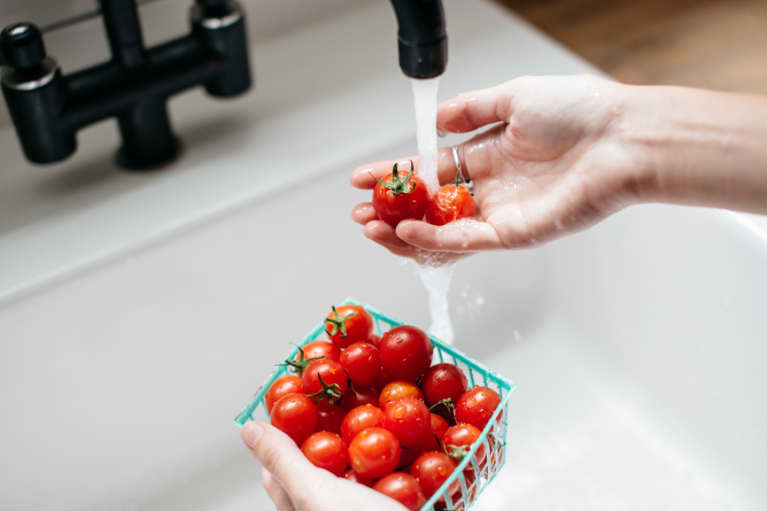 Late last year, a water crisis sent Flint, Michigan, into a state of emergency and showed the rest of the country the importance of clean, regulated water sources. Since then, more studies have emerged questioning the safety of America's drinking water.
And the very public discourse over our tap water isn't over yet.
A new report by the Environmental Working Group found chromium-6—a potential carcinogen you might recognize from the highly publicized Erin Brockovich case—in water supplies in all 50 states.
What the report means for you
The EWG analyzed 60,000 samples of drinking water across the country and found chromium-6 in more than 75 percent of them. The nonprofit estimates that 218 million Americans are consuming water that contains the chemical.
Studies have found chromium-6, a fairly common industrial by-product, causes stomach and intestinal tumors when consumed by mice and rats. However, there are still questions about how much of it humans have to drink before it becomes carcinogenic in the body.
"The IARC has classified hexavalent chromium as a human carcinogen through the inhalation route of exposure. However, there are limited human studies on the health effects of hexavalent chromium when ingested," Dr. Rhea Mehta, a molecular toxicologist, explained to mindbodygreen. "What we know is that the initial amount one is exposed to orally is different from the amount entering cells, as it mostly gets detoxified in the gut."
The law currently caps the amount of chromium allowed in drinking water at 10 parts per billion, or 10 drops of water in an Olympic-size swimming pool. While there's still some gray area surrounding how much of the chemical is actually safe to consume, the EWG thinks that the pervasiveness of the chemical warrants stricter federal regulation.
With the support of scientists in California, New Jersey, and New York, the group is suggesting the legal limit be lowered to 0.02 parts per billion—a level that has been shown to pose negligible cancer risk over a lifetime of consumption.
"The EPA and state regulators must set drinking water standards to protect the public, including those more susceptible to the toxic effects of chromium-6," the EWG report reads.
The report shows that the water tested in 1,370 U.S. counties contained chromium-6 levels higher than this 0.02-parts-per-billion marker. Water systems in Phoenix, Missouri, and Houston, had the highest levels, with major urban centers like LA and Philadelphia not far behind.
There's no reason to panic yet, as more research on the exposure risk of this compound is still needed. But the EWG report should definitely serve as a reminder of the staggering number of chemicals we come across every day.
"The new report about chromium-6 fits a sad and longstanding pattern of industrial chemicals seeping into our water, and into our bodies. The health problems that they raise, from cancer to reproductive problems to hormone disruption, are hardly unique," author and environmentalist McKay Jenkins told mindbodygreen. "These are problems associated with a long list of chemicals we are exposed to in virtually every corner of the country."
Here are a few things you can do at home to avoid long-term exposure to carcinogens and other potentially dangerous compounds:
1. Be mindful of pesticide exposure in food.
The EWG's Dirty Dozen list outlines the fruits and veggies with the most pesticides, so it's a great resource.
2. Avoid using plastics when you can.
Plastic can contain toxins like Bisphenol A (BPA), which has been shown to imitate estrogen and other hormones in the body.
3. Consume a diet rich in micronutrients and phytochemicals.
Foods like leafy vegetables, beans, nuts, and fish are great sources of essential micronutrients like iron and folate.
But not just any filter! Dr. Rhea, who is also an Optimal Living coach and founder of Global Smoothie Day, recommends looking for a reverse-osmosis filter that can remove chemicals like chromium-6 as well as arsenic, barium, copper, lead, and fluoride. This EWG guide can help you find the right one for you.
Environmental Toxicologist Dr. Noreen Khan-Mayberry also recommends investing in a reverse-osmosis system, especially if you're a cancer survivor or have a family history of any type of cancer.
You have the power to enact real change. As Jenkins puts it: "We must advocate for stricter drinking water regulations at the federal level, and we must—at every level—take better care of our water."
Related reads: