How I Pared Down My Wardrobe & Decluttered My Mind For Good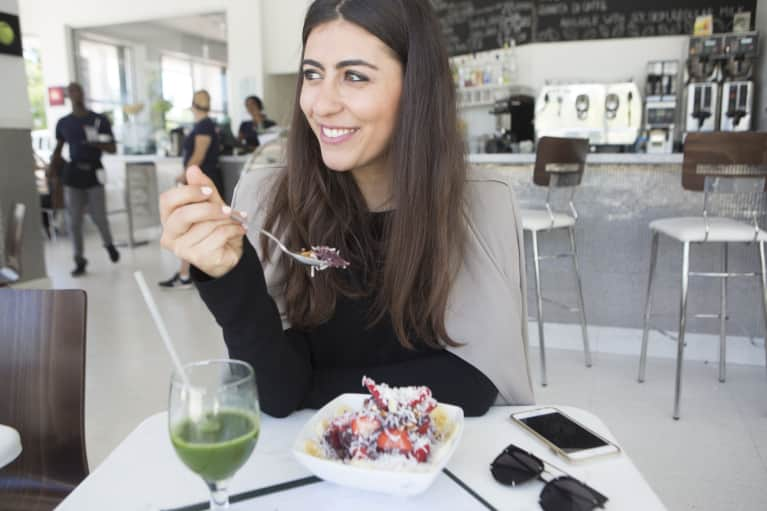 October 12, 2016 — 17:29 PM
As much as I'd like my life to be simple, it's anything but. Running my own business, making time for relationships, taking care of myself—it's no easy feat. I've become what I like to call 'semi-professional' at maximizing my time and strategically simplifying life. I live a full-contact life, and that requires always being mindful, plus a lot of energy and focus.
8:00 a.m.: Rise and shine. I like the freedom to be able to give or take an hour in the morning. I'm usually up before 8:00 a.m., but I want the option to sleep in if that's what my body needs.
8:15 a.m.: Breakfast. As a nutritionist and food blogger, this is my favorite part of the day. I give real thought and attention to preparing meals, and since they're often photographed, this is where I like to have fun. My go-to breakfast is something like sprouted toast with cream cheese or scrambled eggs with sautéed kale and mushrooms.
9:00 a.m. - 10:00 a.m.: Workout. I let my breakfast digest, quickly check emails, and then get a workout in before the real madness of the day begins. My morning routine differs—sometimes I'll go to a workout class and other times I'll do a walk/run circuit on my treadmill at home. It's all about being strategic time-wise whenever possible.
10:30 a.m. - 11:00 a.m.: Get ready for the day. My wardrobe is simple. I like to wear stylish clothes that keep up with me as I move through the ups and downs of the day without sacrificing comfort or aesthetics. My typical daytime uniform will look something like a luxe Kit and Ace cashmere top, a breathable bottom, and a tailored jacket.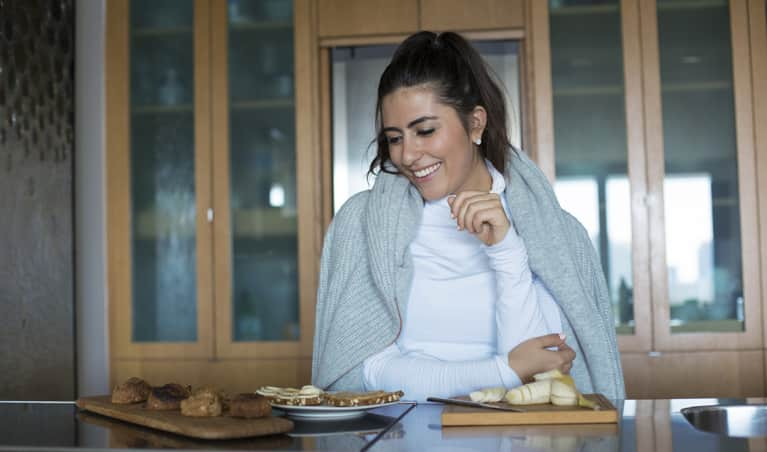 11:00 a.m. - 12:30 p.m.: Answer emails and attend meetings. There's always so much going on that emails are my first priority when I sit down at my desk. I like to know where I have to be and when, and how I can plan out the rest of my day. Between answering emails, there will be phone calls and traveling across the city to meet people. Being intentional about my wardrobe—paring it back with fully functional outfits I can actually move in—really allows me to be my best self when I'm powering up and hustling in my work life.
12:30 p.m.: Lunch break. Whether it's a date with a friend (which I'm sure to document on Snapchat) or a relaxed lunch on my own, I almost always choose a healthy spot. I love anything bright and green: salads, smoothies, and juices are usually high on the menu.
2:00 p.m.: Recipe creation and food styling. My bread and butter, literally, takes place in the afternoon. This is where the real content for my blog and the bulk of my work actually happens. I typically create a plan for the day during the morning that outlines what I'm making and how recipe development will run. My favorite day is undoubtedly dessert day!
4:00 p.m.: More emails and working on the blog
. If my outfit didn't get chocolate, flour, or avocado on it from earlier, then something went wrong. Usually I'll run home and do a quick outfit change before continuing with the day. I try to wind down in the afternoons work-wise, so I'll usually slip into something that's comfortable and versatile—something I can both meditate and go to drinks in. My white Kit and Ace Willow long-sleeve turtleneck is my current go-to, and I'll team it with a black silk skirt and a cashmere sweater if it's cold out.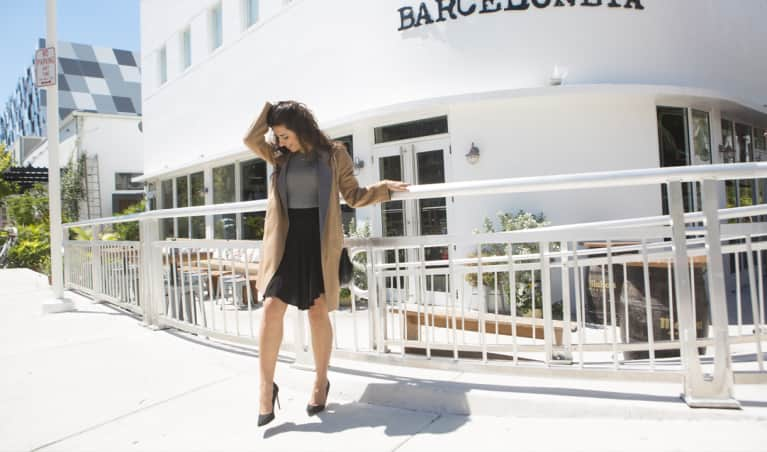 7:00 p.m.: I'm all about balance, so while I push hard through the day, I like to play after dark—dinner is the perfect remedy. Even if it's a low-key affair, I'm likely to do one final outfit change, as I love dressing up. My style is minimal but sophisticated. A bodysuit is seamless under a contoured pencil skirt, and I'll switch up heels for sneakers depending on the vibe. To add an element of formality, I'll add a smart addition like The Turnaround Reversible Jacket by Kit and Ace—a tailored piece that's both modern and functional.
My life is full contact and I wouldn't have it any other way, but it wouldn't work without balance. I need to feel comfortable and confident as I move through the day, and what I'm wearing really factors into that. I'm always pushing and my clothes need to keep up.