9 Ways Nature Can Help You Bond With Your Kids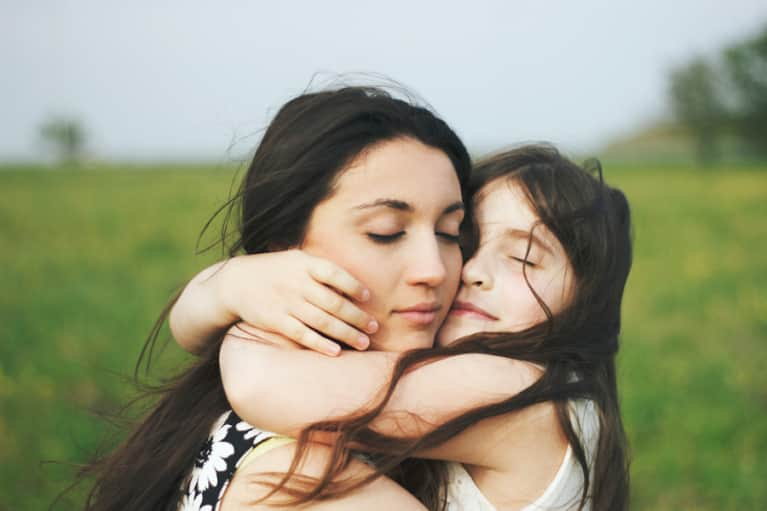 Our editors have independently chosen the products listed on this page. If you purchase something mentioned in this article, we may
earn a small commission
.
As parents, we always try to offer our children the best. We enroll them in extracurriculars, keep their playrooms stocked with toys, and indulge many of their desires. But while these acts may feel like extensions of love, they can sometimes fail to address the real issue at hand: a desire for connection.
So what to do when our children are acting bored? Nagging for toys or new things? Acting out with poor behavior? Even if we understand that what they are actually seeking is quality time with us, it can be difficult to know where to start.
In my experience, the answer is most easily found in nature.
Nature is rich with inspiration and magical phenomena that no toy can compete with, and best of all, it's readily available to each of us. Plus, there's just something special that happens when we slow down and enjoy our surroundings — together.
My new book, A Beauty Collected, aims to spark this wonder and encourage people of all ages to use nature as a catalyst for togetherness and creativity. Here are nine simple earth-centered activities sure to boost the bond you share with your children:
1. Have a seasonal conversation.
Choose a tree near your home and spend some time visiting with it with your little one. What shape are its leaves? About how tall is it? Are there any flowers? What texture is the bark? Over the course of a year, visit this tree and note its seasonal changes. Which parts are different and which are the same?
Select a food — ideally a fruit or vegetable — that you can pick together and consume raw. Take a few moments to really study it. See if it has a scent before you taste it, and notice if the smell changes once you take a bite. How does it feel and taste in your mouth? This is also a fun game to play at the farmers market and a wonderful way to spend time together around the dinner table. Be sure to acknowledge any time your tot tries a new food!
3. Admire the life cycle.
Pluck a few fresh flowers or greens and bring them into your home. Place them in water, lay them on linen, or even tape them to the wall and observe them as an art installation, watching how they decay over the course of a few weeks. Can you and your child find beauty when the plants have passed their prime?
4. Explore nature like an adventurer.
Using just a notebook, writing utensil, and art materials of your choice, your elementary schooler can transform into a botanical explorer and record the lay of his or her land. Have them collect small findings and tape or illustrate them in their journal along with other things they feel, hear, or notice — just like Charles Darwin or Captain Cook. Encourage them to be as descriptive as possible so that if someone found their journal 100 years from now, they'd be able to picture and learn about the plant they recorded, even if it no longer exists. Don't forget to include the date and location for each entry!
5. Play around with herbs.
Mix up your usual recipes by adding unexpected botanical elements. Blend 1 tablespoon of finely chopped mixed herbs into 1 cup of butter to brighten your dinner rolls, or infuse 1 cup of milk or water with 2 tablespoons of lavender buds (steeped for 30 minutes, then strained) for a floral twist on lemonade or hot chocolate.
You and your child will feel like spellmakers with these magical smoky wands. Using white sage as your base, add cedar, sweetgrass, lavender, and any other flowers or herbs you like. Wrap a cotton string around the full length of the bundle, and allow the elements to dry fully. When you are ready, light the top of your smudge stick and let it burn for about 10 seconds before blowing it out. You can also incorporate a bird's feather into your smudging ceremony, using the underside of it to fan the smoke around a person, object, or room.
Have fun mixing up masks and applying them to each other's faces! While there are many excellent combinations, I love using orange juice and coconut oil during the spring and cooling watermelon, cucumber, and whole-fat yogurt in the summer months. In fall, try pumpkin and brown sugar to scrub away dead skin, and in winter, try oatmeal honey and banana to soften and moisturize. For all masks, simply blend a small amount (1 to 2 tablespoons) of each ingredient together until they reach the consistency of a smoothie, then apply to skin for 5 minutes. Rinse with cool water!
8. Fashion a floral mandala.
Mandalas are temporary pieces of art that serve as wonderful lessons in impermanence for all ages. To create your own, begin by taking a nature walk and collecting flowers, sticks, rocks, grass, leaves, shells, etc. Then choose an open space to create your design like the sand or a quiet trail. Loosely translating to "circle," mandalas are traditionally round, so it is helpful to begin by tracing a small circle in the earth to use as your framework. Decorate the circle with your findings, and then let your design radiate outward as large as you like. When your design is complete, leave where it is as a little gift for others who happen by. (But don't forget to take a picture first!)
9. Construct a seasonal altar.
My favorite way to honor nature is to collect items from the outdoors and place them in a special place in the home. Accumulated over time, items like flowers, stones, and shells create a beautiful indoor reflection of what's happening outside. There is no wrong way to do this, and many people add labels to their items or display certain ones for the season or month.
Related reads:
For more ways to adventure, treasure-hunt, discover, and enjoy, check out my new book, A Beauty Collected, now available for sale.