The Budget-Friendly Dinner Recipe This Nutritionist Makes Every Time She Hosts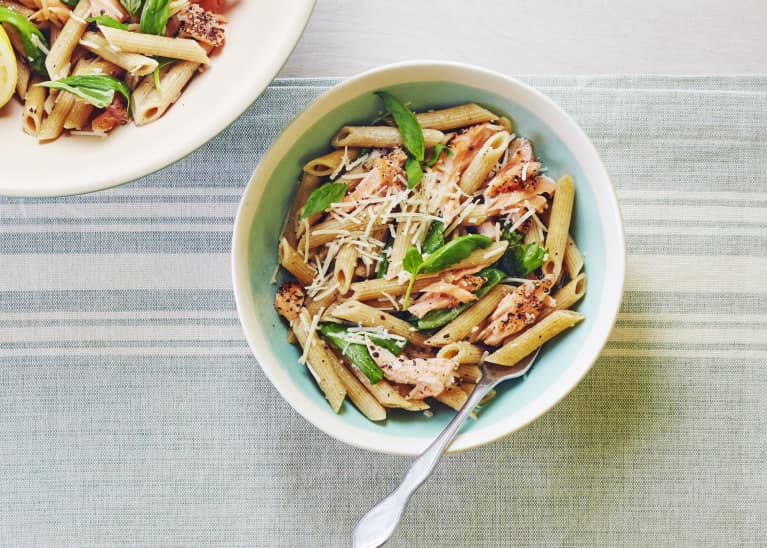 Since moving to Miami I've had friends coming over to visit me, stay with me and, evidently, eat with me. As someone who loves to host (and as a food blogger), I pride myself in making beautiful meals made with love and really fresh ingredients. But since I'm also young and living on my own, I work on a bit of a budget. Luckily, I live right near Whole Foods Market and found a way to make this lovely meal for two under $15, not including pantry staples like olive oil and salt and pepper.
I love making this versatile penne with salmon dish because when cooking for others, you're taking a shot in the dark. You don't always know what they like and how they like it, but a pasta with fish is a no-brainer! It's easy, healthy, and so flavorful. Who wouldn't like it?
I'm giving total creative liberty on this recipe, so you can add any vegetable you wish (broccoli, sautéed spinach) or switch out salmon for chicken. I hope you love it as much as I do. You can also pair it with any side or dessert recipe from my Instagram page for the total experience!
1 cup whole wheat penne
8 ounce salmon filet
Salt and pepper, to taste
2 tablespoons olive oil
2 tablespoons lemon juice
1 teaspoon garlic, minced
1/4 cup basil leaves
1/4 cup Parmesan cheese
Heat oven to 350F.
In a large pot, cook pasta according to package directions.
Wash and season the salmon filet generously with salt and pepper. Place in the oven and bakefor 15-20 minutes or until fully cooked. Once finished, lightly flake the salmon into a bowl.
Once the pasta is cooked, drain and toss in the olive oil, lemon juice, garlic, basil leaves, and Parmesan cheese. Toss in salmon and enjoy.