The 12 Whole Foods Market Items This Nutritionist Can't Live Without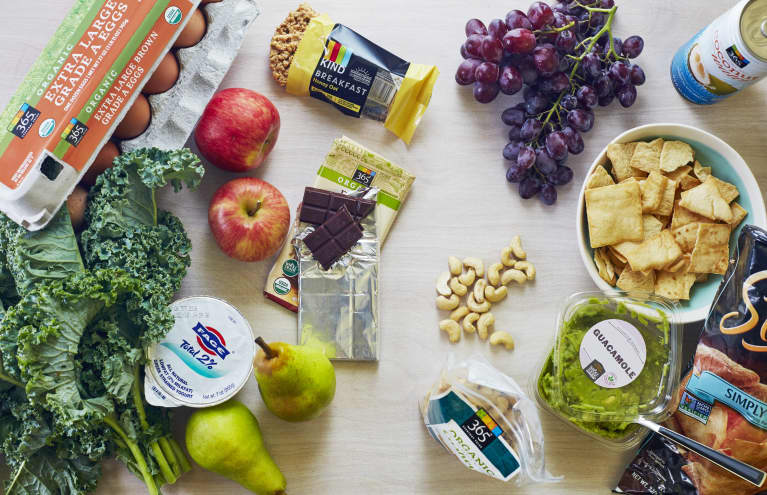 Food shopping has pretty much always been my jam. I remember not letting my mom go food shopping until I got home from school so I wouldn't miss one of my favorite activities.
Picking out foods and planning menus for the week based on what's fresh, local, and/or in season has always been what my big, hungry family is all about.
Fast-forward to now and not much has changed. I'm still a supermarket lover (namely Whole Foods Market, as it somehow manages to be my neighbor everywhere I've lived) and find so much pleasure in picking out foods that are a balanced mix of nourishing, indulgent, and satisfying.
When I visit Whole Foods Market, I pretty much always start in the produce department. What goes in my cart might fluctuate—depending on what time of the year it is, great sales, and taste-test stations—but I always stick to the basics.
These are a major must for their juicy bite and crunchy mouthfeel. I really dig the fact that they're not ginormous, which is why I often stick to the same variety.
Because of how easily portable and convenient they are. I like to take them with me to the beach, on the plane, or just freeze them for later!
These are a great snacking food to have lying around, so I always make sure to get a big bag of pears for when the late-night noshing begins.
I can't go to the supermarket without buying a green. You never know when you'll use it—in a big salad, green juice, or veggie sauté.
My go-to green is kale. I always choose a large leafy bunch from the front of the pile before moving on. I prefer to have fresh greens over frozen but definitely don't mind venturing over to the frozen section for other veggies I can heat up.
365 Everyday Value 100% Pulp-Free Coconut Water
Living in Miami, it gets crazy hot, and electrolytes are a must, so I always prefer something sweeter than just water.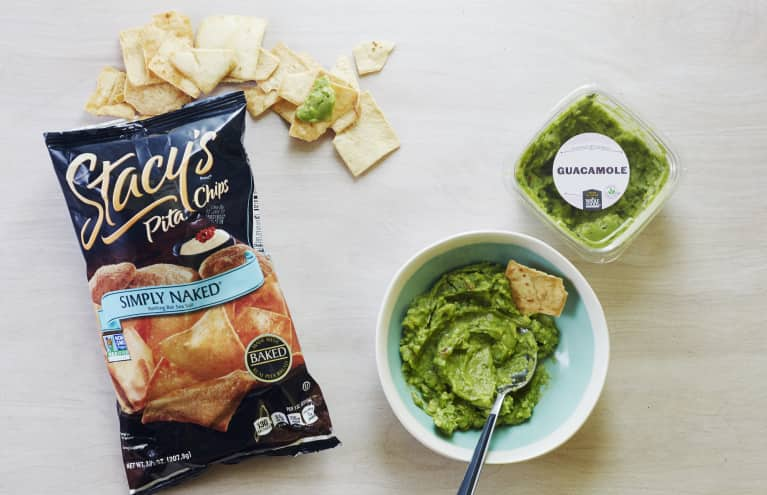 When I'm food shopping I love to get some easy-to-eat snacks to have around my apartment.
Stacy's Pita Chips in Simply Naked flavor
I love the crunchiness of the chips, and they're almost always on sale! They're the best paired with …
Whole Foods Market guacamole
It's so fresh and has the perfect balance of avocado and lime.
KIND Healthy Grains Oats & Honey With Toasted Coconut Granola Bars
I'll often have a KIND bar for breakfast.
365 Everyday Value organic whole raw cashews
These are great to have around to put out when guests come over. The cashews also double as a healthy snack or add-in to tons of recipes.
Without fail, I stock up on yogurt, whether I'm having it for breakfast or as a dessert paired with dark chocolate. Fage is my favorite protein-rich yogurt, and the 2 percent fat content does a great job of filling me up.
365 Everyday Value Organic 56% Cacao Dark Chocolate Bar
I like to break up a piece of the chocolate bar and swirl it into the Greek yogurt to satisfy my after-dinner sweet tooth.
365 Everyday Value extra-large cage-free eggs
I'll often have a delicious egg scramble for breakfast, so I can't leave the market without buying eggs. My biggest tip is to check the carton before buying to ensure none are broken. Whole Foods Market is usually really great about treating their food with care, so it's not usually an issue.
My cart is pretty full with the basics at this point, but there are always seasonal additions and food in the prepared section that will find their way into my bag.
There are plenty of times that I'll just run into Whole Foods Market and grab a sushi roll or fresh-made pizza depending on which location I'm at and what's being offered. I'm clearly a fan and hope that a look into my cart helps you buy clean options for your kitchen!