4 Ways To Save The Planet From Inside Your Closet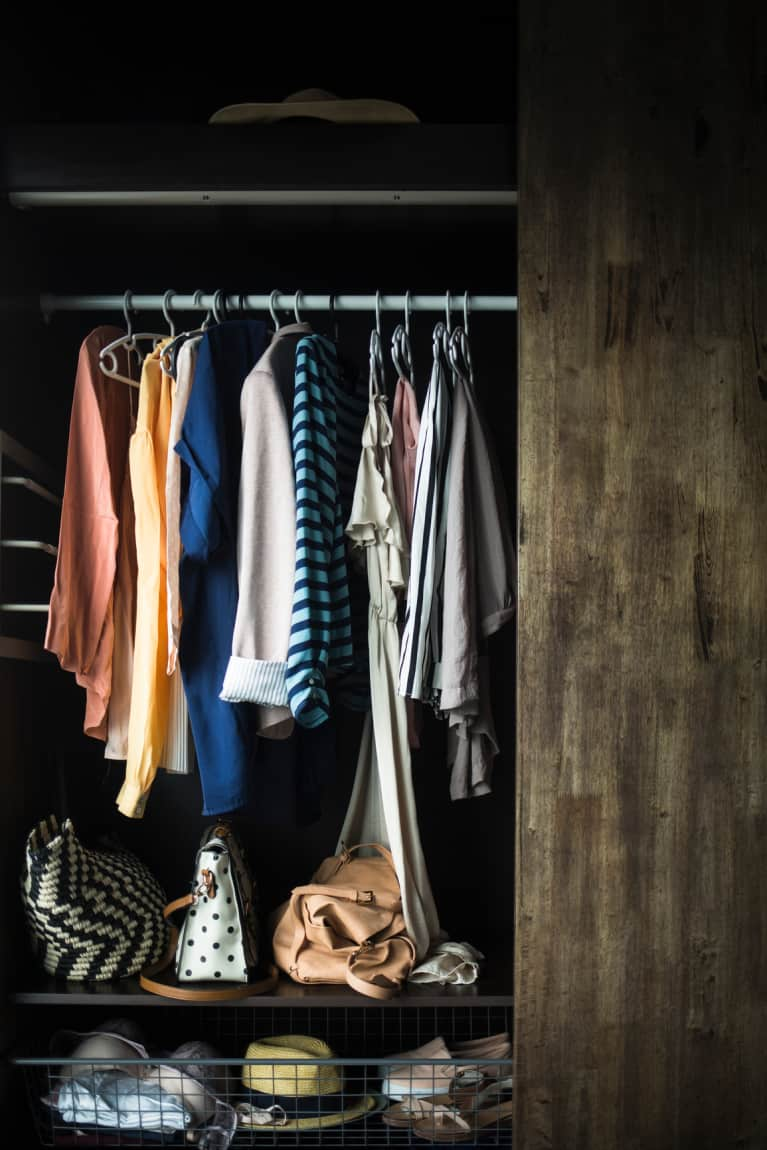 Let's get more conscious about our clothing, and I'm not talking about meditating in our hampers or doing yoga at the laundromat. Just like we've become more intentional with our food choices, it's time we become a little more intentional with our clothing purchases don't you think?. As a former model turned eco-model, I represent brands that are cruelty-free, made in the United States, or simply deemed eco-friendly. Modeling is one thing; shopping on my own dollar is another.
When I started looking for ways to be a little more environmentally conservative with my purchases, I was relieved to find that some of my favorite shops like H&M released more sustainably made lines. I also found that some of my local boutiques processed their clothing in the same building they were being sold in, saving energy on transportation.
Want to shop for some trendy threads while also saving planet Earth? I'm not being lofty .. here's how to become a conscious clothing shopping superhero:
1. Try closet swap parties.
Dopamine — the chemical released by your brain that makes you excited about novelty: You experience a buzz of this happy drug when you wear new clothing. It doesn't have to be unused, it just has to be new to you. This could be as simple as borrowing your roommate's dress (sorry, roommate). Ever wonder why you sometimes feel the need to wear a new outfit to feel extra confident for a date? Dopamine.
Get your happy fix and save the planet the energy and resources it takes to produce an outfit and trade some of your old threads for a friend's old threads. Instead of throwing out the clothes you've currently become disenchanted with and buying new options, host a closet swap party with your friends and trade in for new additions to your closet. Don't want the trouble of hosting? Look up clothing swap parties already being hosted in your area on MeetUp.
2. Shop eco-friendly brands.
Whether it's preserving the environment, fair wages, or organic or recycled materials — these brands are doing something to lessen the impact of clothing production on our planet. Think about all the energy it takes to produce one article of clothing, the water used to grow cotton (even organic), the electricity used to sustain a factory to produce materials, the plastic packaging it's shipped in, the cardboard boxes used in transport, the gas used to fuel the plane or truck to get it from the factory to the retailer, the plastic used to tag and label — it adds up.
Maybe it's not just about bringing a reusable shopping bag anymore; it's about being a little bit more intentional with your purchases when possible. Not buying clothing would be best, buying used clothing would be second-best, and buying eco-brands would be third. Check out designers like Alabama Chanin, vegan brand Delikate Rayne, Della, Moo Shoes, Vaute Couture, H&M's Conscious line, and the online eco-conscious boutique Lux and Eco. Melissa McCarthy has an adorable line of cruelty-free fashion for all sizes, Matt & Nat design vegan handbags and accessories, and if you're looking for vegan-friendly intimates, check out Stella McCartney's line of lingerie.
3. Don't get hamper happy.
You get home at the end of the day, maybe pour yourself a drink, and throw your clothes in the hamper — near the hamper; OK, you throw your clothes on the floor. So your dirty clothes pile grows quickly because you wear something once and then you wash it. Unless you're teaching a spinning class or your lunch made its way onto your shirt, maybe try the sniff test. If it passes, hang it up for another wear later. You could also try spot-cleaning your garment by soaking the dirty spots in your sink.
This is a more conservative alternative to starting a whole load of laundry for it. According to the Alliance for Water Efficiency, a medium-size load of laundry uses 30 to 40 gallons of water. Even high-efficiency laundry machines use 15 to 25 gallons of water to wash a medium load. You do a load of laundry a week; that's 60 to 160 gallons of water you use per month. At that rate, in a year you will have filled an entire household pool with laundry water. If you're using hot or warm water, you're then using gas to heat that water up. And you still need to dry your clothes. All we wanted was to not stink, and now we're having nightmares of Greenpeace reps showing up at our door demanding the water back for the polar bears. Wash less, use cold water, and hang dry. Don't sweat it.
There's a world full of strangers out there, and we're here to shop their used and swanky threads. Thrift shops are making it easier to buy "new" clothes without breaking the bank. Who wants to spend $40 on a new shirt when the thrift store offers in-season trends for a quarter of the price? Don't want to go thrifting alone? Technology is making thrift shopping even more accessible. Shops like Lott and Hudson let us purchase pre-loved clothing with a swipe of our thumbs.
I think we can all get behind some warm-hearted clothing adoption, right? Now go rescue some homeless outfits and help save the planet a little bit. Your wallet and our world will thank you.
Related reads: