From Pop-Up Brunches To Stunning Art Galleries, Here's How To Spend Your Time In Berlin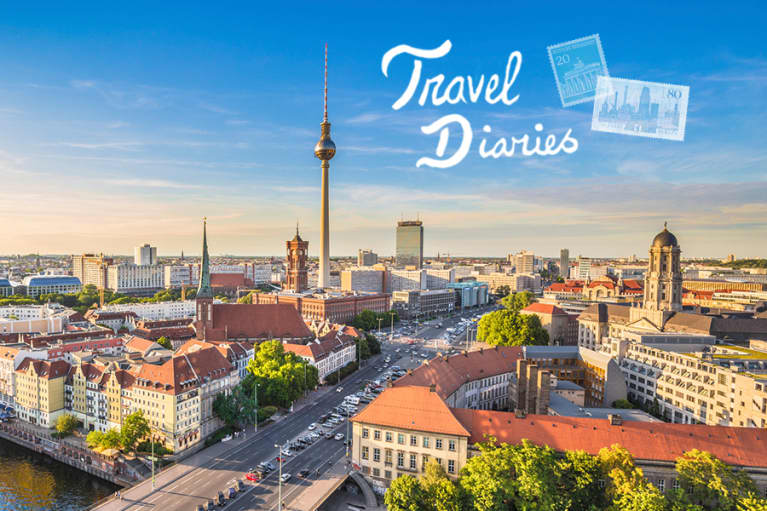 Just because summer has come to a close doesn't mean your wanderlust needs to. This fall, our Travel Diaries series will highlight the sweater-weather retreats our contributors are heading to for some R&R. This week, we're tagging along with author and happiness expert Shannon Kaiser on her extended vacation in Berlin.
Hello, gorgeous Berlin!
I've spent the past 30 days living in Berlin, Germany; one stop on my six-month journey traveling the globe writing and looking for inspiration for my next book. I chose Berlin because of its reputation as a creative mecca.
I've had a perma-grin since I landed in the city of bikes, brews, and boys. The land of everything hip and edgy.
Berlin is like your cool friend's even cooler coolest friend. So hip in its creative expression and natural beauty. Super comfortable in its own skin, with nothing to prove. You can't help but want a little of it to rub off on you.
Berlin has no shame. Anything goes, and here there is more attention placed on creative expression and individual exploration than possessions or even success. A delicate balance of glamour meets grit, the city has a pulse of its own. Berlin needs nothing from anyone and pulses with energetic focus. It's one of the safest places in Europe yet one of the most expressive.
Berlin welcomes all travelers from the single remote worker to the wandering adventurers, families, newlywed married couples, and returning globe-trotters. The wellness warrior would thrive here. In this hub of hot fitness studios, organic food tours, and cafes with vegan treats, this wellness buff was one happy traveler.
Here's my recap of the best of the best in Berlin.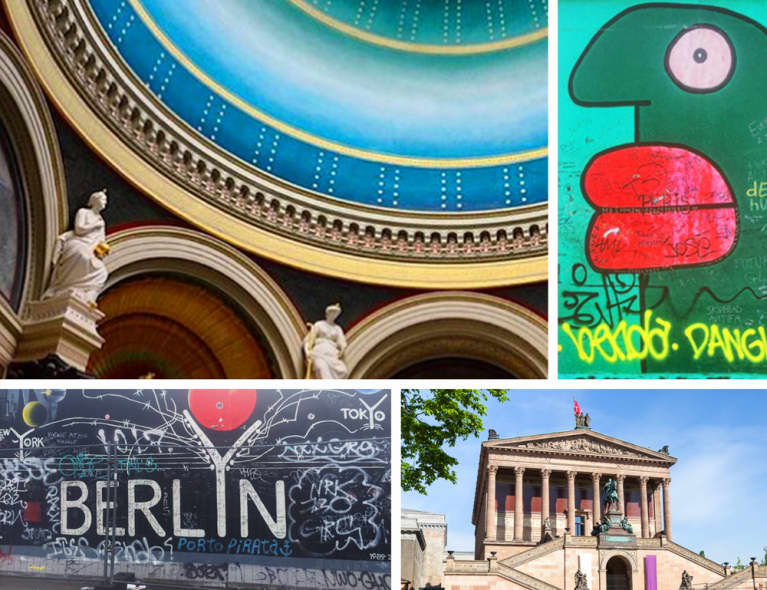 Keep up with your workout routine by getting your fit on at the hip new cycling studio Ride Berlin. This workout takes cycling classes to the next level with high-intensity cardio, innovative strength exercises for the entire body, and motivating music. The lights are low, the candles are lit, and it's time to work your booty off.
2. Walk along the East Side Gallery.
Taking a walk close to history along the East Side Gallery—the remaining part of the Berlin Wall and the world's largest open-air mural gallery—is a special experience not to be missed. The wall boasts more than 105 paintings by artists from all over the world. They all document a time of change and express euphoria and hope for a better, freer future for all people of the world. And we can all use a little more peace, love, and harmony.
Das Brunch offers a great way to explore new pockets of Berlin. Popping up every couple of weeks at several pretty places all around the city, it takes over cafes and restaurants with live DJs, Bloody Marys, and fun twists on classic brunch staples like poached eggs with Moroccan-spiced sausage on top of glazed parsnip, avocado, bay leaf, black beans, chermoula, and charred broccolini.
A trip to Berlin would not be complete without a visit to Museum Island—an extraordinary ensemble of five world-renowned museums on an island in River Spree right in the heart of Berlin's city center. The Alte National Galerie is famous for its works in the classicist, romantic, Biedermeier, impressionist, and early modern styles. The Museum Island's unique ensemble of buildings and cultural artifacts also makes it a UNESCO World Heritage Site.
5. Make time for books and bagels.
If you are like me, finding a bookstore with excellent coffee is a dream come true. In Berlin, this dream gets even better with the best bagels in the entire city ... maybe even the entire country. Berlin's friendliest bookshop, Shakespeare & Sons, is a perfect place for any coffee-loving bookworm. It not only features catchy tunes, a friendly atmosphere, and lots of natural light, but it's home to Fine Bagels, which serves up special bagel schmears like avocado, fig, and horseradish beet. The husband and wife owners stock their favorite books and a collection of local faves stacked on bookshelves they built themselves.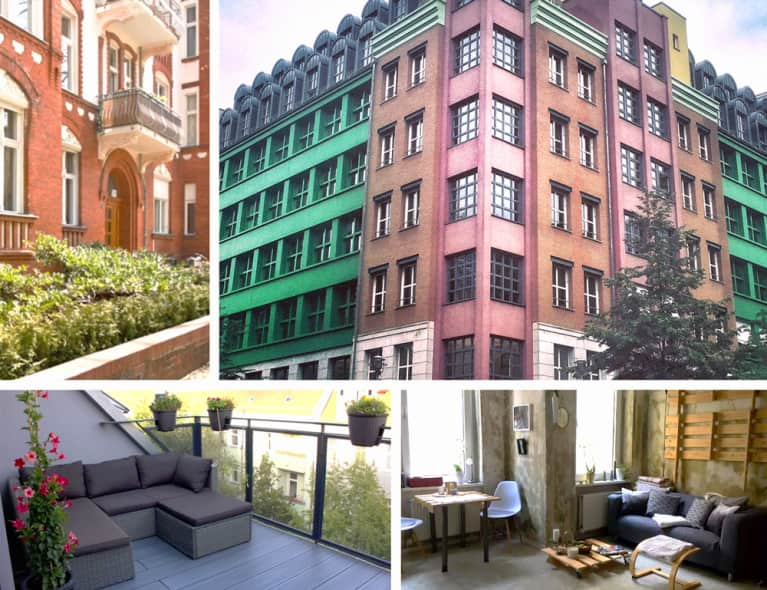 Anywhere that lets you live like a local.
There are plenty of excellent hotels to choose from in Berlin, but living like a local is your best bet in my opinion. Airbnb is a great choice because you can stay for anywhere from a few days to an entire month. You will meet locals and get the inside scoop on what and when to do things. Plus, most hosts go out of their way to make sure your stay is special.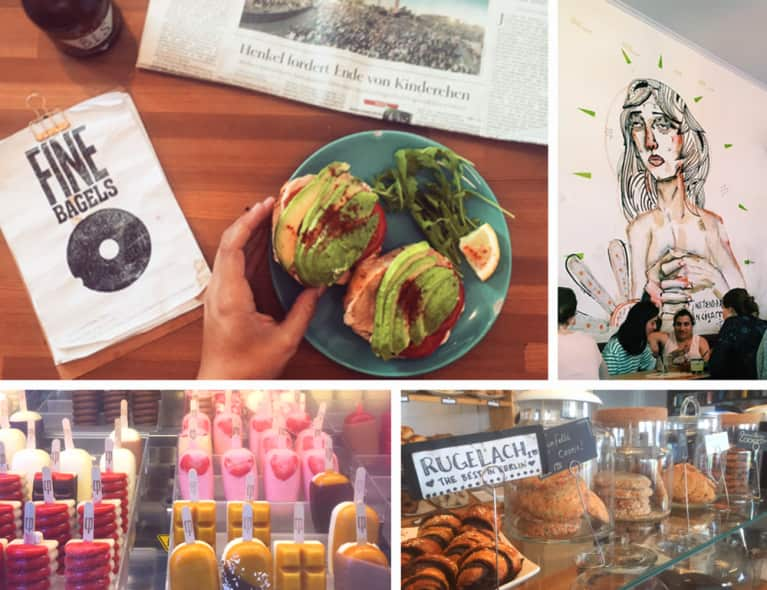 1. ZaZZa Gourmet Rosterei
ZaZZa's is a local favorite in the laid-back Kreuzberg neighborhood. They serve up excellent lattes and flat whites but their best-known dish is their specialty breakfast that includes quiche. Don't let ZaZZa's simple, unassuming interior fool you; this place is loaded with good eats and treats. Reggae and European pop beats jam overhead as the baristas dance and remind you how good it is to be alive. Dive in daily.
Santa Maria will answer your belly's prayers. Often named the top Mexican restaurant in the city, it's gourmet with a Berlin twist. With its hip menu and décor, Santa Maria is another local favorite that will keep you coming back for more.
Following the giant demand for street food markets, the legendary casual Indian "naan-wich" has found a home in Chai Wallahs. Fresh, affordable, naan-wrapped sandwiches include your choice of butter chicken or 12-hour pork belly.
California Pops specializes in unique, stunning handmade and organic ice pops. You will love the fab flavors like blueberry cheesecake, honey melon, and white chocolate mocha.
Berlin has an inner-city competition on who has the best burger. With new joints popping up often, it's hard to stay on top of the trend. But The Bird stays consistent and continues to ride high with its own confidence. All burgers are made from 250-plus grams of premium German beef.
For more travel inspo, follow Shannon on her six-month journey around the globe, and check out the rest of mbg's Travel Diaries.