Why You Should Care About The Soda Tax + What It Means For You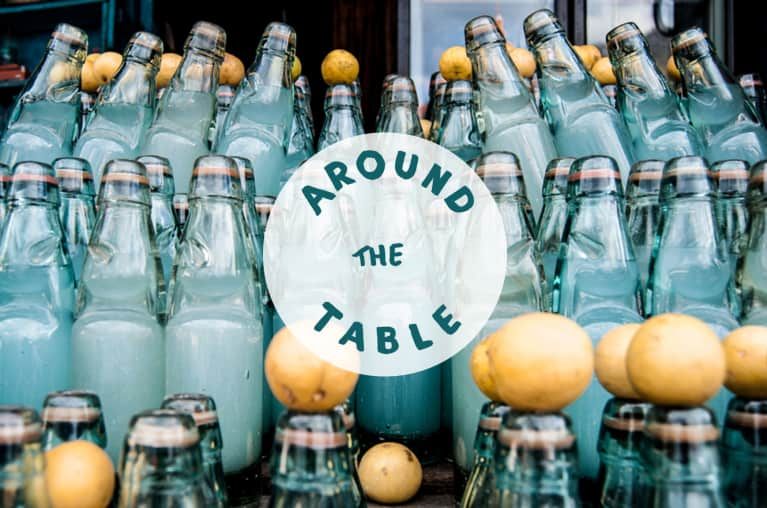 September 8, 2016 — 9:30 AM
This is an installment in our new Around the Table series by writer and activist Stephen Satterfield, which will explore the political and ethical issues that define today's food system. We hope that it sparks a conversation around your dinner table.
Today, we're delving into the soda tax in the U.S. and what that really means for you, your family, and the future of our country.
You can get away with so much if you're sweet.
Sugar, that amorphous, dubious, delicious substance, is perhaps the grandest beneficiary of this principle. Take, for instance, one tablespoon of ketchup, approximately the amount produced by a modest pump into a white paper ramekin at a fast-food joint. That tablespoon contains nearly 4 grams of sugar, which, according to the American Heart Association is 16 percent of the daily recommended intake of added sugar for an adult woman. A 12-ounce can of soda contains 10 times the amount of that tablespoon of ketchup.
This may be stuff you already know, but have you wrapped your head around the "soda tax"—or, as soda companies would call it, the "grocery tax"—and all of its implications? We're here to help you wade through this sweet rhetorical jousting.
Here's the deal: If you buy a soda (or a sports drink or an energy drink or any of the sort with high volumes of added sugar) in the places where the soda tax exists, you will pay a surcharge.
The thinking is that higher prices will lower consumption, and recent reports suggest that at least in Berkeley, California, the first U.S. city to impose the tax in 2014, that thinking was correct. In June, Philadelphia followed suit and started taxing soda purchases too. Where will be next?
Nowhere, if the soda industry has anything to do with it.
We see this in practice from mandated cigarette warnings and the use of seat belts, and sugar should be no exception.
Over the years, it has spent millions of dollars to prevent this type of legislation from spreading throughout the country. Berkeley, the famously liberal city often credited for launching the local food movement, was one thing, but Philadelphia? The first "major" city to impose the tax, this marked a significant turning point: The sugar and beverage lobbies are powerful ones, and the vote upended years of strong efforts that had, up until a couple of months ago, thwarted these taxes.
It's not just the industry, though, that's not down with this tax. New Yorkers bristled at former mayor Michael Bloomberg's efforts to limit sales of jumbo soft drinks in 2014.
Ultimately, he lost that fight; the government was not going to tell citizens how much was too much soda. (Bloomberg retaliated by pouring $650,000 of his personal money into Berkeley vs. Big Soda, the most heavily funded campaign in the city's history. For their part, soda companies spent $2.4 million in opposition.)
Proponents of soda taxes highlight the societal costs of sugar consumption in the midst of a public health crisis: Diabetes, cardiovascular disease, and certain cancers are overwhelmingly linked to high-sugar diets.
Three truths should stand out to everyone:
Those chronic diseases are on the rise.
The majority of these diseases are caused by sugar.
The majority of these diseases are preventable.
We need help from the legislature to right this wrong.
This fall, Oakland, California, and San Francisco will each have the opportunity to become the third city in the country to institute a soda tax. (San Francisco whiffed on the measure in 2014, but, perhaps buoyed by the successful early reports on the Berkeley tax, has decided to give it another run.)
As a resident of Oakland, I'll be voting pro tax.
Food is medicine, and our diets are the main indicator of our health. As I see it, if our society is not creating deterrents for behavior that undermines the collective public well-being, we share equal blame with those we may otherwise condemn for their harmful personal decisions. We see this in practice from mandated cigarette warnings and the use of seat belts, and sugar should be no exception.
No matter your politics, the soda tax experiment is widening the conversation on public health. You may not want the government telling you how much soda to drink even if you don't drink it at all, but hopefully these measures make us all look more closely at the intricately woven connections between our diets, our health, and our economy.