How To Make Your Metabolism Work For You — Regardless Of Your Body Type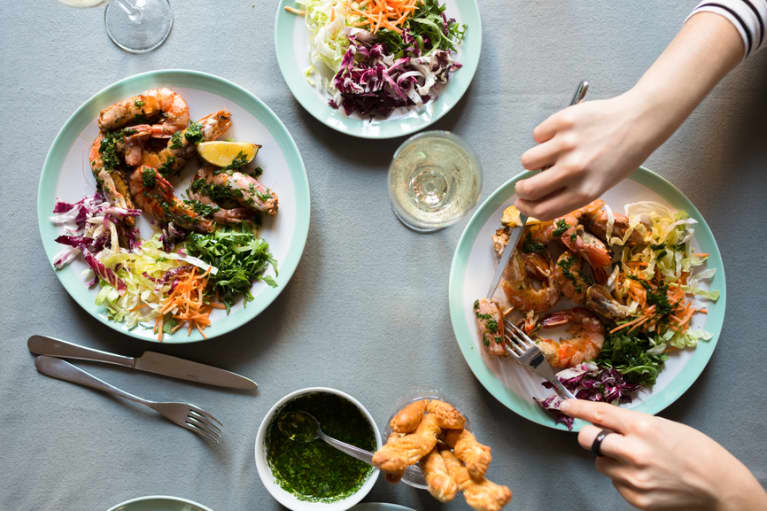 You've probably heard about the human metabolism being referred to as "fast" or "slow" and that the reason why we gain weight or have a particular body shape and size is due to our metabolism becoming slow, sluggish and even broken!
We've been taught to believe that we are born with a metabolism that functions on a certain speed and that doing a few key things will make it faster, which will help us lose weight.
But the truth is, your metabolism can't be broken. Metabolizing your food basically refers to how your body is using it as a source of energy. Of course, it can be influenced by many factors such as your age and hormone function but what if changing our relationship with food could also help create a healthy metabolism and get it humming along in the best way possible?
The field of mind and body nutrition brings together an awareness of WHAT you eat and HOW you eat it.
A great principle of mind-body nutrition explores how loving your food is the first and easiest place to start really shifting the way you metabolize it. Adding LOVE to your diet can really make a huge difference.
That's right, L.O.V.E
Learning about food and nutrition from a basic level is the first step to transforming your relationship with it.
Knowing what you're eating makes a HUGE difference to your body. You're less likely to feel confused when planning or cooking meals if you know what ingredients will perform certain functions in your body.
Less confusion about what you are eating puts your body into a state of calm and instantly restores power back to your digestive organs and your metabolic processes.
2. Taking OWNERSHIP of it
As in, planning it, shopping for it, and cooking it yourself.
Being responsible for your meals is the next step in feeling a shift in your food relationship and metabolic power. When you've learned about food and start to cook, bake, prepare, and serve it for yourself, you'll have a deeper understanding of what goes into it and you'll be proud of what you've created.
When you get in and create food, you'll realize that it's an enjoyable and rewarding experience. You get to have ownership over the things you eat and you'll get to understand what you like, don't like—what sits well for you, and what doesn't. You'll learn to trust your intuition when it comes to eating.
3. VARY the kinds of foods you eat
Variety—it's the spice of life! Switching up the foods you're eating will send a message to your body that change is on the way.
It makes sense that if your body is used to metabolizing all the same kinds of foods, changing things will change the way your body has to metabolize, right?
Try things you previously didn't like and see if it's still the case. Experiment with new recipes and enjoy a wide variety of food choices.
Add a little spice and chili to your food, too, to fire up your internal engine and powerhouse!
Eat with intuition, pleasure, and mindfulness.
Use your intuition to guide you as to what you want to eat and feel your hunger cues. Eating mindfully without distraction and slowing down will help you to understand the signals your body gives you when it's hungry, full, satisfied, or craving something specific.
If you eat something that brings up certain emotions, like guilt or shame sit down and really taste it. If you want to eat it, you should enjoy it—don't make yourself feel wrong for eating these foods, just be aware that you are choosing to eat something that is more indulgent. Tune in to if the food is really making you feel good though and if it is, great!
Similarly, when you are eating something that you may have previously related to as boring, unexciting, or tasteless tell yourself that it's nourishing and actually concentrate on what it tastes and feels like.
You'll be surprised at how you might really start to develop a taste for things you didn't like before, because you always related to them has foods you had to eat to be healthy or lose weight.
Start to describe them as fresh, energizing, healthy, and nourishing and see how your appetite toward them changes.
Really concentrate on your food. Start to look at it, take in the colors, and put an effort in to how you put on your plate. You deserve to make it look nice!
Shut down and switch off at meal times, too. Avoid eating in front of the TV, set the table, and make it a nice moment—like a ritual.
Create an awesome experience around food and the food will reward your body in return! Slowing down and eating from a place of mindfulness, calm, and pleasure allows your body to digest easily and metabolize effectively.