6 Ways To Work Nature Into Your Morning Rituals (Even Though Summer's Over)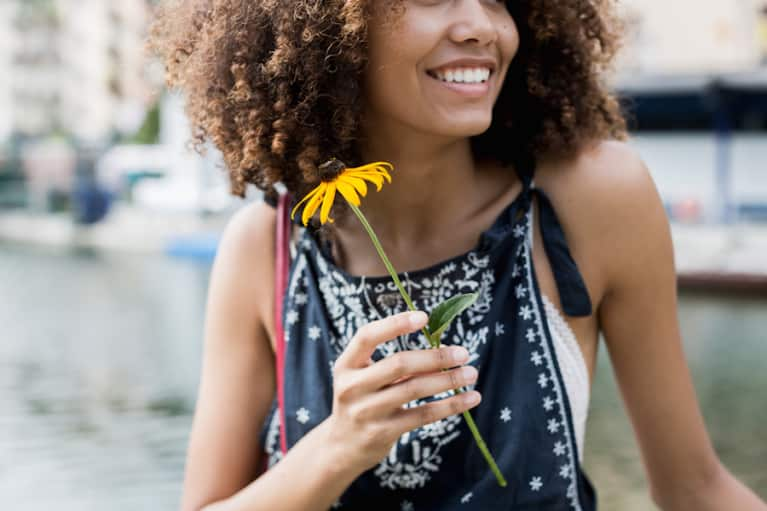 It's undeniable … Labor Day is behind us. Kids are back in school. The days are growing visibly shorter. Summer is officially coming to a close.
It's easy to be outside in the summer, when activities like nature swims, hikes, camping, beaching, and BBQs fill our days. But, of course, being outside is important in every season. Spending time in nature is a proven way to improve your overall health and well-being—it decreases stress, it improves concentration, it increases energy, and it encourages mindfulness.
In fact, a good portion of the blues we sometimes feel as the days get darker could be alleviated just by getting outside and spending more time in nature throughout those long months. Start this season off right with mornings outdoors and see how it clears your mind, grounds you, and gives you an energy boost for the day ahead. I mean, that sounds even better than a cup of coffee!
Here are six simple ways to improve your overall well-being by adding the outdoors to your morning routine this autumn:
Set your alarm at least 15 minutes before the sun rises so you have time to prepare yourself a cup of coffee or tea. Grab your favorite, coziest blanket, a warm sweater, and get yourself all snuggled in your favorite outside chair.
It's OK if you can't actually see the sun rising from where you are—it's still beautiful and energizing to witness the sky changing from darkness to light and watch the spectrum of beautiful colors it produces. Notice the colors every day. Do they change throughout autumn?
2. Create a morning walking routine.
There are so many fun, creative ways to do this. Instead of fixing your morning cup of coffee at home, walk to your neighborhood coffee shop for your morning fix. Make plans to meet a friend first thing in the morning for an early walk. (Time outdoors and a little friend fix … talk about good for the soul.)
Or, create a solo walking routine. Walk the same route every day and notice all the changes that occur as we move through autumn. What trees have the brightest foliage? Which fallen leaves are the prettiest?
More than any other season, autumn is a time for gratitude. This is harvest time. And this is when we give thanks for all the beauty, abundance, and rich, juicy goodness we harvested in our lives this year.
Grab your favorite hot drink, a warm wool sweater, and your journal, and spend some time outside reflecting on what you are grateful for this season. What harvests are you thankful for? What personal traits do you appreciate about yourself that allowed you to achieve them? Who are you grateful for?
Instead of hitting the gym, move your exercise routine outside. (If your summer exercise routine is outside, don't be in a rush to move it back indoors.) You can continue to exercise outside for a lot longer. In most places, with an adjustment in attire, you can get your sweat on outside all winter long.
There is no limit to the exercise potential right outside your front door: Jog, find a set of nearby stairs to run, enjoy a morning bike ride, do your morning stretches, do a quick full-body workout, or do your yoga practice in your backyard.
5. Create a nature altar.
Do not overcomplicate this one. Don't spend time stressing about having the "right" table or shelf to use as your altar. It can be the ledge of a fence, a cool stump, or a board laid across two cinderblocks. Be creative. Whatever you use to make it, set up your altar structure in a favorite spot in your yard. Throughout autumn, place leaves, rocks, feathers, whatever nature treasures you find, on your altar.
Start your morning by taking a walk and adding to your altar, and set an intention for the day to come. (Here's one I like for autumn: "I will be grateful for whatever and whoever crosses my path today.") Use your outdoor altar as a place to ground and center before you launch into the day.
Meditating boosts your endorphins, and it increases your energy for the day. It counteracts stress and allows you to better handle whatever the day brings. It provides mental clarity and it quiets the ever-present "noise" within our heads.
So, why not get a double dose of all this goodness by moving your morning meditation outside?!