This Entrepreneur's Fitness Secrets + The Workout Clothes She Swears By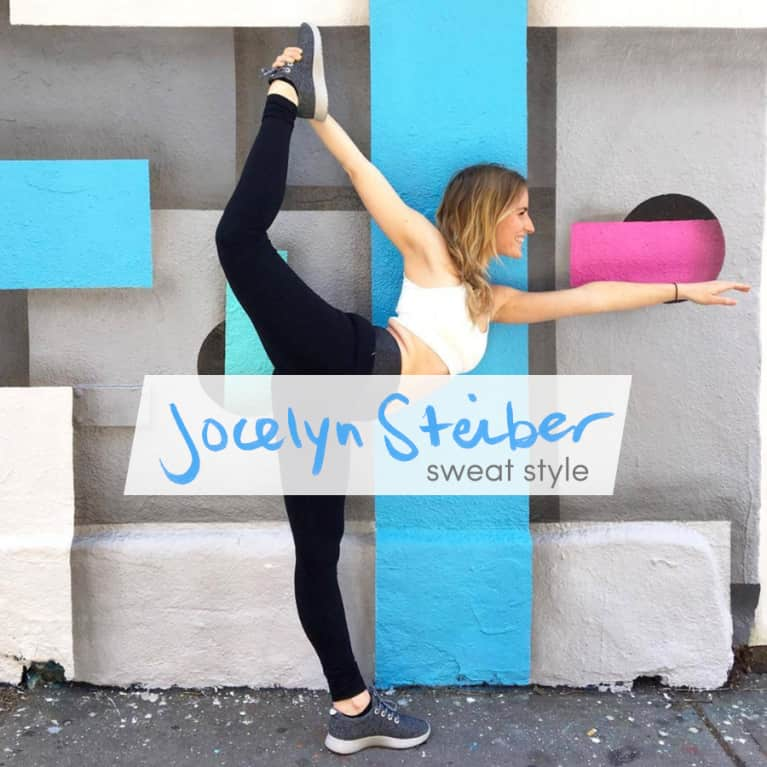 Jocelyn Steiber owns her own company, Jost Media, where she works with athleisure clients on their digital marketing—so it's safe to say that she knows a thing or two about the right tops, sports bras, and leggings to sweat in.
Although Steiber is lucky enough to have a job where she gets to wear workout clothes 24/7 if she wants to, she doesn't always take advantage of it.
"I love dressing up and wearing heels, so I usually put on 'normal' clothes every day," she told mbg.
As to be expected, Jocelyn is fitness-obsessed — but running her own business isn't easy, so she can't always find the time to make it to class.
"Yoga is my staple — Y7 addict over here! — with some dance classes thrown into the mix. I grew up dancing ballet, but I'm now into hip-hop/dance/cardio-based classes like 305 Fitness, DanceBody, AKT, and ModelFit," she continued. "When I'm crunched for time I do at-home workouts (love my rebounder!), but I love classes. They help motivate me."
As for where she gets her style inspiration? Instagram.
"I'm inspired by the health and wellness Instagram community," she said. "It's a select group of women, all around my age, and we support and encourage one another and also keep one another abreast of latest trends and products. I started in the fashion industry, which was much more competitive and cutthroat."
Here's what Jocelyn is loving right now.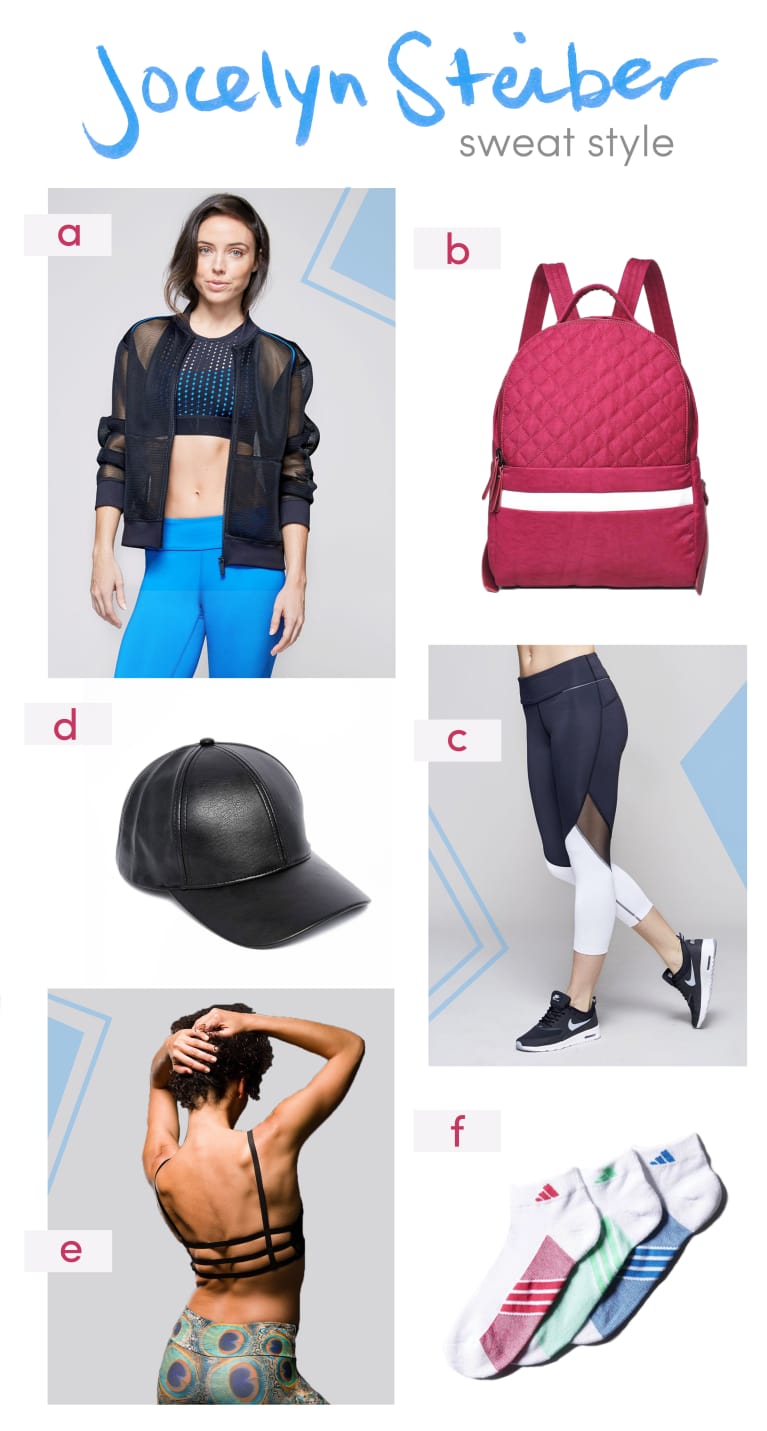 Cropped leggings in neutral colors
"I'm all about neutrals and clothes with special details — black, navy, and gray are my signature colors. When it comes to yoga pants, I'm an Alala girl all the way. They're moisture wicking, waist height, have cool mesh details, and are cropped — basically the perfect legging. I only wear cropped leggings as I tend to get too hot in long ones."
Featured above: Alala Captain Crop Tight (c)
Sports bras and workout tops with a little extra something
"I have three favorite sports bra brands: Titika Active, Onzie, and Chill By Will. I love sports bras with fun backs! I do a lot of hot yoga, so I'm always taking my shirt off and exposing my bra. I'm always impressed by how all of their strappy bras have a lot of support.
"As for workout tops, I like anything that's a little loose and I can tie a knot in. My current favorite is one from Sweaty Betty that ties in the back."
Featured above: Onzie Elastic Bra (e)
Under Armour sneakers and Adidas socks
"Adidas makes my favorite socks. They are lightweight and supportive but not too bulky. I live in my gray Under Armour sneakers — they are the perfect balance of supportive and stylish. I also love my Adidas slip-ons; these are the most comfortable pair of shoes I own and perfect for walking to yoga."
Featured above: Adidas Climacool SuperLite Low-Cut Socks (f)
Layers, backpacks, and shiny water bottles
"I have a 'vegan leather' hat, which turns any sweaty outfit into a chic one. It may be the best $7 I've ever spent! I usually wear my leather jacket, but I'm also excited for it to get a bit cooler out so I can test out his new cameo vest I got from SHAPE active and a mesh-arm jacket from Alala. Mesh is my current athleisure obsession.
"A game changer for me has been my Sol and Selene backpack. I used to think it wasn't chic to walk around New York with a backpack, but thanks to the athleisure trend, there are great ones out there now. They are key for going straight from workouts to work.
My gold S'well water bottle is my baby. Seriously. It's great for keeping my coffee warm and water cool for class. I recently got one in black that I'm very excited about."
Featured above: Alala Mesh Bomber Jacket (a) + Sol and Selene backpack + ASOS Baseball Cap (d)