Liquid Yoga: Paddleboarding on the Hudson River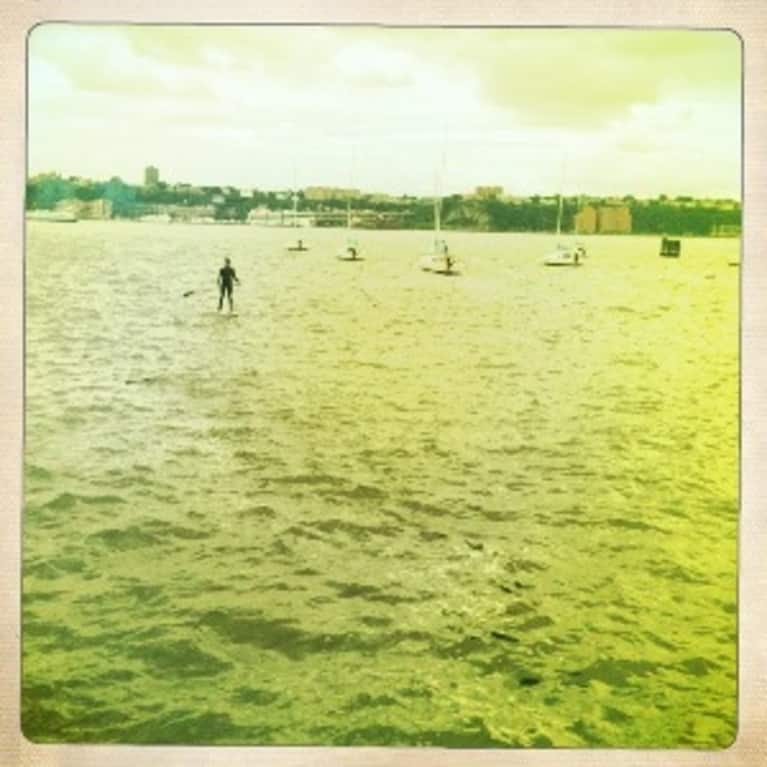 Walking north along the newly constructed park above Chelsea Piers, I peered across the Hudson River to spot something odd and rather epic. A swirl of grey clouds churned above the boisterous waters as cruise ships, sailboats and tourist traps skimmed the waves. In the midst of rush hour traffic, a man with a paddle skipped across the waters, dodging boats while navigating the rough sea. As they say, it's all about the entrance you make.
Little did I know that when Seth said he'd meet me at Manhattan Kayak Company, he would paddleboard across to do it. Launching from the shore outside of his Hoboken apartment building, even Carey, who works for the kayaker, was astonished at his audacity. From what I was told, Seth's journey home proved even more challenging, as a Queen Victoria-sized city on rudders decided to trudge down the Hudson without blasting its customary horn—and this, after he had been paddling for three hours.
He made it, and so did I, albeit in much saner waters. My first paddleboard session—think long, wide surfboard with a paddle—was a succession of stumbles into the Hudson. Friends later asked if I was wearing a wet suit, as if a thin layer of neoprene could stave off the ravages of whatever industry and carelessness has waged upon that famed waterway. Truth is, the river has been cleaned over the decades, and while I wouldn't cup a palm full of water on a hot summer day, I shed the suit during my second session, determined that I would at last stand upright, no matter the choppiness of those damned waves.
This time a crew gathered. The kayak company's owner, Eric John Stiller, was celebrating his birthday, so eight of us dove in for some Liquid Yoga—yep, yoga on the boards. Within ten seconds of meeting Eric, he had me pumping a SUP (stand up paddleboard) while he dashed off to find something or other. It immediately reminded me of Zen teachers who never break stride even when meeting new acolytes, the kind of men who walk around with sharp twigs whacking backs when multitasking seekers attempt to sit zazen. I knew then I had found a teacher. A minute later, when he started talking about other New York City fitness workouts being controlled by the Death Star and that I had just walked into the Rebel Alliance, I also knew I had found a friend.
The previous week, I had paddled around with Seth and Carey, the latter one of those ridiculously chiseled men whose form and demeanor is naturally graceful. Kind of dude who leads adventures in deep forests and opens up lion's mouths to point out their dietary habits. My friends laughed when I mentioned how often I fell that week, citing my yoga practice as a reason that I should exhibit such an effortless control. I reminded them that they were right in stating that it's a "practice," and by no means had I previously attempted rocking a Warrior Three while Circle Line cruises and helicopters kicked up current. Carey graced the waters like it was flat land, while Seth finally did take a dive—this after two hours of standing upright with no issue, mind you. Fortunately I felt no shame, as every fall was followed by a laugh, reminding myself of the same wisdom I share with my yoga students: you learn to balance by falling. No fall, you're not taking enough risks, you're not really trying.
During my second session I did, in fact, stand, for solid minute-long chunks before the drink consumed me. I even managed a clunky Surya Namaskar and saw that there really is a whole yoga waiting to unfold on this board. Seth had mentioned the tranquility and mindfulness of paddleboarding, and for a moment, caught between currents just past the 26th St pier, everything fell silent. I was gazing into a horizon of waters from a completely new place, calm, focused and at ease while my body bobbed with the river. It was that beautiful space we sometimes achieve in meditation, where any separation between yourself and the environment you are in dissolves, and you know that no matter what, everything is in its right place.
A minute later I started to paddle back and my right foot slipped from under me, the Hudson claming my flailing body. Once again my quiet laughter. Once again another chance to challenge my balance and enjoy the quiet that invites.