How To Feng Shui Your Beauty Cabinet
mbg Contributor
By Anjie Cho
mbg Contributor
Anjie Cho is an architect, feng shui educator and author of Holistic Spaces: 108 Ways to Create a Mindful and Peaceful Home. She is a New York State registered architect, a graduate in Architecture from the College of Environmental Design at the University of California at Berkeley, LEED Accredited Professional, and certified feng shui consultant from the BTB Feng Shui Masters Training Program.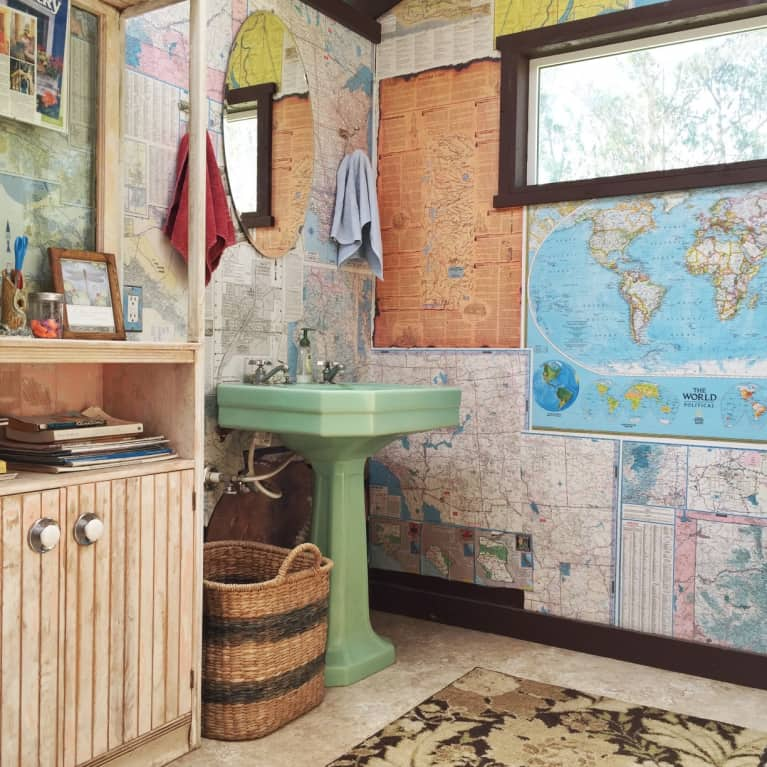 In feng shui, areas and objects in your spaces represent something deeper. Think about your beauty cabinet where you keep skincare products, hair styling tools, makeup, and other toiletries in abundance. You're sitting on a goldmine, because you've already created a space that holds some keys to assist you in showing your radiance to the world — now you just need to maximize its potential.
Whether you have a beauty cabinet chock full of the latest products, or you just have a few precious bottles that you use daily, here are three tricks to give you and your beauty cabinet some radiant energy:
1. Toss the expired items.
I think it goes without saying, but just in case .. be sure to go through and toss any expired items. It may be hard to let go of some of your favorite or most expensive products, but it's important to know that using them past their expiration date can actually negate their effects. Using expired skincare products can essentially mean putting bacteria on your face which can lead to irritation, inflammation, redness, bumps, rashes and swelling.
Keeping them around isn't great feng shui, either. The symbolism of a cabinet crammed with expired items is that your body is also cluttered with this similar energy — which is the opposite of radiant. We want to attract freshness and spaciousness instead of outdated, forgotten, and spoiled qi.
2. Add citrine to the center of your cabinet.
When I think of radiance, I immediately think of citrine, a quartz gemstone with orange tones. Citrine promotes a radiance from within the self, culminating in a constant happy disposition. It is said to "brighten even the darkest corner of one's perceived reality and help you laugh without restraint" — we all need some of that!
The reason it goes in the center is that when we lay the feng shui bagua map on your cabinet, the center area relates to health and overall well-being. It also touches all the other eight areas of life in the feng shui map, including but not limited to career, abundance, and relationships. The center touches all the aspects of your life! Among the many benefits of this stone is its ability to cleanse negative energy as well as clear itself. It will keep your beauty cabinet filled with bright and positive qi.
3. Change your vanity light.
The lighting around your beauty cabinet helps to bring clarity and light to whatever you're doing — putting on makeup, cleaning your face or brushing your teeth. The light also represents fire energy in feng shui, which is all about radiance, like the sun at high noon. It's a good idea to clean and dust off the bulb and fixtures periodically.
Using warm-toned light bulbs brings vitality to a room's purpose and function. Light in a warmer color temperature (below 3000K) creates a more relaxed, comfortable environment whereas light in a cooler color temperature (above 3000K) creates a more energetic ambiance. Using warm-toned lighting for rooms dedicated to rest, and bright, cool-toned lighting in more active areas will help maintain harmonious qi levels.
Related reads: