A Journey To Self-Love: My Hair, My Womanhood, My Identity
Post production supervisor
By Adaeze Elechi
Post production supervisor
Adaeze Elechi is the post production supervisor at mindbodygreen. She is also a filmmaker, a Logan Nonfiction Fellow, and the author of Harmattan (a collection of poems and short stories that explore loss, healing, and infinite love).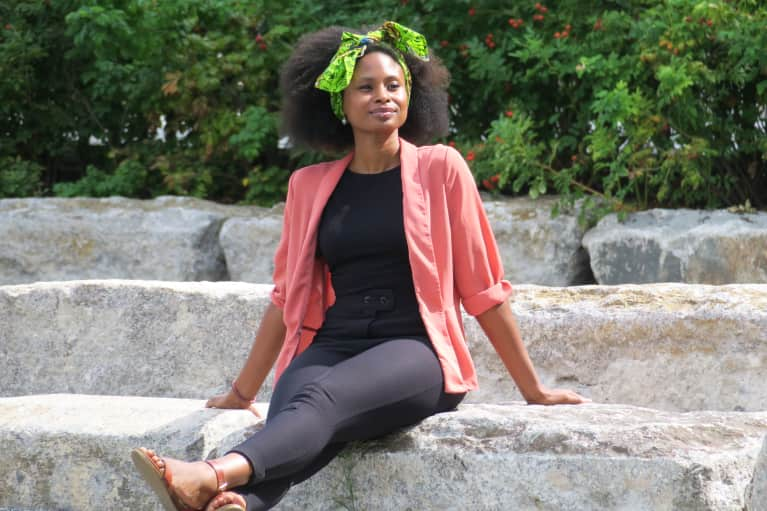 I am 29 years old, and I am a black woman with natural hair. On days that I choose to wear my hair out as an Afro, I still have to look in the mirror and give myself a pep talk before I set foot outside my apartment. It goes something like this: "This is your hair. Look how boldly it spreads out, how proudly it announces itself. It is beautiful; you are beautiful because you say so."
I am on a self-love journey that started some years ago. Growing up in Western Europe, I wanted nothing to do with my natural hair. I attended a predominantly white school, and my hair was a source of alienation, shame, and in some cases bullying. All the princesses in storybooks were never little black girls with "wild" Afro puffs. They were all white girls with flowing locks and blue eyes. All I wanted was to fit in with those images and ultimately fit in with my classmates. To me, the quickest bridge that would bring me closer to this coveted whiteness was straightening my hair. But despite my insistent begging, my mother didn't let me relax my hair until my late teens.
When I turned 18 in the United States, I finally relaxed my hair. Despite the stinging from the chemical burns on my scalp, it was a thrilling day. I shook my head in the mirror after that first blow dry and watched my bone-straight locks swing around my face. I felt smaller, more contained, tamer, more in step with what "beautiful" should be. "Finally," I thought. "I'm in."
Of course, after relaxing my hair, the racism I experienced didn't magically go away. The media was still flooded with negative stereotypes of black women while simultaneously keeping out the positive images. I grew angry as I quickly learned that no matter how straight my hair appeared, or how much my makeup game gave Audrey Hepburn a run for her money, or even how intelligent or accomplished I was; no matter how hard I worked to distance myself from the negative stereotypes of black womanhood, I would still not be accepted or beautiful to the world.
I had questions: Who was deciding what beauty was in the first place? Who was the one telling me how I should be a woman?
I did some research, and as it turns out, pre-colonial, pre-transatlantic slave trade African women took great pride in their hair. They wove it into intricate patterns and shapes as a celebration of its texture and the very fact that it was theirs. They took their time to groom it and to love it. It was their crowning glory, and, like many women around the world, it was an integral part of their feminine expression. But by the 1960s at the height of the U.S. civil rights movement, black activists took the Afro, something that society considered unkempt and undesirable, and turned it into a symbol of power and beauty, and a declaration of unapologetic black pride.
Post-colonization, black hair has become a political, sociocultural, and aesthetic battleground because it is a distinct marker of race in a world dominated by white patriarchal ideals. The nappier your hair, the darker your skin, the more you are a target of ridicule, alienation from society, shame, and in many cases, violence. So black women learned to straighten their hair with hot combs, irons, chemicals, you name it. Having straight hair could be the difference between getting and not getting a job. It could be the difference between getting home peacefully or not.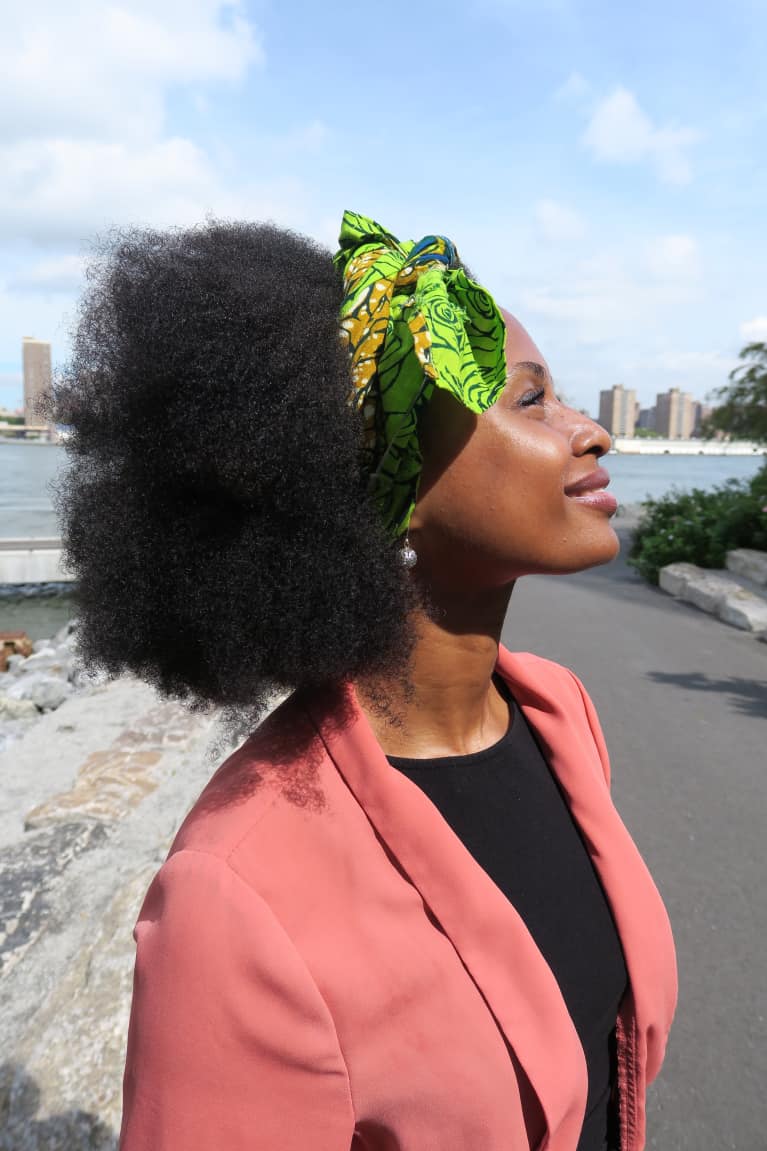 So I returned to the mirror and asked myself, "Who are you trying to be beautiful for?" I saw myself bending over backward to fit into this mold of what a desirable woman was supposed to be: skinny and white with straight hair, preferably soft-spoken. But the mold is not designed for me, or anyone who is interested in how to truly love themselves. Conventional femininity and beauty have been defined by a racist patriarchy that is uncomfortable with powerful, bold women who think for themselves. I didn't want to be part of that system. I wanted to be myself.
I took scissors, cut off the relaxed hair and began growing out my natural hair. I ditched the caustic chemicals for more natural products. I started beauty rituals on the weekends — I would dedicate a few hours to grooming my hair and just playing with it, getting to know it better. Guided by YouTube tutorials, I would make deep conditioners with natural oils and avocados. I started to enjoy feeling how soft and fluffy my curls became when I gave them the moisture they needed. I began to look forward to these sessions, and as I purged my mind of the negative lessons I had learned about my hair all my life, I quickly replaced each one with a loving truth.
I am still on my journey. I want to get as excited about myself as I am when I see other people I admire. I want to adore myself, be thrilled by myself. Perhaps it's easy to say, but it's definitely an uphill journey because the world doesn't make it easy for anyone who has decided to love every part of themselves deeply. I'm familiar with what the world has to say about my blackness and my womanhood as they're manifested in my hair, and my skin, and even the girth of my waist and my hips. I know how it thinks I should perform womanhood. But learning myself and falling in love with everything that I am? This is the more interesting story to me.
So when I wake up and I undo the protective plaits I wore to sleep, and I slip my fingers between the woolen coils leaping out of my scalp, I find my face once more in the mirror and I see a woman whose depths I'm still discovering and falling in love with every day. And that, to me, is the most beautiful thing.
When I step out into the world with my combed-out halo, I feel the attention it draws. It's still nerve-racking, but it's also exciting — a bit like flying. I feel powerful. I feel free. I shake my mane in the breeze. "Finally," I think to myself. "This is me."