Turn Your Farmers Market Haul Into A Natural Beauty Apothecary With These Tricks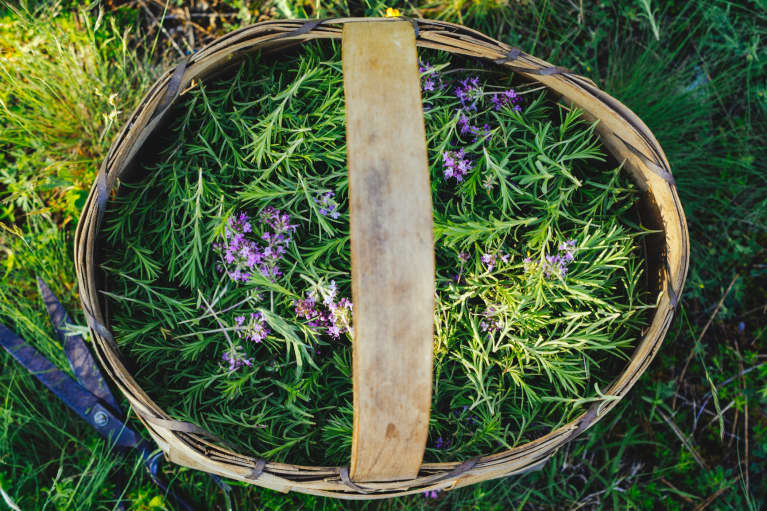 Each season, Mother Nature so generously bestows a new assortment of earth-grown ingredients. For those of us living in the Northeast (including NYC), late fall is a veritable feast. In addition to apples, pumpkins, kale, and squash, it offers a cornucopia of hearty herbs—look for bundles of rosemary, sage, thyme, and mint. And where better to score seasonal eats than your nearest farmers market?
The element of trust is key when you're talking about what you put in and on your body. When it comes to flavor, quality, and value, you can't beat locally grown goodness. Instead of going through some supermarket conglomerate, local farmers actually know the crops intimately—including how they're grown. We're talking everything from the seeds to the fertilizers and pesticides (or lack thereof) used. Could the clerk at the nearby superstore have a 15-minute chat with you about what's organic (not just certified organic)? Likely not. Local farmers are an invaluable resource, so get to know them!
Now back the harvest. Seasonal ingredients are great for more than just this week's meals! Now that you've stocked up on fresh rosemary sprigs, dried lavender blooms, and Manuka honey, here's how to use nature's bounty to make some DIY treatments for your skin and hair:
Rosemary & Lavender Oil Treatment
This overnight treatment is perfect for your weekly hair ritual! It's no secret that rosemary is ahhh-mazing for your strands and scalp. It's a growth-promoting powerhouse! Coconut is divinely nourishing. Plus, its anti-inflammatory, antifungal, antimicrobial, and antibacterial properties help soothe scalp irritation, including flakes. The relaxing scent of lavender (a favorite among aromatherapists) imbues this treatment and thus the experience of using it with serenity.
Ingredients
2 tablespoons coconut oil
A handful of fresh rosemary, finely chopped
3 drops lavender essential oil
In a bowl, combine (room-temperature) coconut oil and chopped rosemary.
Add lavender essential oil and mix.
To use, in the evening, brush the hair thoroughly and apply to scalp—starting with the crown and working downward and outward, toward the ends. Massage scalp for five minutes. Wrap hair with a silk scarf while you sleep. In the a.m., wash out with all-natural shampoo and finish with conditioner.
Kale & Manuka Honey Face Mask
We all know that eating and drinking kale is amazing for your skin. But what about slathering this leafy green on your face? Go for it! This superfood is loaded with skin-loving vitamins A, C, E, and K.
Lemon gently exfoliates skin, which allows magical Manuka to penetrate deeper, moisturizing, nourishing, and repairing winter-ravaged complexions. And last but certainly not least, Greek yoghurt leaves skin sublimely soft.
Ingredients
A handful of organic kale
½ tablespoon organic, unsweetened Greek yogurt
1 tablespoon raw Manuka honey
1 teaspoon fresh-squeezed lemon juice
In a large bowl, mix kale and add lemon juice.
Pour into blender and add Greek yogurt and Manuka honey.
Pulse until ingredients are well-combined.
Use immediately.
To use, apply mask to face and neck, focusing on dark circles or age lines. Leave on for 10 minutes and rinse with lukewarm water. Pat dry. Follow with face moisturizer or oil.
Vanilla Bean Fresh Mint & Sea Salt Body Scrub
Mineral-rich sea salt does everything from sloughing away dead cells and promoting detoxification to balancing and nourishing skin. Mint is incredibly soothing. So it's great for reducing inflammation (whether it be a result of wind burn or razor burn). And the sweet, uplifting aroma of fresh vanilla bean boosts mood—which we all could use this time of year, when it's dark by 4:30 p.m.
P.S. This makes a perfect handmade holiday gift!
Ingredients
1 cup sea salt
½ cup unrefined olive oil
1 organic vanilla bean, split and scraped
A handful of fresh mint, ripped and muddled
Mix sea salt and unrefined olive oil.
Add vanilla bean pulp and pulverized mint.
Stir all ingredients together. The consistency should be that of a grainy paste. If it's too oily, add a pinch more salt.
Transfer to airtight glass jar. Use within six to eight weeks.
To use, in shower, apply the scrub using wide, circular motions. Rinse thoroughly. Pat skin dry. Follow with your fave nourishing body lotion or oil. Use weekly for best results.
Remember, what's available in NYC won't be same as in LA. To find out what's fresh in your area, visit www.localharvest.org!