The Best Magic Stores In NYC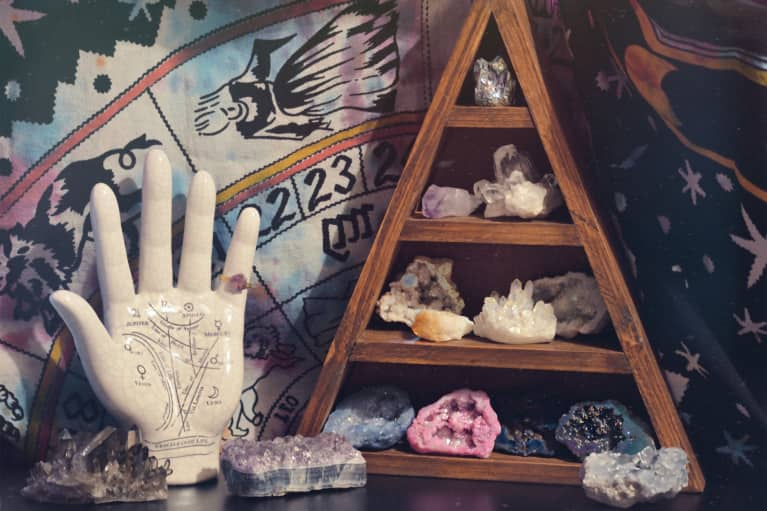 We've long had a fascination with the occult. From the Latin occultus, meaning "clandestine, hidden, secret", nowadays the word is used to refer to "knowledge of the paranormal." And with the autumn equinox just passed, we're really in the mood for magic.
Tuning into seasonal energies can help you deepen your spiritual consciousness and connection the universe. To do this, you first need to understand the deeper meanings of the autumn equinox — an astronomical event, during which day and night are equal in length. For many, it's purely a physical phenomenon, reflective of the naturally occurring seasonal cycle. But for modern mystics (and many ancient cultures), the cycles of the sun are symbolic of the universal process of spiritual change — light and darkness, birth and death. If you're located in the Northern Hemisphere, the autumn equinox signifies the transition from summer to fall. This is a period of introspection, a time to reflect on our own inner darkness.
NYC is a playground of the occult, metaphysical, and spiritual. From tarot cards and healing crystals to specialty herbs and books on alchemy, these stores are more than just hocus-pocus. We're mapping out NYC's most mystical shops. It's time to get witchy with it.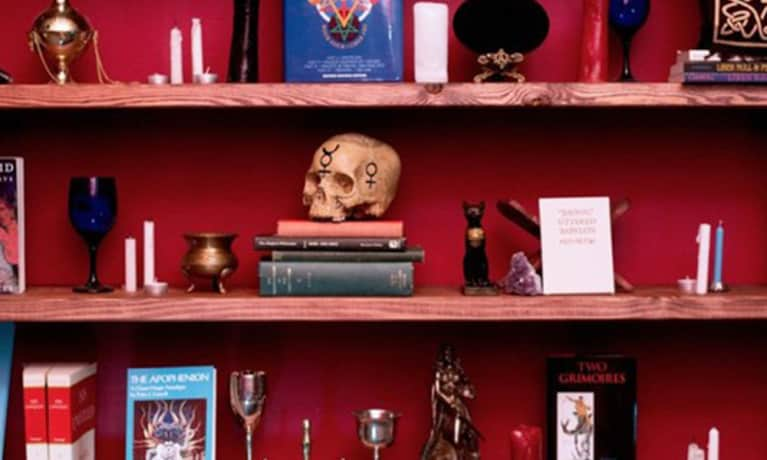 Brooklyn's premier metaphysical boutique and event space caters to a diverse community of yogis, pagans, mystics, and spiritualists alike. This occult emporium sells a bewitching assortment of talismanic texts, custom blended incense, tarot cards, runes and magical adornments. For those looking for a more immersive experience, Catland hosts rituals, lectures, and workshops. And in-house diviners perform personalized readings and spellwork sessions (by appointment).
Catland: 987 Flushing Avenue, Brooklyn, NY 11206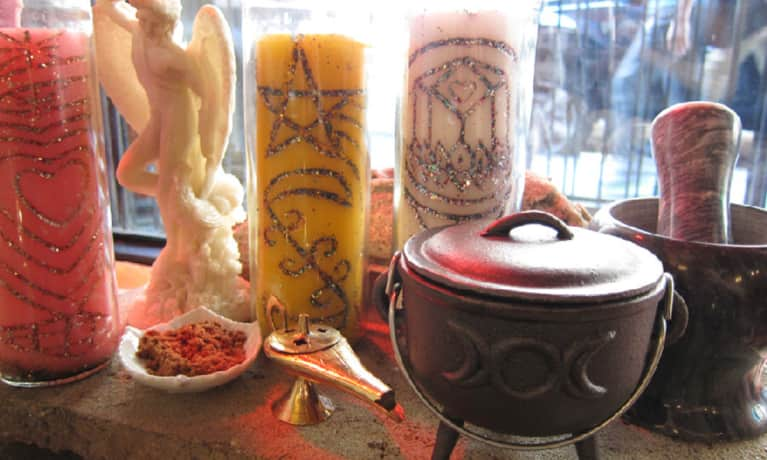 NYC's oldest occult store offers proper witchy vibes. Shelves are stocked with hundreds of essential oils, herbs, and tinctures as well as cauldrons, wands, esoteric literature, and divination cards. One of the most enchanting specialties are the hand-carved pillar candles — inscribed with your name, astrological sign, and spiritual symbols then rubbed with glitter and anointed with oil to help manifest your intentions. There's even an in-house apothecary, where you can have a "magickal" potion mixed up on the spot.
Enchantments: 424 East 9th Street, New York, NY 10009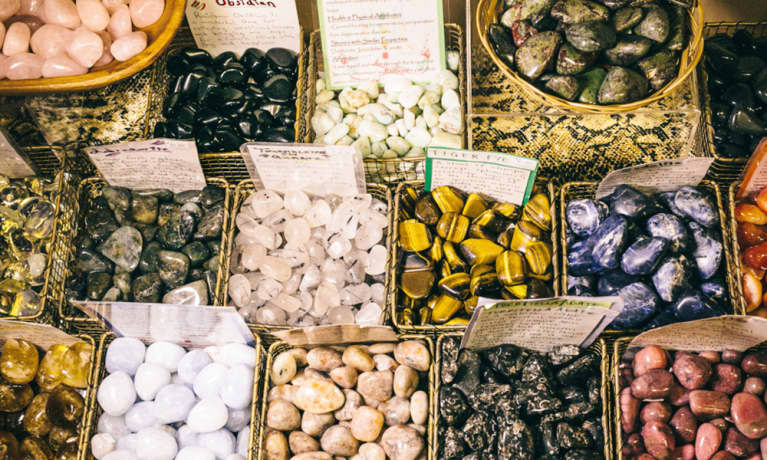 Head to this West Village outpost for New Age supplies. This small 650-square-foot space is filled with various energy balancing modalities to help realign your chakras — from dragon's blood incense and sacred herbs to dream catchers and raw minerals. With its inviting vibe and variety of otherworldly offerings, it's no wonder Stick, Stone & Bone is a go-to for many local shamans, healers, acupuncturists, and spiritual gurus.
Stick, Stone & Bone: 111 Christopher Street, New York, NY 10014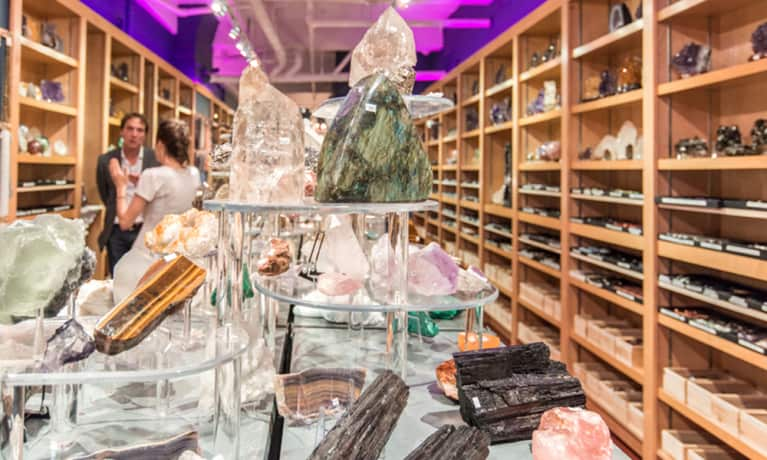 The Flower District isn't the first place you'd expect to find a crystal shop, but tucked away on a quiet side street is what can only be described as a gallery of gems. The shop is aglow with more than 140 different minerals and precious stones from around the world, as well as fossils, geodes, jewelry, and massage wands of all shapes, sizes, and formations. From rounded for rolling massages to pointed for acupressure, each delivers specific energies (based on the stone). In need of protection? Opt for obsidian. Looking for love? Try rose quartz.
Rock Star Crystals: 146 West 26th Street, New York, NY 10001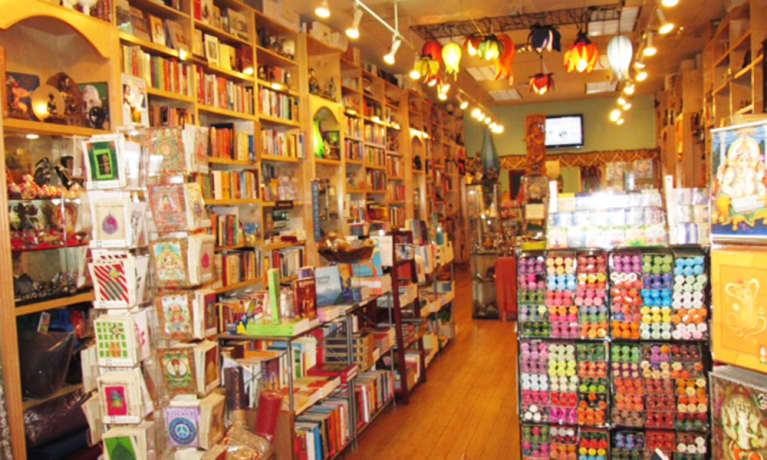 Namaste Bookshop is a one-stop shop for Eastern and Western spirituality tools. The storefront is filled with an expertly curated selection of wind chimes, aromatherapy, flower essences, meditation cushions, and, of course, books. The second-floor healing center hosts weekly events, classes, and book signings. And you can tap into your deeper consciousness with psychic energy and tarot card readings, reiki, and Qigong sessions.
Namaste Bookshop: 2 West 14th Street, New York NY 10011