8 Things I Learned in Prenatal Yoga When I Wasn't Expecting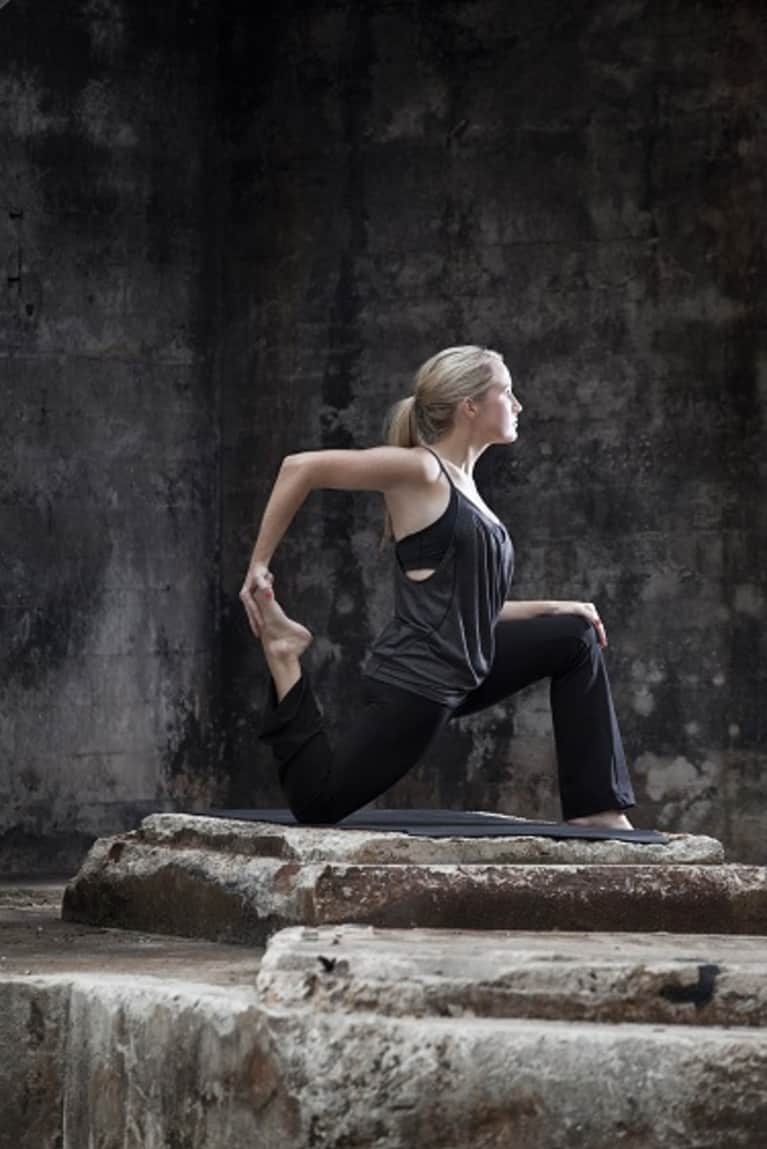 Late to my first day of prenatal yoga teacher training, I discreetly slip in the back of the darkened studio behind two rows of noticeably pregnant students. When registering, I'd hoped I wasn't the only student not expecting, as I have to field the occasional and very personal question about my intention to have a family. I certainly hope to start a family one day, but life has been full of surprises, travel and opportunities as of late that have taken me in other directions. Being asked such personal questions, I was somewhat self-conscious about attending a prenatal YTT. Can I become a good enough yoga teacher to make up for what I'd not yet experienced in child birth and motherhood? Would soon-to-be moms trust me with their bodies and babies? As these doubts flitted around my head, I processed being the only non-pregnant student in my course with the occasional negative voice contributing an unwelcome shout out in the form of "Great. That would happen to me". Not the best mind set for Day 1 of a YTT or an aspiring yoga teacher.
You can imagine my relief as the lights came on when all of the students lifted their tops to remove the stuffed bellies we'd all don for the long weekend. Note to self (er, ego) that it wasn't all about me – perhaps one of yoga's greatest reminders and certainly a perfect lesson for beginning the study of the prenatal body and the miracle of birth. After regaining my composure with a laugh and picking out my own "belly", I learn that our class held a variety of women and men, some mothers and grandmothers, one very new and sleep deprived father, some committing their lives to pursuits other than parenting, but all of us equally inspired by yoga and motherhood alike.
Beyond the subtle and apparently much needed ego check the universe sent my way in the form of a third trimester tie-on belly, I discover that I love learning what yoga feels like, means and does for an expectant mom. Here are just a few of my many observations as a novice prenatal yoga teacher; I hope to hear yours too.
1. Prenatal yoga is only about the teacher as much as we are able to nurture both mother and baby throughout a class and throughout the pregnancy. I learned to check my self at the door and enter a healer, a comforter, a listener. As a prenatal teacher, you become a member of every mom's birth preparation team – not something to be taken lightly.
2. Wearing a padded belly that is nothing compared to the real thing, I grew an immense respect for mothers everywhere in the complete surrender of their bodies to their child – and an equally high respect for their dedication to their health and yoga practice.
3. Pregnant moms are much stronger than most of us give them credit for. Many come to class seeking a physical workout. Many come to class seeking support from fellow moms and a reprieve from their daily grind. Both are embraced wholeheartedly in prenatal yoga: mind + body + baby.
4. By beginning with a check-in chat time among the students, prenatal yoga class makes time for sharing, feedback and idea exchange. The students create a supportive environment long before anyone does an asana, and an awesome community is born.
5. Prenatal yoga class is not just for expecting moms! Whether or not you have babies on the brain or two X chromosomes, you can expect a mean workout for your hips, feel-good poses for the lower back, strengthening of the arms and shoulders, asanas for better circulation and countering fluid retention, perhaps a cushier than usual savasana supported by lots of yummy props, and more. You also learn creative adaptations of the poses using the wall, chairs, partners, blankets, blocks and straps to apply to any yoga practice or class.
6. Men can make excellent prenatal teachers. The two in my class donned their faux pregnant bellies daily with a great attitude, got creative in trimester role play activities and maintained an admirable interest in and respect for the physical and emotional changes experienced during pregnancy. The new dad in the group was able to share a tremendous amount of information from having recently supported his partner through a prenatal class and birth. Ladies, don't shy away from a male prenatal yoga instructor. They will surprise you!
7. Moms know their bodies. If a student has been doing inversions for years, chances are she'll want to keep it up and can do so safely. If a student isn't quite feeling herself and wants to just hang out in child's pose for the duration of the class, she can do that too. Prenatal yoga presents students with options and then defers entirely to the mom to make the call on what her body is up for that day.
8. Expect the unexpected – and in my case, the unexpecting. Take already powerful yoga, add a mix of hormones, physical surprises and challenges, hopes, dreams and the occasional baby kick, and you've got a beautiful class ahead. In that way, prenatal is not so different from a standard yoga class. But the fact that there are two growing bodies within every one makes it a blessing to behold.
Prenatal yoga is a celebration of life and inspires with every moment. My study has only just begun, but already I embrace it as yet one more of the many beautiful ways in which yoga gives life.
What have you learned from practicing or teaching prenatal yoga (padded belly not required)?