6 Ways To Fall In Love With Your Body — For Good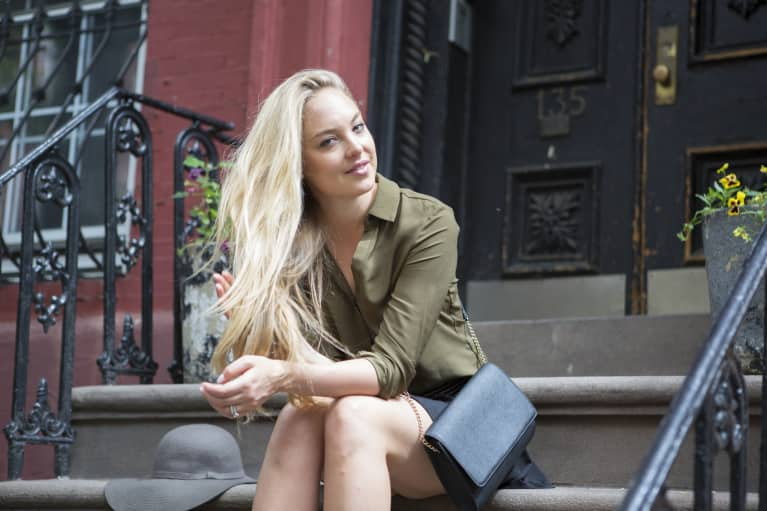 Jessica Sepel is nutritionist and health expert who specializes in disordered eating. With a combination of self-care exercises, healthy recipes, and a fresh perspective on food, Jessica is able to help others achieve their wellness goals without negativity or deprivation. To learn more, check out Jessica's class How To Stop Dieting & Learn To Eat Intuitively.
It hasn't been an easy road for me to be able to fully accept and love myself and my body.
I never felt in control of myself, my body, my food, or my weight. This struggle with my body has been my biggest challenge, and it was the catalyst that inspired me to study nutrition. I wanted to reach a better understanding of how the human body works and why I had developed such a complex relationship with food and my body.
I couldn't understand how I became my own biggest burden. (Just typing that brings tears to my eyes because now I feel so free from it.) Of course I have my moments of self-doubt, and there are always challenges that we face, but we're all just trying to achieve the same thing: love and acceptance.
It comes down to loving and respecting who you are right now. Accepting that there is no such thing as perfect. Accepting you are enough and worthy of everything you have ever wanted. Accepting and releasing the need to judge others and yourself. Accepting that we cannot blame anyone or anything for our problems or our weight. Accepting that you are entitled to the best possible life.
It's about accepting that you — and only you — are in control of your life and your body.
I invite you to join me in accepting who you are today and releasing all harsh and negative thoughts and turning them into acts of self-love.
Know that you are enough, and your health will blossom when you nurture the child within you.
Here are a few tips to getting you on your way to loving your body:
With the wealth of scientific data available to those seeking health, we often underestimate the power of the mind.
Stress and anxiety strain your organs, which can make health almost impossible. The first step to healing your body is healing the mind:
There are a number of things we can do to heal our minds:
Meditation: Don't get too fussy about this — just simply connecting to your breath is good enough.
Diaphragm breathing: I really believe this has changed my life.
Aim for eight hours of sleep a night.
Half an hour a day of solitude: away from your phone, computer, friends, and family
Reading
Walking in nature
Do one of these every day for a healthier mind.
2. Dive into mindful and intuitive eating.
Respect your hunger and fullness and relax with food.
Make food choices that honor your health. Food should make you feel good even after you've finished eating it. The instant gratification of a sugar or salt bomb will be followed by queasy regret and poor energy.
On the other hand, be kind to yourself. Remember that you don't have to eat a perfect diet to be healthy all day, every day.
You won't suddenly endure a nutrient deficiency or gain weight from one indulgent meal. What we're interested in is building positive habits and a sense of self-satisfaction and joy.
We can support this journey with our dietary and lifestyle choices, and in the end, it's those habits that count. It's what you eat consistently over time that matters. Your body is there for you, supporting you as much as possible.
When you teach yourself to pay attention to you, you can trust yourself.
Give yourself permission to eat. If you tell yourself that you can't or shouldn't have a particular food, you're treating yourself like a rebellious child — pretending that you don't have control over your own body and its desires.
This kind of black-and-white thinking causes you to "forbid" yourself treats and can lead to intense feelings of deprivation. Those feelings build into uncontrollable cravings and often bingeing. I used to obsess about each and every food that passed my lips, and it only ever did more harm than good.
I believe that negative feelings associated with eating are worse for your health than the actual "bad" food itself. Let's work toward building a good relationship with our bodies.
Reject the diet mentality. Throw out the diet books and magazine articles that offer you false hope of losing weight quickly, easily, and permanently. They are all manipulative lies. They are the reason we have a complicated relationship with food.
Letting go of the dieting cycle and mindset was one of my biggest health challenges.
I start my day with lemon water or apple cider vinegar to cleanse the liver and alkalize my body.
Once your body is free of all the sludge that's weighing it down, it will be able to perform at its best. You will think better, feel better, look better, burn fat better, and you'll be able to listen to the real needs and wants of your body.
I've also given up on things like spray tans and perfume — these are just misting toxins onto your body.
I use natural skin products, but if you're on a budget you can use organic coconut, olive, or jojoba oil on your face as moisturizer and cleanser.
Give it love and praise daily.
Like many young women, it took me a long time to achieve this. But the good news is, with some self-work and self-love you can do it.
The second I did, my body started to work in my favor to heal itself.
I nourished it with love and care. I filled it with foods from the earth and healthy flora, and it has rewarded me with a feeling of health, happiness, and an incredible sense of my own grounded self and agency in the world.
Want to bring more happiness to your life? Well, then, be thankful for what you already have, and you'll attract more good things!
I wake up every morning and write down or think of five things I'm grateful for — can you do the same?
I'm also a big believer in the power of vision boards, which are a great way to start manifesting your dreams. By making your wishes concrete and putting them out of your mind and in front of your eyes, you begin to see and build a path toward them.
Here's an affirmation to practice this week: I love and care for my body and it cares for me.