5 Essentials To Bring With You On Every Single Hike
mbg Contributor
By Leigh Weingus
mbg Contributor
Leigh Weingus is a New York City based freelance journalist writing about health, wellness, feminism, entertainment, personal finance, and more. She received her bachelor's in English and Communication from the University of California, Davis.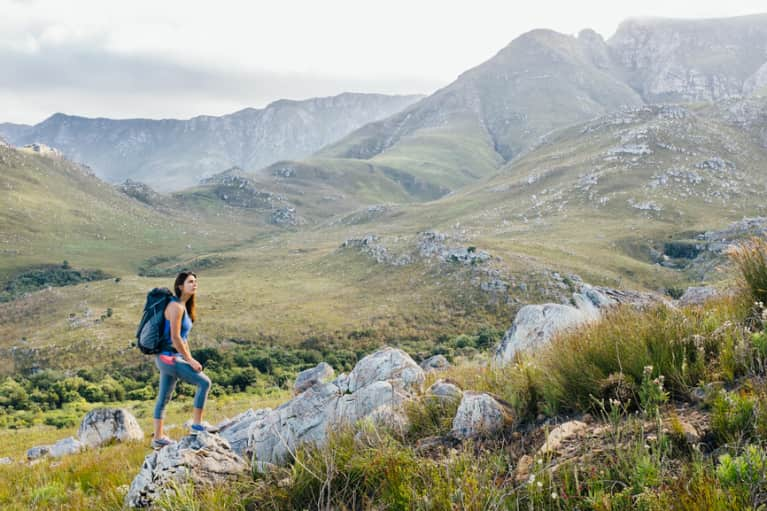 I don't know about you, but the final days of summer days make me think of one thing: hiking.
Don't get wrong, I'm all about squeezing in a few more beach days and soaking up the last of the warm summer nights. But by the end of August and beginning of September, hot weather gets a little old (as does the smell of hot garbage, if you're a New York City resident like me).
These days, I'm taking every opportunity to flee the city to climb a small mountain and swim in a nearby river. I'm also lost in the fantasy of the perfectly chilly days ahead of me, when I'll be able to get lost in my thoughts as I walk on trails surrounded by red, yellow, and orange. And the only sound will be the satisfying crunch of leaves beneath my hiking boots.
Ah, the joys of it all.
But whether you hike every weekend or just once in a while — hey, even if you've never hiked before — figuring out exactly what to pack before a day hike can be tough.
Conditions vary depending on the weather and difficulty and length of the hike, obviously, but here are five things you should bring on every single hike no matter what:
It's all about that SPF, people — yes, even on a cloudy day. SPF protects against skin cancer and aging, and if you ask me, nothing ruins a great hike like a terrible sunburn.
It seems obvious, but I'm ashamed to admit I've gone hiking without a water bottle. I've found that it really cramps my style to be thirsty while trekking through the wilderness, and it's also dangerous. Exerting yourself for hours on end without water can lead to serious dehydration, which can cause weakness, dizziness, and fainting.
There's no need to go all out with a gourmet meal here, but it's important to have something to snack on while you hike. Low blood sugar makes hiking less enjoyable and can be just as dangerous as dehydration, so opt for a hearty snack. Trail mix is a good idea because it's generally packed with nuts and dried fruit, and the fat, sugar, and protein are great for sustaining you as you hike. Want to skip out on hard-to-pronounce ingredients and extra sugar? Whip up this gluten-free trail mix.
Sunglasses look cool, sure. But they're also important for blocking dangerous UV rays, which can eventually lead to cataracts and other eye problems. Plus, it's tough to protect the sensitive skin around your eyes, and sunglasses are great for that. On a more basic note, spending your entire hike squinting will kind of take away from the experience, don't you think?
No, I'm not talking about your smartphone. I'm talking about an old-fashioned paper map. The great thing about being out in the wilderness is that cellphone reception can be hard to come by, making unplugging and recharging even easier. That also means your trusty GPS won't work, as well, though, so cut the risk of getting lost by using an actual map. What a concept!
Bonus essential: A journal
If you have room in your bag or backpack, pack a journal and a pen. Taking the time to jot down a sentence or two in nature is an enjoyable experience, and happiness research shows that keeping a journal makes you happier in the long run — especially if your journal will help you reflect on happy moments in your past.
Happy hiking!