3 Ways To Forge A Bond With Nature No Matter The Season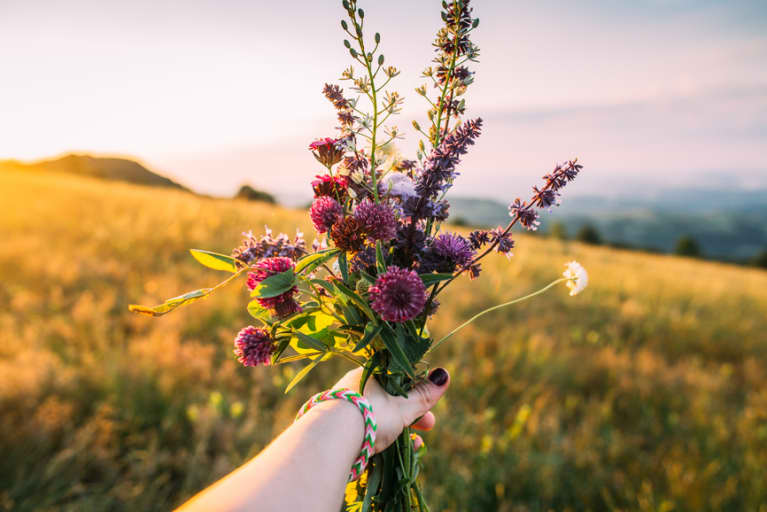 September 21, 2016 — 9:15 AM
In our modern world of fast food, downloads, livestream, and home delivery, it's easy to lose touch with how to keep grounded to the natural cycles of life, let alone remembering to eat well, stay sane, and carry out our daily responsibilities. It's also not uncommon at times to become physically fried, emotionally frayed, and spiritually stressed because we are so removed from nature.
In the spirit of helping us bond, reconnect and channel our inner flow child, here's some beautiful ways to invoke Mother Earth, and tap into her rhythms, no matter the season.
The increase in food intolerances and foods that leave us bloated, agitated, blocked up, or generally feeling flat, raises questions about what we are eating and when we are eating it. Considering our bodies have been evolving over centuries and our ancestors could eat only what was in season, I am a big believer in eating locally and seasonally.
Think about it, if tomatoes aren't in season, try to avoid them as your system isn't equipped to deal with their high acidity. This means avoiding canned tomatoes even when tomatoes are not in season! Plus, eating locally grown and sourced food will reduce the energy and carbon emissions needed to grow and transport the food we eat, support the local economy, and helps to reconnect you with nature's cycle.
A general rule of green thumb to help your body reconnect to the earth is: If you see it at your local farmers market or can sprout it in your own garden, then go forth and eat to you heart's content!
We are all aware of seasonal allergies, but how many of us are familiar with seasonal remedies? Just as fruits and vegetables have a cycle, so do a lot of the natural resources we use to heal and remedy ourselves with. Take note of flowers that are in season, when the bees are out, and again incorporate seasonal fruits and vegetables to create well-being remedies that are in sync with Mother Nature and help reconnect you to all things green and grassy. It's also important to note you are at more risk of suffering from seasonal allergies if you are run down, stressed, or overtired.
One of the first things you can avoid if you are suffering from seasonal allergies is, unsurprisingly, processed foods. Avoiding coffee, alcohol, conventional dairy, sugar, wheat, and soy will help dramatically. Try incorporating local honey, bone broth, apple cider vinegar, organic vegetables and probiotic-rich foods into your daily routine.
Our ancestors have been celebrating the natural cycles of summer, fall, winter, and spring for centuries, going into a "hibernating" state during the colder months and having more energy during the longer and warmer days of summer. When we take time to let our lives align with the cycles of the earth, we can become more conscious of both our surrounding and our waking lives. Being more aware of new beginnings creates gratitude, and we can transition with ease by simply acknowledging the end and start of a new season and cycle.
Related reads: