A Nutrient-Packed Salad That Proves You Should Be Counting Colors — Not Calories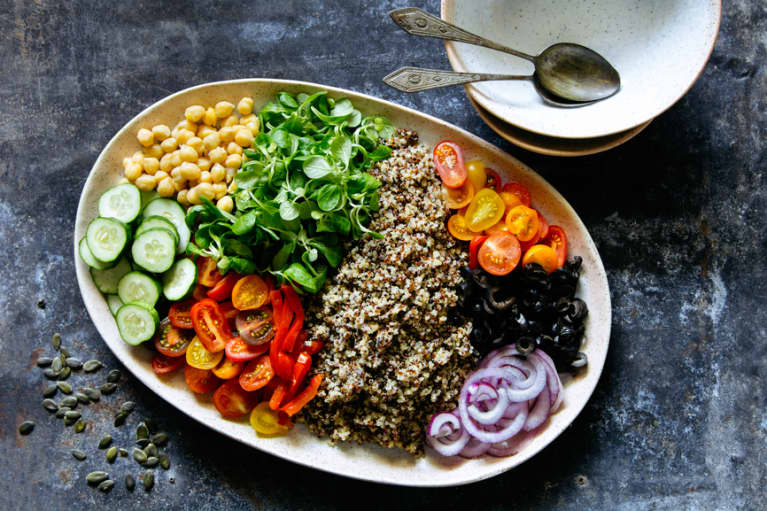 I am a big fan counting colors, not calories. I always believe that the more colors you have on your plate, the more nutritious your meal is! This salad is packed with lots of different veggies that are bursting with phytonutrients.
Phytonutrients are substances in vegetables that benefit your health and prevent disease. Different phytonutrients are the reason that vegetables are different colors.
This salad includes carrots, peppers, beets, cucumber, and much more. The avocado in this salad also adds healthy fats. All of the vegetables are mixed on top of baby greens, and it's all topped with my favorite lemon tahini dressing.
The dressing has a creamy texture but is also vegan, so anyone can enjoy it! So many of my clients tell me how hard they find it to eat enough veggies during the day, so I created this recipe to show them how easy it can be!
This salad makes an awesome lunch. You can make a big batch at the start of the week and enjoy it for a couple days; just store the dressing separately.
"Eat Your Colors" Veggie Salad
Serves 2 to 3 as a main, 4 as a side
Ingredients
8 handfuls of baby greens
6 pickles or 1 cup sliced pickles
¼ cup sliced black olives
1 orange pepper, diced
¼ cup sun-dried tomatoes, diced
1 avocado, diced
¼ cucumber or 1 cup, diced
½ cup grated fresh beets
1 large carrot, grated
1 cup chickpeas
2 tablespoons sesame seeds
2 garlic cloves
2 tablespoons tahini
¼ cup lemon juice (one lemon)
½ cup olive oil
¼ cup water
1 tablespoon yeast
Salt and pepper to taste
Preparation
1. For the dressing: Mince the garlic cloves or process in a food processor. Add the remaining dressing ingredients and whisk or pulse until incorporated.
2. Place the greens in a large salad bowl and top with pickles, olives, orange pepper, sun-dried tomatoes, avocado, cucumber, beets, carrot, and chickpeas.
3. Drizzle the lemon tahini dressing over the rainbow salad, sprinkle with sesame seeds, and enjoy!