How Tackling Office Clutter Can Bring You Peace (And 5 Ways To Get Started)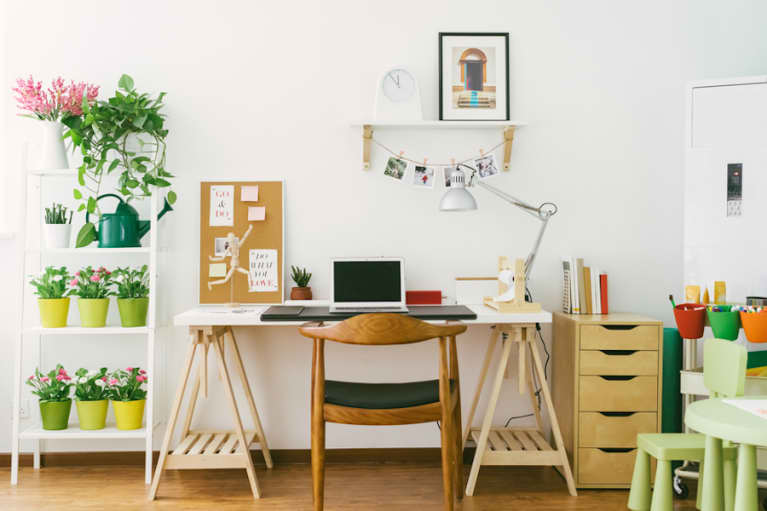 Are you overwhelmed by the amount of old mail, bills, lists, random notices, and receipts in your office? Is your desk looking more chaotic than clear? Is it hard to find important papers when you really need them?
Even though digital documents are common these days, let's face it: We are still inundated by a lot of paper. And when it comes to our office spaces, it can sometimes feel like we're drowning in a sea of pulp.
Clearing your paper clutter can bring you peace and truly make you more productive. Science tells us that our brains can only focus on one thing at a time. Therefore, our paper chaos negatively affects our ability to process information. Not to mention, going through all that paper is extremely taxing on the environment. By being more mindful about our use, we can be part of the solution rather than the problem.
Here are five simple ways to tear things up!
1. Open your mail immediately.
When I pick up my mail, I literally go straight from the mailbox to the recycle bin outside. After getting rid of the wasteful 90 percent of junk mail that arrives each day, I bring the remaining important mail inside and put what I need to look at on my desk and what my husband needs to look at on his.
Then, and this step is key, I open up my mail right away and decide what I need to deal with or file. This may sound obvious, but so many of my clients leave their mail unopened for days and even weeks.
Setting up a to-do box on your desk is a great way to keep track of important loose papers. It should house things like forms that need filling out, invites you need to RSVP to, and tear sheets of items you want to look into or follow up on. You've got to keep up a relationship with your to-do box by going through it at least every couple of days, keeping the most pertinent items on the top and the less pressing things on bottom.
3. Make easy-to-use files.
Hanging files are still the best way to keep paper items that you need to store and access quickly. Create simple hanging file categories like Documents, Financial, Medical, School, Home, Travel, Pets, etc. Within those hanging files, you can subdivide information with more specific file folders for each member of your family or any other subcategories that you may have.
4. Pay your bills digitally.
These days, much of our billing has gone digital and it's easier than ever to go paperless. Depending on the amount you've got, paying bills can take as little time as five minutes a month with online bill pay. Nonetheless, there are still some bills that will come in the mail. I find the best strategy is to pay them as they come. Done. And then, unless you need to save your bills for tax purposes, shred 'em.
5. Reconcile your receipts.
How often do people ask you, "Would you like a receipt?" or "Emailed or printed?" or "With you or in the bag?" Probably daily. Only take and keep receipts that you either want to check against your bill, that you need as backup for your taxes, or of items that you think you may want to return. I like to keep my receipts and return-credits for the month in an envelope and shred them after I pay my credit card bill.
When your papers are in order you can literally see more clearly. You feel at ease in your office and better able to focus on what's at hand rather than rifling through paper pandemonium.
So, go on, make your peace with your paper, piece by piece by piece …