Why You Should Practice Mindful Breastfeeding + How To Do It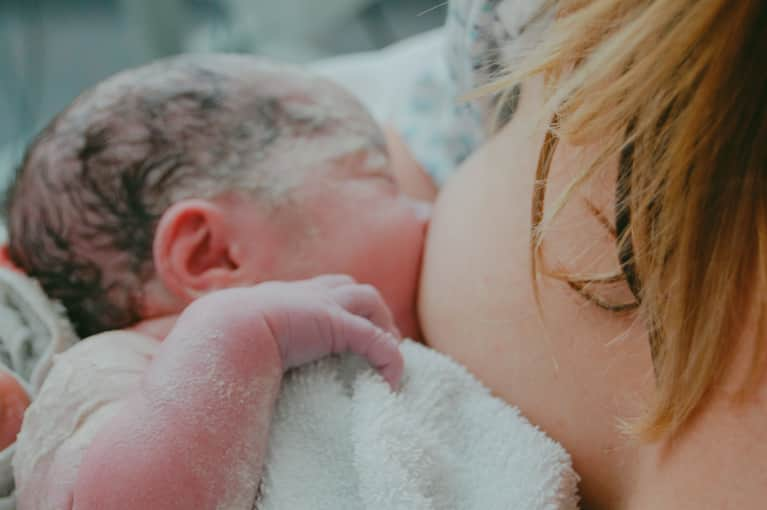 As a mindfulness and meditation teacher, I knew I needed to somehow find time to meditate every day when I became a new mama. But with the uncertainty of each day with a newborn, how could I fit mindfulness into a regular schedule?
I figured out the key: breastfeeding. I decided to transform my breastfeeding journey and not just look at it as a chore I had to do every one to three hours. I took it as an opportunity to practice mindfulness, connect with my baby, slow down my mind, and tune into my body.
I'm passionate about teaching mamas how to effortlessly infuse peaceful pauses throughout the day to naturally feel more present, patient, and peaceful. I look at a mama's current schedule and infuse "anchors," which are tasks mamas are already doing "mindlessly" and can use to practice a breathing tool to energize herself or feel calm instead.
For new moms, nursing or feeding their newborns is the best anchor to fit in a mindful moment. Here are three key steps I recommend to practice mindful breastfeeding:
1. Create a peaceful nursery.
Designing a small space in your nursery that is calm and relaxing will help you get into the right mindset when you are breastfeeding.
I knew I couldn't sit at my meditation altar every day, so I created a zen nursery that was another peaceful space for me and my baby. I put a tiny Buddha and crystals and diffused baby-friendly oils like lavender in the space to help me feel relaxed while nursing.
2. Practice relaxation breath.
While you're breastfeeding, try this Kundalini breathing technique to help calm your mind and body:
Kundalini Relaxation Breath
Inhale deeply through your nose for four counts.
Hold the breath for four counts.
Exhale the breath through the nose for eight counts.
Repeat these breathing techniques until you feel the necessary result or for the full duration of the feeding.
3. Send peace to your baby with a mantra.
A great way to tune into your baby is by sending love and peace. I love reciting this calming mantra in my mind or out loud:
I am peaceful. May you feel peace. May we feel connected.
Mindfulness isn't meant to be another chore—it's a way to feel more present during the moments of your life. Trust me, the breastfeeding phase will pass by so quickly—even though it may not feel like it right now. So it's certainly one you want to cherish to the fullest.
Sure, there will be days you'll be frustrated because your baby won't latch or your nipples are sore and you're exhausted from nursing in the middle of the night. But if we use breastfeeding as an anchor to remind us to breathe deeply to relax, we can use these moments to feel more calm, balanced, and peaceful.