The Habits That Finally Helped Me Find My Authentic Self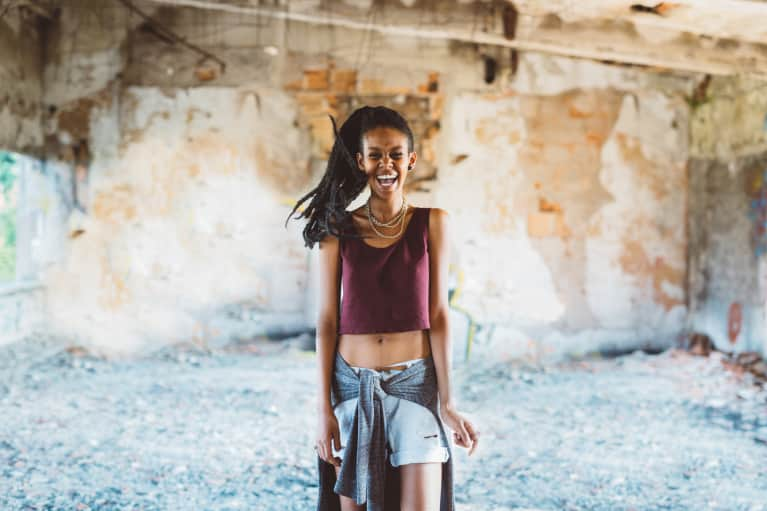 Do you ever find yourself wondering if there's something more to life? I know that I did years ago as I completed treatment for breast cancer and then scant weeks later bid my mother farewell. I held her hand in mine and placed my other hand over her heart as it took its last beat.
Life had given me many hurdles, and it seemed at the time that they were impassable. I wondered what the next step should be or even whether I wanted to take it.
We all have our stories and our hurdles to cross. What I know is that if not for a commitment to a yoga practice at that time, my life would not have changed. Deep down, I knew there was more. But honestly, I had not touched that place deeply in a long time. I was disconnected from my body and soul and disenchanted with life.
As I began to practice and to become truly present, I began to unravel. Sometimes it was small threads releasing and letting go. Sometimes it was vast and heavy cords being let go from my body. I had held on to so much over a lifetime, and it was time to let go. As the months went on and my practice progressed, so did the unraveling.
Now, I am not the person I was when I started. I hope I am never that person again: tightly wound shut and holding on for dear life to all the baggage stored in the cells of my body and the chambers of my mind.
My transformation was palpable to all who knew me. I was lighter and freer, and for the first time in years I could take a deep breath without the fear of unraveling from even an instant of letting go.
In my very first yoga class I began the work of excavating my authentic soul. The process continues to this day with each practice and with each unraveling.
My question for you is this: Do you have a new story to write? Is there something you need to let go of? Are you getting messages from your inner "knowing" that you are ignoring? How long before those messages become louder and the repair work gets deeper?
How can you begin the work of extracting your authentic self? Here are six things that worked for me:
1. Get in touch with your body and mind.
Yoga and meditation helped me become present in my body. Not only do yoga and meditation strengthen and tone the body, but they bring awareness to the holding patterns we have built up over a lifetime. Through that awareness, we can begin to let go into deeper spaces of knowing.
2. Take a visual walk down memory lane.
Look back at childhood pictures, from as early as possible through your teenage years. Pay attention to how you appear in each photo and over time. Look at your facial expressions, your clothes, the way you hold your body, who you are with, and what you are doing. Notice significant changes over time. This was a natural process for me as I cleared out my mother's belongings after her death. It was revealing and healing in a way that I cannot describe.
3. Sit down and write about your childhood.
It doesn't have to be pretty, and you don't have to share it unless you want to. Start with the top three to four events in your childhood that made a mark that you will never forget. How did these experiences change you? What did you learn from them? How are they affecting who you are today? It took me a year to give in to the insistent inner voice that kept telling me I needed to write. When I finally wrote, the floodgates opened.
4. Ask yourself these questions.
What did you love to do when you were a child? What dreams did you have? How did your experiences affect who you are? How did you change over time? When did you start to play the roles that were assigned to you by others, instead of being yourself? Journal about your answers, and take some time to quietly contemplate what you have learned and how it compares to where you are in your life now.
5. Take a solo journey in nature.
Nature has a way of softening our barriers. Spend at least a few hours or even a day alone in nature. If possible, go somewhere you have never been. Take water to stay hydrated and bring along a journal and a pen.
Take a moment of silence at the beginning to set an intention before you enter into the unlimited space of nature. Since nature rarely speaks directly, be open to signs and metaphors presented to you along your path.
As you return, bring back something that spoke to you. It could be an acorn, a rock, or something else that will remind you of your journey. Sit quietly at the end, or perhaps write down your thoughts and impressions in your journal.
It was during a solo journey like this that I made a heartfelt commitment to keep moving inward, to take the necessary steps to continue the process of unraveling and excavating my soul.
6. Attend a retreat designed to go inward.
A retreat gives you the opportunity for an extended time away from your everyday life and the roles that you play. Share and connect with other like-minded attendees, and benefit from your time with an experienced facilitator. Allow these individuals to help you move inward, restoring and renewing your connection with your authentic self. This was such a transformational part of my journey that I now lead others on retreats designed for moving inward, listening, excavating, and transforming their lives and their stories as they realign or redesign their path.
My hope for you is that you will make your way inside, and once there, decide to stay for a while, and to get to know the true self. I hope from this place that you connect with the ever-present light inside, and free the gifts and talents locked in this sacred space, bringing them forth with joy into a world so in need of truth, light, and authentic souls.
Your new story is waiting, but it won't wait forever. What's holding you back?