5 Items An ER Doctor Would Never Keep In Her Home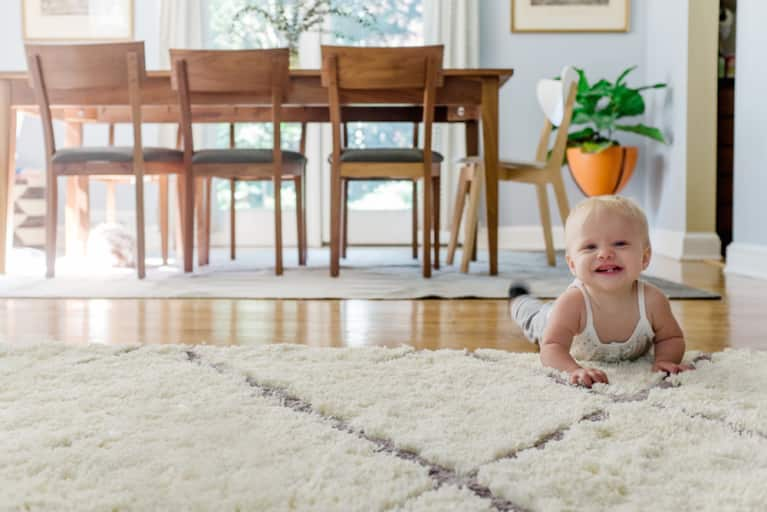 While I was scrolling through my Facebook "Mommy exchange" the other night, something stuck out to me. I saw two separate products — a baby sleeper seat and a bath seat — for sale that the Consumer Product Safety Commission (CPSC) and American Academy of Pediatrics (AAP) have advised banning. I'm always astounded by how many unsafe products are marketed to the most well-intentioned parents every day — regardless of how harmful they can be.
Of course, as an ER physician, I'm extra attuned to dangers. But for most parents, it's hard to stay up-to-date, and the advice of doctors and safety advocacy groups can be drowned out by all the baby marketing blitzes.
While some of these make great shortcuts, the bottom line is that each of these can be deadly to a toddler or infant. So, from one parent to another, if you have a young child at home, I recommend tossing these dangerous items, or at least storing them until your child is a little older:
1. Laundry or dish detergent pods
To a child under 6, these colorful detergent pods look like candy! Which is why every year, thousands of children are taken to the ER for biting or swallowing them. Almost 5 percent of those kids are hospitalized, with 7 percent experiencing serious medical consequences, including airway or esophageal injury and even death.
Why the problem? Not only are the bright and colorful pods tempting to little kids, but they're also in a highly concentrated form, meaning children get more poison with a single swallow than they would get with typical detergent. While the CPSC and AAP have lobbied to change the manufacturing of these products, they're still widely available.
What to do: Storing pods out of reach isn't enough since there have been reports of a single pod falling and the toddler finding and eating it. Stick to bottles of detergent while you have kids under 6. You'll have plenty of laundry to do when they're teenagers and can use the pods then.
I remember shopping for nursery furniture and thinking how cute those crib bumpers were, They completed the look! But they're not safe, and babies die from suffocation in bumpers every year. One study even showed infant deaths increasing as a result of bumpers. Unfortunately, although the American Academy of Pediatrics and Consumer Reports recommend against them, manufacturers and stores still sell them.
What to do: There's no way to make these safe — even the new "breathable" versions have been shown to be just as dangerous. When it comes to bumpers, I advise following Consumer Reports' suggestion: "If you get a bumper, toss it right in the trash." You can still have an adorable nursery with sheets, bed skirts, curtains, and most importantly, an adorable and safe baby.
Another item intended to "help baby sleep" or "combat reflux," these products account for at least one child death every single year. Unfortunately, they (a) don't work, and (b) babies can be injured or die by rolling into the side, slipping free, and suffocating. Both the FDA and Consumer Product Safety Commission have called for a ban on these, but — like bumpers — they're still marketed heavily.
What to do: If your child has reflux or trouble sleeping, talk to your pediatrician to determine (and remedy) the root of the problem, without putting your baby at risk in one of these products.
This one was so surprising to me. But I had one patient whose mother had kept all of her china in pristine condition and proudly used it to feed her own child — until the kid's lead level came back at dangerous levels, and the Department of Health came to her home. They found that the old china (which she had used to microwave heat the baby's food) was leaching lead into her child's bloodstream with every bite.
Uncle Sam didn't start cracking down on lead in our dishware until the '70s, meaning that anything made before then could have higher levels. (The same goes for imported artisanal dishware, which isn't required to meet lead regulations.)
What to do: Leave the antique china for display or for a special occasion only for adults to use. Also, never ever heat or store food in it.
Go through your house, and you'll find these everywhere, whether it's holding artwork on the fridge, as part of your child's favorite toys, or sitting on your office desk. While they may be great for older kids (including yourself), small magnetic spheres or discs are incredibly dangerous for younger children who put everything in their mouths. The danger comes when a child swallows two magnets and then they stick together in the body — entrapping intestinal tissue between them. That leads to dozens of intestinal perforations, serious injuries, and surgeries every year.
What to do: If the magnet is small enough to fit into a toilet paper tube, it's small enough for your toddler or infant to swallow it. Put all of these out of reach. An older child may complain because they want to play with the magnet toy, but unless they're old enough to comprehend how to play safely (and put it away and out of reach), it's a good idea to just be magnet-free for the first few years.
Please share and pass this along to any parents of toddlers and infants that you know — it's tough for physicians, advocacy groups, and safety organizations to be heard amid all the parental marketing blitz from manufacturers, but we can get there by sharing this with one another.
What other products have you found to be dangerous in your home — and what have you gotten rid of? Follow me and let me know @DrDarria on Twitter and Dr. Darria Long Gillespie on Facebook, or follow @SharecareInc for the latest info on how to keep everyone in the family well.