Why You Should Eat More Seaweed & How To Do It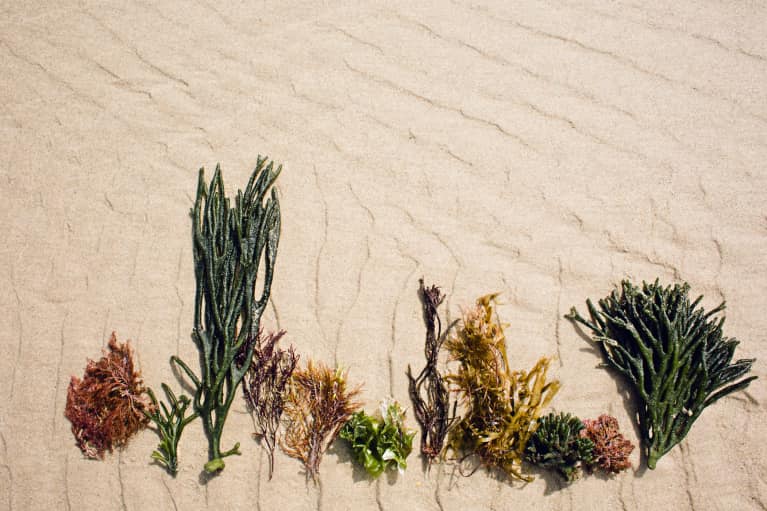 Our editors have independently chosen the products listed on this page. If you purchase something mentioned in this article, we may
earn a small commission
.
Let's face it, you're not going to have seaweed with a side of popcorn. Or are you? With its strong, smoky flavor, this sea vegetable goes well with tempeh, miso soup, salads, vegetable stews, and heaps of greens. Maybe it's the synergistic effects of all those healthy ingredients that keep the Okinawans living past 100, as well as giving people on macrobiotic diets (of which seaweed is a staple) lustrous hair and glowing complexions.
Alginate for example, a specific substance in brown seaweed, can strengthen gut mucus, slow down digestion, and make food release its energy more slowly. A groundbreaking study at Station Biologique de Roscoff in France found that Japanese people harbor enzymes in their intestinal bacteria that help them digest seaweed, enzymes that North Americans lack. What's more, the Japanese may have first acquired these enzymes by eating bacteria that thrive on seaweed in the open ocean (well someone's gotta do it).
So if gut bacteria has evolved for us to feast on sushi, we love the idea of adding seaweed into other recipes to bring some serious umami into our cooking repertoire. Thinking outside the box and getting creative with seaweed's health-boosting properties and the myriad ways it can be incorporated into everyday meals is fun. Dulse flakes, wakame, arame, kelp, hijiki — we'll never turn down a chance to get our fill of this fibrous, protein-rich superfood.
Ingredients for the Kyoto Korn
Heat a large heavy-bottomed pan (one with a lid) over medium heat. Add the coconut oil to melt.
Toss a couple of kernels into the pan and wait for them to pop. This will let you know when the oil is the right temperature. Pour the rest of the kernels into the pan and cover. Once the kernels start popping, shake the pan every 10 seconds or so until the popping starts to slow down.
Remove the pan from the heat and continue to shake for half a minute. Transfer half the popped popcorn into a large bowl.
Mix all topping ingredients into a small saucepan with another tablespoon of coconut oil. Whisk over low heat until coconut oil is melted and ingredients are blended.
Remove from heat and pour half the spice mixture into the bowl with the popcorn. Toss to combine.
Add remaining popcorn and spice mixture to the bowl and toss again. Adjust seasoning to taste and top off with more nutritional yeast and salt.
Ingredients for Sea-sar Salad
¼ cup tahini
juice of ½ lemon
1-inch knob of ginger, grated
1 tablespoon tamari
½ teaspoon unseasoned rice wine vinegar
1 teaspoon sesame oil
filtered water as needed
Place hijiki in a bowl and cover with warm, filtered water to rehydrate. Let sit for 30 minutes and strain.
Assemble salad by placing Romaine leaves in a large salad bowl. Top with rehydrated hijiki, carrot, cucumber, and seeds.
To make the dressing place tahini in a small mixing bowl. Whisk in the lemon juice, grated ginger, tamari, vinegar, and sesame oil. If you wish to thin it out, slowly drizzle in filtered water and whisk until it reaches desired consistency.
Dress and toss salad with dressing to taste, saving any extra to use later. Sprinkle with tamari almonds and serve.