A Crystal Beauty Water To Raise Your Energy
Creating a beauty ritual with rose quartz, aquamarine, and self-love affirmations is beneficial for many reasons. Aquamarine is believed to restore youth with its glow-giving powers that rejuvenate the skin. It is also a crystal of the sea — its ranging colors of blues and greens promote peacefulness and tranquillity, making this ritual a stress-relieving one in addition to a beauty one. Rose quartz is the stone of unconditional love. It comes to our aid by reprogramming and filling our mind, body, and soul with infinite fondness. Self-love affirmations are one of the most powerful ways for raising our vibrations, making us feel lighter and more confident.
This divine combination of aquamarine, rose quartz, and self-affirmations connect us to our truest selves, advocating self-love and inner and outer beauty.
How to Make Crystal Beauty Water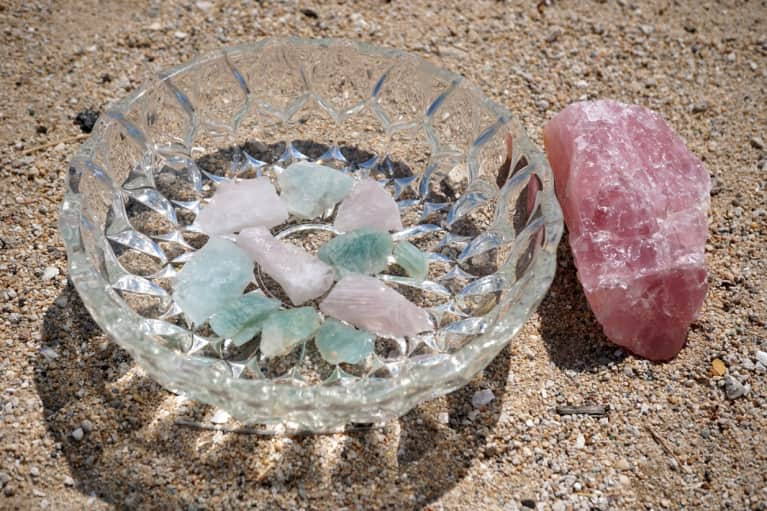 1. Rinse your crystals with water a few times to get any loose particles off.
2. Place them in a glass bowl and cover with filtered water.
3. Set your bowl in direct sunlight at sunrise and let them absorb the sun's energy until sunset, or alternatively, you can leave the stones under a full moon until sunrise for the night to harness the feminine moon energy.
4. Gather your bowl and keep indoors until you are ready to use it.
Crystal Beauty Water Ritual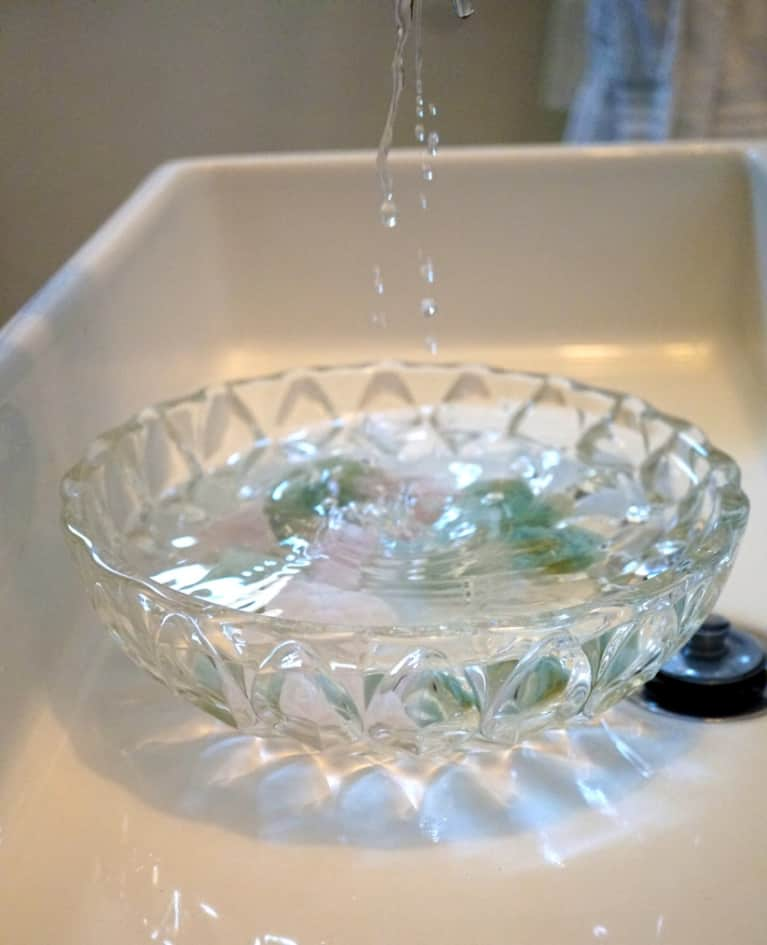 1. When you arise from your sleep, continue with your normal morning cleansing routine.
2. Pat your face dry and gather your beauty water.
3. Look at yourself in the mirror and state a self-love affirmation out loud:
"I radiate beauty, confidence, and grace."
"I treat my body with love, care, kindness, and respect."
"I am comfortable in my own skin and have an unshakable belief in my beauty."
"I believe in myself, and I am stronger than any obstacle in my way."
4. After you have stated your affirmation to the universe, gently splash the beauty water on your face three times while repeating the affirmation to yourself.
5. Refill your bowl with filtered water and put it back in the sun to have a constant flow of crystal beauty water available.
Adding crystals to your beauty routine is a truly magical and refreshing experience! Do you have a crystal beauty tip? We would love to hear about them!
Related reads: