Eat Your Way To Healthier Skin With These Late Summer Recipes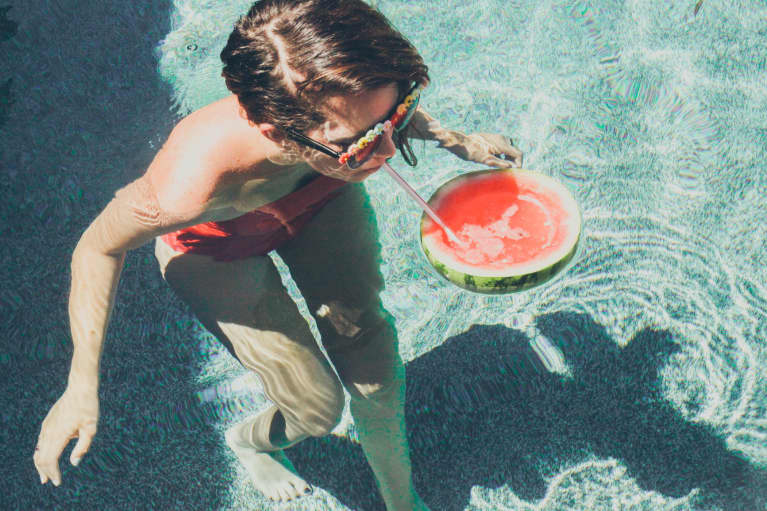 Summer, glorious summer. With its long, warm nights; bright days; and sun-kissed skin, oh how we love you! But yikes, what about red-as-lobster legs, pigment spots, or aging skin from spending too much time in the sun? And how can we use food as a preventive and cure to these unfortunate mishaps of sunlight?
With a few more months left of bright nights and vacations still being had, do more for yourself with protecting and restoring responses to UV exposure. While we all wait for the scientists to agree on the safety of commercial sunscreens, in the meantime we can eat our way to healthier skin — here's how!
Research suggests that lycopene in tomatoes, in addition to its ability to attack free radicals, may also reduce inflammation and cholesterol, improve immune function, and prevent blood from clotting. Lycopene has been show to protect your skin from UV damage and sunburn. I freeze cherry tomatoes and put them in my smoothies each morning!
8 halved cherry tomatoes
2 slices of watermelon
¼ cucumber, thinly sliced
Feta cheese
Salad Dressing: Olive oil, cayenne, and lemon
Bake watermelon, just a few minutes on each side, add to plate and top with sliced cherry tomatoes and cucumber. Sprinkle over feta cheese and drizzle with your spicy salad dressing mix. Cooling and delicious.
Alongside tomatoes, watermelon has moved up to the front of the line in recent research studies on high-lycopene foods. Lycopene is a carotenoid phytonutrient that's especially important for our cardiovascular health, and an increasing number of scientists now believe that lycopene is important for bone health as well.
Freeze it and blend into a delicious drink, make ice pops, or flavored ice cubes. The creative ideas are endless of ways to enjoy this delicious hydrating fruit.
Summer Watermelon Mocktail
4 cubes frozen watermelon
6 mint leaves
Sparkling water
1 lime wedge
Blend watermelon. Add into your glass the mint leaves and blended watermelon, and top with sparkling water. Add a lime wedge to the side and squeeze in for a little extra zest.
It really is good for you … Yep, in a seminal 2009 study, people who snacked on a tiny bit of flavonoid-rich dark chocolate every day seemed to be more protected from ultraviolet radiation by the end of the 12-week study. The extra-healthy compounds in the sweet stuff — like epicatechins, catechins, procyanidins, and other flavonoids boost circulation in small capillaries in the skin, making skin cells healthier and keeping them cooler.
Find a sugar-free bar pure in ingredients, or buy it in powdered form and enjoy your way to better skin and pure indulgence.
Superfood UV Protection Boosting Smoothie
1 cup spinach
1 tablespoon cacao powder
1 tablespoon nut butter (your choice)
Handful of frozen cherry tomatoes
1 frozen banana
Handful of frozen red grapes
Protein powder of choice — I always go back to Sunwarrior
Water or nut milk
Place all ingredients into your blender, top with water or nut milk, blend, and enjoy!
Omega-3 fatty acids in chia seeds can reduce inflammation (which is the precursor to most diseases) and protect your skin from sunburn and melanoma (a deadly form of skin cancer).
2 cups coconut milk
½ cup chia seeds
½ teaspoon vanilla extract
¼ teaspoon cinnamon powder
Place all ingredients in blender and blend on high for 1 to 2 minutes until completely smooth. Pour mixture into a jar or glass container and place in the refrigerator for at least 4 hours or overnight to let gel.
Upping your daily vitamin C levels can greatly help protect your cells from free radical damage and is something I take really seriously. Vitamin C also helps your body with absorption of other key vitamins and minerals as well as stimulating white blood cells to fight infections and directly kills many bacteria and viruses.
Vitamin C-Infused Breakfast
½ orange
½ grapefruit
Coconut yoghurt
Pinch of cinnamon powder
Slice half an orange and grapefruit into a bowl, top with coconut yogurt, and sprinkle with a little cinnamon powder. The orange and yogurt help offset the bitterness of the grapefruit while the cinnamon helps slow down blood-sugar spikes from the fruit.
As always, it's about balance. It's actually healthy to get some daily sun exposure, at least 20 minutes a day (outside of peak sun hours which are noon to 4 p.m., earlier in some parts of the world) so you can build up vitamin D levels in your body and a natural tolerance to the sun in small doses to start off with.
Ultimately, eating a healthy, balanced diet rich in fruits and vegetables will help the body to ward off most ailments, so eat your rainbow, enjoy the last of these hot days and long warm nights, and have fun sipping on those watermelon mocktails!
Related reads: