5 Tips to Make Your Skin's Transition To Fall A Little Easier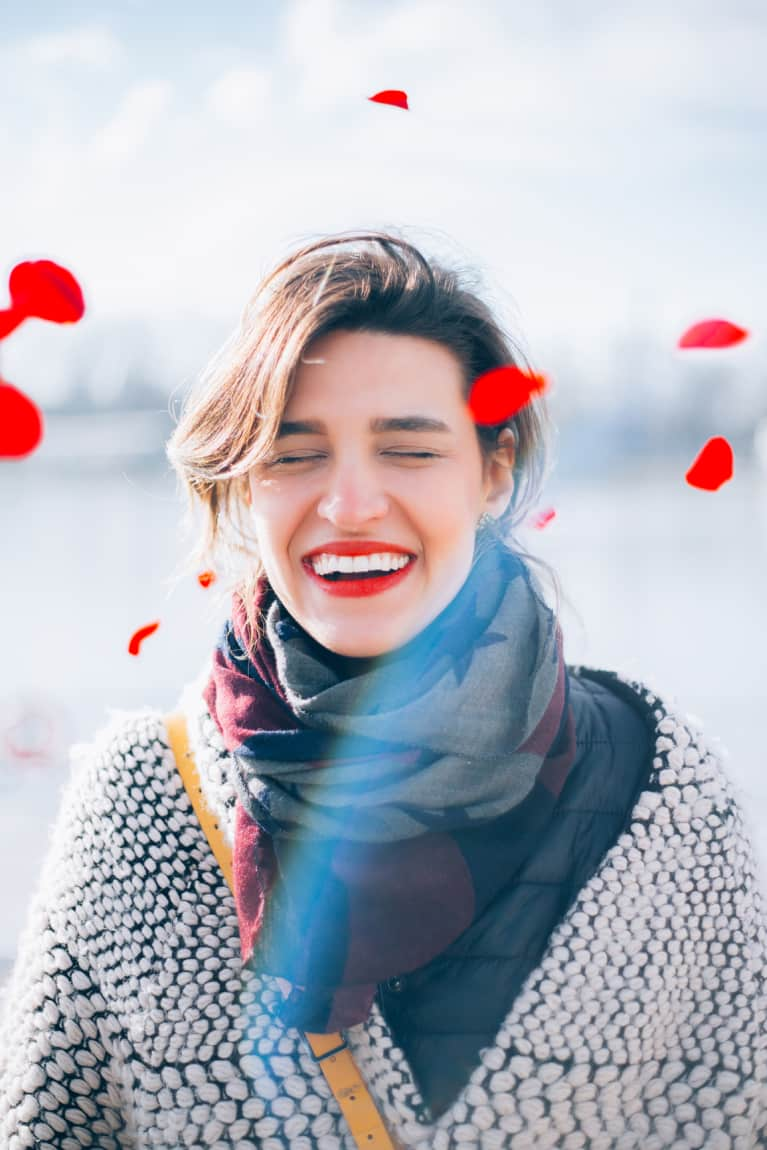 Our editors have independently chosen the products listed on this page. If you purchase something mentioned in this article, we may
earn a small commission
.
As an esthetician, I hear of many skin concerns when the seasons change. Although there is a general understanding of how we should adjust our routine to accommodate a shift in climate, many of us still make mistakes along the way. But, don't worry. I'm here to help you transition your skin from handling the heat of summer to handling the cooler weather that fall will bring.
Understand moisture & hydration — then boost them both!
The terms "moisture" and "hydration" are often used interchangeably; however, these two words mean very different things when it comes to the skin. Hydration is an indicator of the skin's water content, and hydrating products help bind water to the skin. Moisture is an indicator of the skin's oil content, and moisturizing supports our natural lipid production and prevents water loss. These two elements go hand-in-hand, and having a balance between the two is a key factor in achieving and maintaining healthy skin.
Skin that lacks oil is traditionally considered "dry," which is a skin type. On the other hand, skin that lacks water is dehydrated, which is a skin condition. Skin can be dry, dehydrated, or both. Skin can also be oily and dehydrated—and ironically, when our skin is dehydrated, it tends to produce extra oil to compensate for the lack of water—creating a vicious cycle that often leads to frustration.
Tip: Look for serums that contain ingredients such as hyaluronic acid and plant-based glycerin to help support hydration levels, and focus on finding moisturizers that contain natural oils like rosehip, jojoba, or argan.
Get your daily dose of vitamin C.
Colder weather typically has us all reaching for vitamin C supplements, but don't let your skin miss out on this ingredient's powerful benefits. Incorporating it into your daily regime helps to boost the skin's defenses and provides our skin with much-needed antioxidant support to scavenge free radicals before they can affect skin's health.
More importantly, when skin is healthy, its natural barrier is strong and acts like a powerful brick wall keeping the good stuff in and the bad stuff out. This is a critical component to maintaining skin health during the fall, as colder weather tends to drain our skin of hydration. A strong skin barrier means your skin can function at its maximum potential, retaining appropriate hydration levels despite the climate.
While you might be increasing your vitamin C intake for whole-body wellness, internal consumption doesn't provide the skin with its full benefits. Topical application in the form of a toner, serum, or moisturizer will provide your skin with its daily dose while also preventing the appearance of environmental aggressors.
Tip: Try Insta Natural Vitamin C Serum, a cocktail of actives that protect against free radicals that can cause photo damage and skin discoloration.
Grab that retinol, aka vitamin A.
While vitamin C has enough benefits to stand on its own, when you add a retinol into the mix you create the perfect storm. Summer fun often means retiring your retinol products, as excessive sun exposure and retinol can cause more harm than good. With beach days and the blazing heat behind us, it is time to reintroduce retinol into your routine.
A derivative of vitamin A, retinol is a powerful ingredient that boosts the skin's natural exfoliation process, causing cells to turn over rapidly and trigger new production. The use of retinol is ideal when targeting challenging skin concerns and it helps boost our cell renewal cycle, which can otherwise slow down during drier seasons. However, retinol is strong and must be used properly. Start slow and use the product every other evening, increasing as your skin's tolerance level increases.
Be sure not to layer retinols with other intense exfoliating ingredients, as the combination can overexfoliate the skin and cause irritation.
Tip: Always apply retinol products at night, and follow with an SPF 30-plus during the day.
Properly caring for your eyes is important all year long, but if you've been skipping it, now is the time to re-evaluate. Eye creams with multitasking benefits combine a medley of ingredients to target multiple concerns. Peptides, caffeine, and bisabolol are great ingredients to look for, as they can address the appearance of lines, dark circles, and puffiness. The formula isn't the only thing that matters—proper application can enhance performance, boost circulation and drain toxins.
Tip: Start with a rice-size amount of cream on your ring finger—the ring finger is the weakest finger, and applying your eye cream with this finger means less tugging and pulling. Next, lightly tap the eye cream along the entire orbital bone, allowing the warmth of your finger to disperse the product.
Even though summer has come to an end, your SPF should be here to stay. Skin-damaging UV rays are present during all seasons. UV-A rays, which are the rays that cause most aging concerns, have the ability to penetrate clouds and glass, making them a year-around environmental aggressor. Even though we aren't spending excessive time in the sun, your daily commute, your beautiful office window, and your afternoon walk will expose your skin to potential UV damage, even when it is overcast.
Tip: If you anticipate extended exposure, reapply it every two hours. There are a plethora of products that contain sun protection factors making it easy to incorporate SPF into your daily routine. Look for an SPF in your moisturizer, BB Cream, or foundation for initial application and explore powders for midday touch-ups. The key to successful SPF application is to apply liberally and often.
Related reads: