An Herbalist's Guide To Healing Highly Sensitive Skin
Licensed Acupuncturist
By Antonia Balfour, LAc
Licensed Acupuncturist
Antonia Balfour, LAc, is an acupuncturist and herbalist specializing in the holistic treatment of skin disorders. She is the co-founder and clinical director of Oasis Palisades, a health and wellness center in Los Angeles.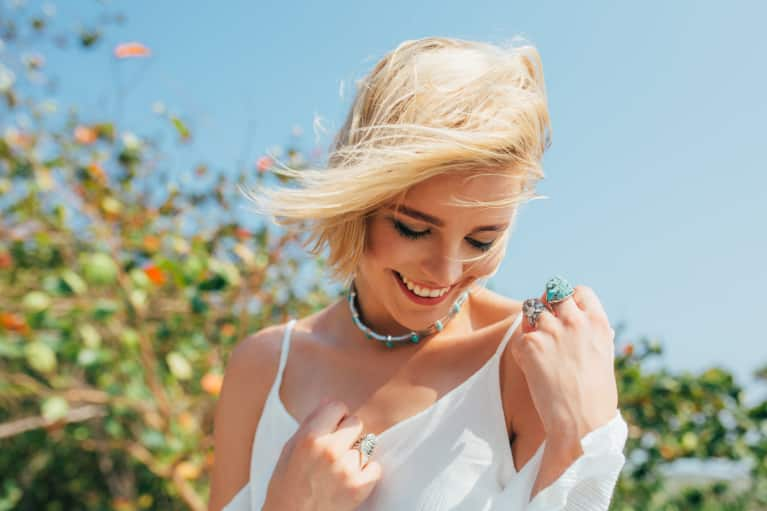 Our editors have independently chosen the products listed on this page. If you purchase something mentioned in this article, we may
earn a small commission
.
Whether you've got hives or eczema or rosacea, there are countless causes of highly sensitive skin. As an acupuncturist and herbalist specializing in holistic dermatology, I see many of my patients struggle with constant itching, redness, or ongoing breakouts of rashes. When this kind of skin irritation is showing up on the face, like in perioral dermatitis, it really affects people's happiness and quality of life. I recommend addressing the problem both internally and topically.
Here are my top four holistic tips to manage sensitive skin:
1. Use single-ingredient oils.
The first thing to keep in mind when your skin is reactive is to keep things simple. The less that goes onto the face, the less likelihood there is for irritation. Creams and cleansers require preservatives, and even natural preservatives can be harsh on the skin. I recommend cleansing and moisturizing with just one ingredient: a high-quality beauty oil.
For cleansing, hemp seed oil is a great option to leave the skin feeling nourished and hydrated. Even though it's an oil, it is still effective at removing excess sebum. As a moisturizer, I prefer argan oil, which is anti-inflammatory and absorbs nicely into the skin. Both of these oils are noncomedogenic, meaning they won't clog the pores or cause acne to form. As with any topicals, be sure to spot-test a small area of skin to make sure you aren't sensitive to these oils.
2. Look no further than your kitchen to heal your skin.
Staying with the theme of "keeping it simple," single ingredients from your kitchen can also be powerful to calm and soothe the skin. Cucumbers have been used for centuries to eliminate facial redness. Simply chop up some cucumber slices, or grate a cucumber, place on the face, and keep it on as a mask for 10 to 15 minutes. To moisten the skin, mash up an avocado to use as a mask two to three times per week — try this DIY Antioxidant-Packed Avocado-Spirulina Face Mask.
Oatmeal is a great choice for itching. Put some raw oats through a food processor and put one to two cups in the bath. Or just use the plain oat powder to clean your face. Yogurt is another great facial cleanser. This skin (like the gut) has its own microbiome, a miniature ecosystem with all sorts of microorganisms living there naturally. The probiotics in yogurt benefit the skin's microbiome and leave it feeling hydrated and nourished.
3. Avoid sodium lauryl sulfate (SLS).
Sodium lauryl sulfate (SLS) is an industrial detergent found everywhere from cosmetics to laundry detergents to body washes. Even well-known natural toothpastes contain SLS. Many find it to be an irritant to the skin, causing dryness and itching. For anyone with sensitive skin, I highly recommend having a look at the labels of all your household products and cosmetics, and ditch anything containing SLS.
4. Heal from the inside with an anti-inflammatory diet.
The root cause of skin sensitivities run a lot deeper than what we see on the skin. Chinese medicine describes redness of the skin as having "internal heat" as part of the picture. To cool the body down and address specific sensitivities, diet is key. The "perfect" diet is incredibly variable from person to person. The best way to learn about the specific foods that will benefit (and irritate) your skin is to commit to an elimination diet for one to two months.
Healing sensitive skin is a journey, and one that doesn't happen overnight. By incorporating these holistic practices, you'll be well on your way to setting the stage for healing.
Related reads: