Why Growing Up In An Alcoholic Family Was The Key To Finding True Self-Love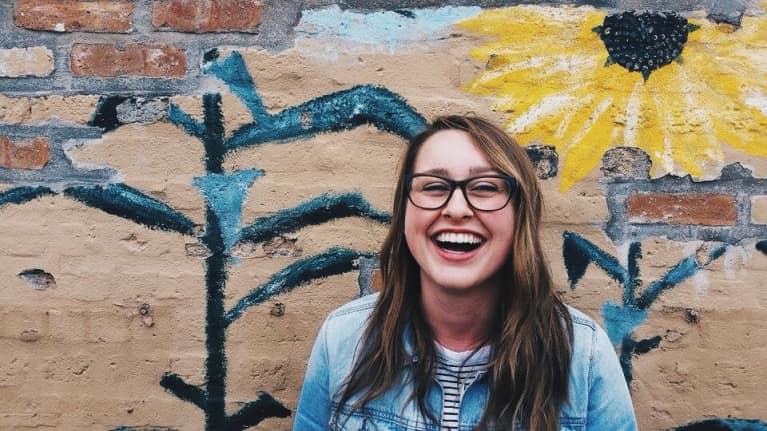 You often hear that "loving yourself" is the key to manifesting the life you want. But how can you learn to do this when you've spent the majority of your life being your own worst critic and incessantly judging yourself — and, on top of it, you lack a true understanding of what "loving yourself" actually means or how to do it?
My journey of self-love and self-acceptance started years ago with the nagging desire to learn how to do the one thing I wanted more than anything else: to stop the daily bouts of self-criticism and to start listening to the part of me that wanted so desperately to move beyond the pain I was feeling. There were days I would've done anything to be somebody else instead of dealing with how I felt.
My inner critic showed up when I was about eight years old and growing up in an alcoholic family. Through the dysfunction that alcoholism breeds, I learned to hide my feelings, hide the truth, and ultimately, feel ashamed about who I was.
As a family we attended a treatment program. My parents believed it wasn't only the alcoholic who was sick and suffering but that the whole family needed help. When asked by a counselor how I felt, I could only feel despair.
During our first meeting, he said, "Share with me whatever you would share with your best friend. You know, everything you talk about." I remember feeling so angry that he asked me to do that, I immediately shut down. If I had been honest with him, I would have shouted at the top of my lungs, "What do you know about what it's like to watch somebody destroy themselves slowly while you sit back helpless, unable to do anything about it?"
All I felt was anger. All I thought was, Why would I share my most vulnerable thoughts with this complete stranger? After all, I didn't want to be there and this wasn't my fault. I just wanted to go home and play with my friends. Unfortunately, because I shut down and couldn't work through how I was feeling, our conversations didn't save me from making future harmful decisions.
Perhaps the most detrimental result of my inability to cope with my feelings was that I took on "the family problem" as my own. I interpreted it to mean that I wasn't good enough and that there was something wrong with me.
Although both of those beliefs ultimately became gifts and led me to the peace, happiness, and fulfillment I feel today, I spent many years struggling through difficulties in most aspects of my life, including relationships with others and most significantly, the relationship with myself.
So how did I finally make peace with myself?
I learned to honor how I was feeling, regardless of what anyone else thought about it.
If you've ever said to yourself, I shouldn't feel this way, because no one will understand, you know how easy it can be to disregard your feelings and try to cover them up. The next time you feel the tendency to diminish your feelings or push them aside, affirm this to yourself: My feelings are valid. The more I allow myself to feel my emotions without judgment, the more I am honoring myself.
I made a commitment to truly understand myself, as I felt this was the key to stopping the urge to judge and criticize myself.
Making this commitment is one of the most self-loving things I have ever done, and you can do this by spending just five minutes each day for the next week checking in with yourself. Take a few slow deep breaths and ask, How do I feel in this moment, and what do I need to do to take care of myself today?
I made a decision to take the time to slow down and allow myself to feel, express, and to release my emotions in a healthy way.
The next time you feel anger, fear, or any other strong emotion, take a few slow, deep breaths and affirm, It's OK to feel this way, and I will honor this feeling by breathing into it and simply allowing it to be here.
And most importantly, I learned to have compassion for myself and my feelings.
The next time you start to criticize or judge yourself harshly, remember that you are a culmination of everything you've learned, experienced, and been a part of. Then affirm for yourself: there is a specific reason I feel the way I do, and I choose to be compassionate with myself right now.
As shocking as it may seem, growing up in an alcoholic family turned out to be the perfect experience to guide me to a place where I could bring my greatest contribution to the world. Although it was difficult and extremely painful, on the flip side, the challenges of being in that very family helped me develop some of the most amazing parts of who I am, including the capability to love myself through anything.
Loving yourself can feel like a huge undertaking. You may not know where to begin. Just start by making a commitment to listen to yourself more intently. Then identify how you feel and what you most need. By doing this, you are communicating to yourself that you are worthy of tenderness and care. And you are.
Related reads: