How This Creamy Chocolate Pudding Can Drastically Improve Your Diet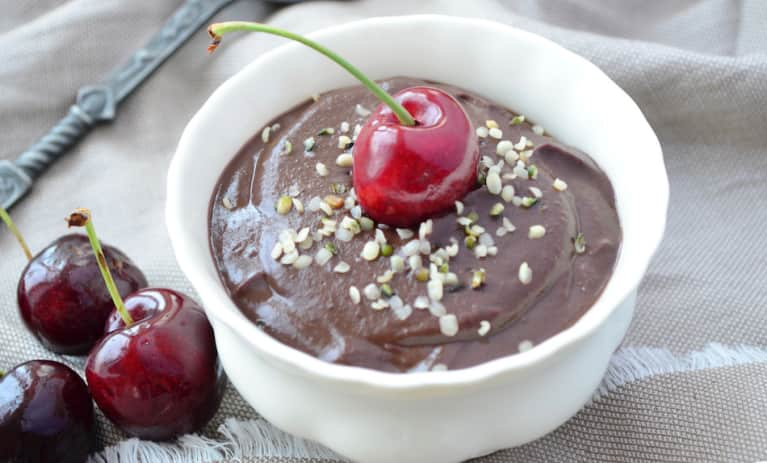 We just love to break nutrition down into pieces: fat, carbs, protein, yadda-yadda.
Eating a healthy diet is much, much more than consuming the appropriate amount of macronutrients. But, in terms of dietary concern, there is one nutrient that's causing some major problems in our modern-day diet.
Nope, it's not fat. Nope, it's not how much protein you get. The one nutrient we need to take serious inventory of is fiber!
And no, we aren't eating too much; far from it. We are barely eating enough!
Our ancestors averaged 100 grams of fiber per day. Per day! On average we're getting less than that per week. The average American gets between 10 and 15 grams a day when 30 to 50 grams is the daily fiber recommendation.
Insufficient dietary fiber affects our digestion, blood sugar control, appetite, microbiome, energy, and ups our risk for certain chronic diseases.
We need to get more fiber in our diets, ASAP! But how?
A fiber supplement is where our minds go, but this isn't the right answer. We need fiber from whole food sources, in which insoluble and soluble fiber is delivered in natural ratios.
Fruits, vegetables, nuts, seeds, and grains are fantastic sources of fiber, but a prominent (and often underutilized) source comes from beans.
We wiggle more beans into our diets by eating bean salads, chili, and hummus, but what about dessert?
If bean soups, spreads, and casseroles aren't appealing to you, maybe the occasional after dinner treat can help you sneak some high-quality fiber into your (and your family's) diet.
Beans and legumes have a versatility that is habitually overlooked. Their texture contributes a creaminess and density to desserts and baked goods. This impact on consistency reduces the need for oils and fats as well, resulting in a dessert that is not only high in fiber, but also lower in processed and refined fats.
Beans and legumes are unconventional yet ideal ingredients in making healthy treats, satisfying your sweet tooth, and supporting your digestive health.
Try adding them to muffins and cookies, and make this Chocolate Black Bean Pudding on the regular. I always sneak beans in where I can, including dessert!
Give this pudding a whirl and make dessert work for you and your health.
Creamy Chocolate-Cherry Pudding
1½ cups black beans (canned or home-cooked)
½ cup dark cherries (fresh or frozen)
¼ cup unsweetened cocoa powder
½ cup + 3 tablespoons unsweetened almond milk
2 large medjool dates, pits removed
2 tablespoons maple syrup or agave
2 tablespoons hemp seeds
1 teaspoon vanilla extract
Garnish: additional hemp seeds and cherries
Preparation
1. Add all ingredients to a high-speed blender and blend until smooth.
2. Refrigerate until needed, garnish with additional hemp seeds and cherries, and serve immediately.